Superscript

Flexible monthly business insurance
24 August 2021
8 minute read
Starting a personal training business
Whether it's a mid-career change or your plan straight out of school, starting a personal training business is an exciting time – but there's plenty to think about.
Like any good fitness plan, preparation is key. In this guide, we'll explain how to get it right from the start, with the wisdom of three successful personal trainers: Carlos D'Souza, Founder of The Carlos Method; Ben Haldon, Co-founder of My Coach School; and Polly Ann Hale, Founder of The Fit Mum Formula.
Read through from beginning to end or jump to a section that interests you. We've split this speedy guide into eight bite-sized sections:
Have a business plan
Thankfully you absolutely don't have to go to business school to learn to write a business plan! It's a matter of following a few tried and tested steps to set out your business road map.
1. The Executive Summary
The purpose of this section is to set out your vision and (in summary) how you're going to achieve it. For example: your market, competition, targets. You may want to start will bullet points here and come back to it in more detail once you've fleshed out the rest of your plan.
2. The Opportunity
This section will explore the context of your business in more detail, including an analysis of your target market and the competition.
Do the maths on where you'd be financially best off. Some gyms charge so much to use their space you don't end up taking home much. Parks, a home gym, or going to people's home's might be more profitable. On the other hand there are potential clients ready and waiting whereas outside of that environment you'll need to market yourself and find clients. Refer a friend initiatives are a great way to spread the word about what you do.

If you're going to buy equipment, consider how much space you have to store and cart it around as well as cost. Dumbbells which are adjustable take up much less space than one set in each size. A TRX set can be adapted for most fitness levels and exercise choices and is very lightweight.
Polly Ann Hale, Founder of The Fit Mum Formula
3. The Execution
The 'how' part of your business plan. This section will include your marketing mix and a deep-dive into timescales and finance – so get that calculator ready!
Learn the numbers! I'm talking overheads, cash flow forecasts, and what your profit margins are. When deciding to set up your business, create a business plan including a marketing strategy and financial forecasts. Have a rough plan for business and stick to it. You will also learn a lot on the way but it's good to be as prepared as possible. Enjoy the ride and the journey - it's never always going to go to plan. Keep moving forward and move with the bumps and hurdles. Change and adapt as you need to and never stop learning.
Carlos D'Souza, Founder of The Carlos Method
Remember, you don't have to follow your plan word for word. Circumstances change, so you may well end up adjusting your plans a few months down the line.
Check out our guide to how to write a business plan for helpful tips.
Know what to charge
Personal trainer salaries
Glassdoor lists the average salary for a personal training employee in London as £30,327, with a range from £16,000 to £57,000. A pretty wide range, to say the least!
To break it down more clearly, as a self-employed personal trainer, you'll likely set an hourly rate, which will typically range between £25 and £50 an hour – although some personal trainers can charge £100+. Working full-time, this roughly equates to between £24,000 and £60,000 a year, in-line with fitness training employees.
What impacts hourly rate?
Type of training offered
Boot camp instructors, weight loss experts and those specialising in more 'luxury' classes such as reformer pilates and barre may be able to charge more.
Location
Costs associated with working in cities such as London can often justify slightly higher hourly rates (but living and transportation costs will accordingly impact your bottom line).
Target market
It may seem obvious, but if your target market is wealthy, you'll be able to charge more. If you're renting local studio space though, it'll likely come at a premium!
Experience
Generally speaking, the longer you've been in business and grown your personal brand and reputation, the more clients will be willing to pay.
Marketing
Sometimes, especially at the beginning of your career as a personal trainer when you're still building up an initial customer base, marketing yourself well can make all the difference.
Get qualified
Qualifications needed to be a personal trainer
Skip this section if you already have relevant qualifications, but for those still at the stage of considering a career change, or embarking on their journey as a fitness instructor, this section is for you.
While it is possible to become a personal trainer for 'free', as qualifications aren't a legal requirement in the UK for personal trainers – and won't prevent you from being able to get personal trainer insurance either (unless you recommend or administer any treatment, therapy or medicine), it's still recommended that you complete training endorsed by The Chartered Institute for the Management of Sport and Physical Activity (CIMSPA).
Get qualified and never stop trying to improve so you can go out there and train others in confidence in both your technique but also your pricing. The more you learn, the more you can earn and can further help people reach their potential.
Carlos D'Souza, Founder of The Carlos Method
That said, working as a personal trainer without suitable qualifications is more likely to lead to problems, such as:
Being unable to attract clients who do want to take into account qualifications when selecting a trainer.
Working at a gym.
Finding yourself out of depth when it comes to tailoring workout plans for clients. An exercise you as a fitness pro might find easy could injure a client, so it's super important to educate yourself on how to create suitable work out plans for different bodies and levels of fitness.
Make sure you are qualified and insured to do what you set out to do. Just because you know how to train pregnant women doesn't mean you should unless you have the paperwork to say so, else your insurance is invalid. On that note make sure you get insurance! It's not expensive and worth every penny.
Polly Ann Hale, Founder of The Fit Mum Formula
Register your business
There are three options when it comes to setting up your own business. You can set it up as a sole trader (self-employed), a limited company, or a partnership. You can find out about the pros and cons of each and associated registration processes at gov.uk.
Sort out your taxes
Getting this out the way early is a good idea. Tax is one of those admin tasks that as a self-employed professional, is non-negotiable. Figure out whether you're going to pay an accountant to take care of your tax obligations, opt for an online or app-based tax service, or do it yourself. If you're not sure where to start, we've put together a guide to taxes for self-employed professionals with the help of one of our partners, TaxScouts.
Making Tax Digital
The UK government has recently widened the Making Tax Digital (MTD) scheme to include companies with less than £85,000 annual turnover and self-employed professionals earning more than £10,000 per year, so it's worth getting to grips with what this means for you.
Get business insurance
Although it's not a legal requirement, if you're working around clients or members of the public, it's a good idea to consider public liability insurance. However, note that if you're considering working as a freelancer for a studio, you may be required to have it in place and that if you're a member of a professional body such as REPs or CIMSPA, they may recommend that you are insured.
Open a business bank account
Even if you're setting yourself up as a sole trader rather than a limited company, it's a good idea to keep your business and personal accounts separate. This will make it much simpler to keep track of your earnings and client payments. We've put together a handy comparative guide to some of the best business bank accounts available to UK business owners.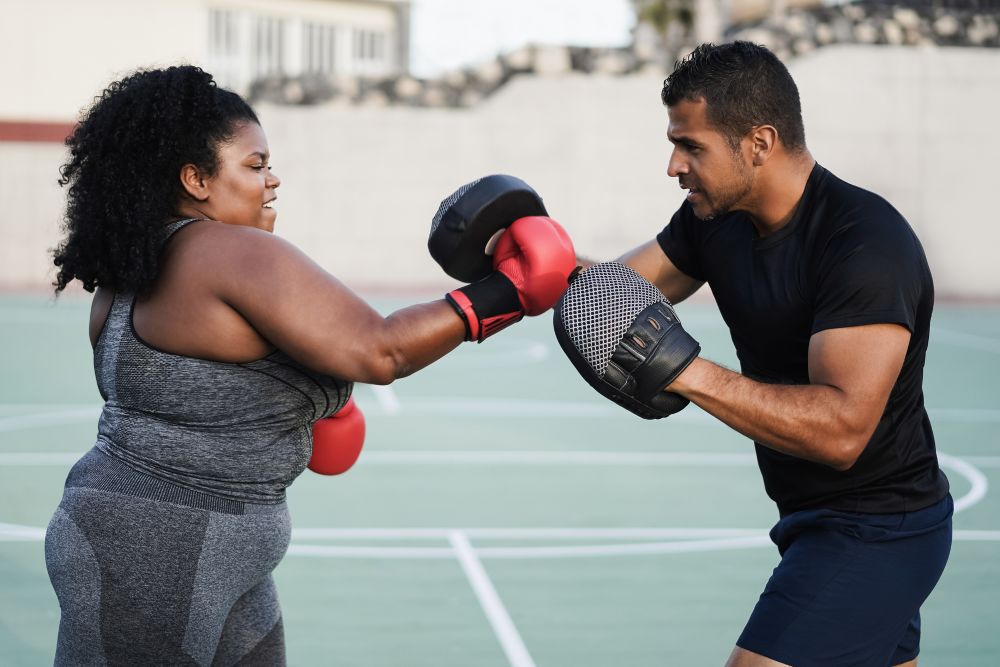 Build your client book
How to get personal trainer clients
It's never too soon to start building up your client book. If you're just starting your qualifications, you may want to offer free or low-cost sessions and this can be a great opportunity to test the waters with different types of clients. Eventually, you'll probably one to specialist in one or two particular niches, but using the early days to get a sense of who you want to work with is invaluable.
Work with a variety of types of client to work out which market you enjoy working with most, such as young men trying to add muscle, women wanting to lose weight after having a baby, runners training for a marathon or elderly people needing to improve their strength and mobility. Being a specialist in one area will make you the 'go to' person for those clients, rather than a jack of all trades.
Polly Ann Hale, Founder of The Fit Mum Formula
Market yourself
Once you've established the type of client you want to work with, you'll be able to target your marketing efforts and figure out the best ways to market to your target audience. This involves branding yourself. Think about where your audience is. Are they millennials, glued to Instagram? Or a slightly older demographic, more likely to be active on Facebook? Social media marketing is an investment of your time, so you want to focus your efforts where you'll get the greatest returns.
Social media marketing for personal trainers
Whether you're looking to build up a big international following or simply engage with clients and prospects, social media gives you the platform to do this.
Celebrate your clients, share their stories and show their success. This will bring repeat business and Also your clients will share their stories and become your biggest fans. In essence your clients will then do your marketing for you and bring in more business. nothing beats the power of a referral
Ben Haldon, Co-founder of My Coach School
We've made buying insurance simple. Get started.
Related posts
Discover how HMRC is making taxes digital and how you can prepare with deadlines, software and sign up information.

Turn your dreams of running a salon into a reality with our simple 12-step guide to opening your own.

11 April 2022

4 minute read

If your business provides any employees with expenses or benefits such as healthcare, a company car or travel expenses, then you'll need to submit a P11D form each year.