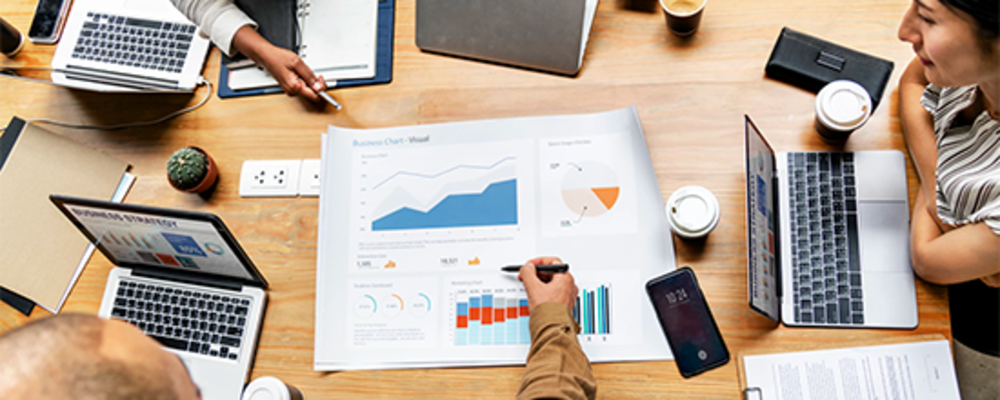 Every startup journey is different, but many of the steps involved are similar for everybody. And sometimes there's nothing better than a nice, orderly list to get your brain in gear for the task ahead. So, with that in mind, here's our comprehensive checklist of all the steps you'll need to tick off when you're getting your venture off the ground:
Research the market: You might think your big idea is the best thing since sliced bread, but will anybody else? Before you go any further, it's vital to identify your target market and find out whether there is actually a demand for what you're planning to build. That means hanging out where they hang out and carrying out quantitative and qualitative surveys on their wants and needs.
Competitor analysis: Another vital part of your research should involve checking out the brands who are already doing what you want to do (or similar), so you can get a better idea of how you can stand out. Analyse what they do well, and what's not working for them. Most importantly, where are the gaps?
Find a co-founder: Not all entrepreneurs need a co-founder, but many find it hugely beneficial, providing them with complementary skills and moral support, not to mention an extra pair of hands. For more advice, check out our blog on the benefits of having a co-founder. And if you're not sure where to find one, we've got that covered too: How to find a business partner
Write a business plan: We've all heard the saying: Fail to plan, plan to fail. And nowhere is that more important than when starting a business. Yes, there are bound to be lots of unknowns, but planning your overall strategy and mapping it all out will put you in the best position to reach your objectives. For an idea of what your plan should contain, have a gander at our Ultimate Guide to Starting a Business, and when it comes to planning your finances, our Ultimate Guide to Start-Up Costs will be just what you need.
Source funding: Chances are you'll be needing some cash to get your idea off the ground, and thankfully there are plenty of options open to you, from grants to bank loans, angel investors to crowdfunding. For all the pros and cons of the various options, flip over to our Ultimate Guide to Startup Funding, which will fill you in.
Choose a name: Now, this is a tricky one! You may already have a name in mind, or you may be wracking your brains for something catchy and meaningful that hasn't been taken already – no mean feat! But either way, you'll need to decide sharpish, so you can work on your branding, website and start shouting about what you do. Our blog on how six world famous brands got their names should provide some inspiration. And to see whether your wacky ideas have already been thought of, check the Companies House register of businesses, as well as a web domain provider to see if you can buy a decent web address.
Get an accountant: Unless you like filling out tax forms, then an accountant should be top of your list of suppliers to get sorted. Find one who specialises in working with small businesses, with services tailored to your needs and budget.
Register your business: There are a number of fairly boring, but absolutely vital bits of paperwork to get ticked off before you can start trading. You'll need to register your business with Companies House, become VAT registered, and register as an employer. This is something that a small business accountant can help you with.
Licences and certifications: All or some of the work you're planning to do may require licences or qualifications. You can find a list of occupations requiring licences here. And even if your job doesn't require these, they could lend credibility to your business.
Open a business bank account: You're not legally required to have a business bank account however your finances will become fairly unwieldy without one. It's simple to set a business bank account up, but do try to shop around, as different banks will have different rates and introductory offers to tempt you in.
Hire your first employees: How quickly you take on staff will depend on the nature of your business and your growth plans, but if all goes well, you're likely to need some support before too long. There's a lot to think about when you hire your first employee, so for more on the ins and outs of hiring, read our dedicated blog on growing your team.
Develop a prototype or MVP: The costs, time, and effort required to build your prototype or Minimal Viable Product (MVP) will vary depending on your business. But for tech businesses, or one where you have a physical product, your MVP or prototype is key for testing the viability of your hair-brained idea, for identifying any potential challenges, and for convincing investors to fund you. Then it's a case of test, iterate, repeat, until you perfect your offering.
Find suppliers and distributors: How important this is for you will depend entirely on the type of business you're starting, but for many businesses, a quality, reliable supply chain is vital for success. Getting this set up can take time, including visiting potential suppliers and distributors, agreeing terms, ways of working and ironing out teething problems. So ensure you factor all this into your planning.
Website: An online presence is considered fairly essential for most businesses these days, although the complexity of your website will depend on what kind of business you're starting. If you're setting up an ecommerce business, your site will need a lot more functionality than if you're a consultancy or professional services firm, for example. But whatever your needs, mapping this out and ensuring you have the required skills and resources to build, populate and maintain it should be a top priority.
Find a home: In today's connected world, you can work from anywhere, so feel free to get set up on your kitchen table, your sofa, or even your bed in those early few weeks or months. However, as your business develops, and your team grows, that's unlikely to suffice for long! Thankfully there are now loads of flexible and funky coworking spaces to choose from, so you'll have all your furniture and equipment in place when you move in, and a ready-made community of other entrepreneurs. Here are a few you might want to check out.
GROW!
Phew - if you've managed to tick all those off, then you should be well on your way to world domination! Of course, in reality, the startup checklist is never-ending. There's always more to do, and more you could be doing - that's life at a startup, and you'll soon get used to it. But once these key milestones are behind you, the only way is up!
You may also like
We've made buying insurance simple. Get started.
Related posts
20 January 2022

2 minute read

With differing risks and requirements to an established business, find out what you should look for in an insurer to cover your scaling company.

17 January 2022

3 minute read

With concerns around individuals' mental health coming into ever sharper focus in recent years, here is our collection of useful articles around mental wellbeing and self care at work, this Blue Monday.

11 January 2022

4 minute read

Discover which covers are most relevant to your growing business and why you need them in the third installment of our startup series.