Superscript

Flexible monthly business insurance
22 October 2020
4 minute read
As everyone's getting to grips with and trying to predict what the future will look like in terms of the office - remote work mix, many businesses are evaluating their current set up and exploring the possibility of different options as their leases end.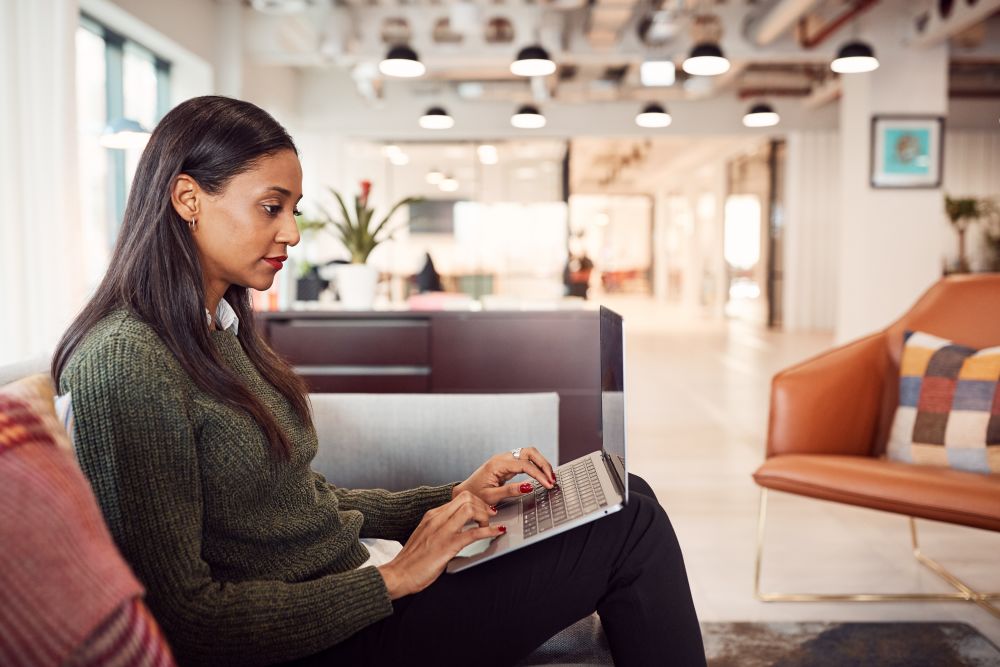 If you're based in a city like London or Manchester, the explosion of modern luxury coworking spaces over the past few years is unlikely to have escaped your attention. From spaces like WeWork - renowned for perks like Prosecco on tap happy hours - and Fora, with its stylish interiors, to longer established coworking spaces such as Regus and those such as Pervasive Media Studio (Bristol), which are geared to businesses in a particular industry, there's a vast array of options when it comes to coworking.
Things to think about before moving to a coworking space
Scour coworking office websites and the same words will pop up over and over again: flexibility, networking, collaboration, inspiration, modern. There's no doubt about it, coworking spaces offer more than just a physical space - they're a lifestyle.
It's easy to get enamoured by the glossy photos, but it's important to think about the needs of you and your team before jumping in and signing any contracts. Although Superscript is based at a coworking space, we've enlisted the help of our wonderful partner WorkClub, to bring you these top tips on what to think about when considering a move to coworking.
What's my budget?
If you're looking to be based in a city centre, office space is never going to come cheap, but coworking may actually be a possibility vs. a dedicated office in the same postcode area. Also, when budgeting, take into consideration everything that's included at a coworking space vs. a dedicated office, or working from home. Many coworking space contracts include lots of administrative costs you'd otherwise have to pay separately. Think cleaning costs, security, utilities, even coffee and tea - it all adds up!
What are the terms of contract?
A key benefit of coworking is the flexibility offered by shorter-term contracts. You may find that this comes at a premium. However, if you're growing fast, or you're not quite sure where you'll be in six months' time, knowing that you have the flexibility to move fast (and leave lots of admin and services provision to the coworking space) can outweigh this. COVID-19 hit coworking spaces hard - and put many in a difficult situation regarding rental payments.
Some coworking spaces offer monthly rolling contracts, which will give you more flexibility in this type of situation. If you're after something a lot more flexible, WorkClub's solution may be what you're looking for: instant access to flexible workspaces (through their app) at a fixed monthly cost.
What type of workspace do I need?
Some teams thrive in a brightly lit open plan environment, others benefits from a more enclosed private space. Your requirements will depend on what type of work you carry out and your equipment too! If you're going to need to see lots of clients too, are there meeting rooms you can book - and is the environment right?
What's the deal with opening hours?
Different spaces will have different opening hours, so if you're a particularly early bird - or a night owl - or simply work with people in different time zones, you'll want to be sure to find somewhere that can accommodate you. Many coworking offices do offer 24/7 access to members, but others don't.
What facilities are necessary - and what's nice to have?
It's easy to get excited by luxurious facilities, but it'll cost you. It can therefore help to divide your list of wants into strictly necessary facilities and nice-to-haves. Some luxury workspaces boasting fitness studios, restaurants and roof gardens. All these things can, nonetheless, be a great benefit for your employees and make the working environment a nice place to be in.
What type of community am I looking for?
While coworking spaces host a range of businesses, from fintech startups to charities and one man bands, others are focused on particular types of business and may host community events. If you're looking to be totally immersed in a particular community and socialise with others sharing the space, this type of arrangement may work best for you. But if you're looking for your own space and are not so interested in the social aspects of a coworking environment, you needn't think about this.
In a nutshell, coworking spaces can be a great option for businesses that want flexibility, great facilities, no-fuss terms, and readily available same day workspace options. But don't forget to think about business insurance. Although your coworking space provider will most likely cover the building itself, you'll still want to think about covers like public liability insurance and professional indemnity insurance. So, if you're thinking about your next move, coworking can be a great option to explore - and although COVID-19 is temporary, the latest shift toward flexible work will have lasting effects. After both employees and employers get a taste of how effective remote work is, many are unlikely to entirely go back to their old ways of a 9-5 corporate office lifestyle.
We've made buying insurance simple. Get started.
Related posts
01 August 2022

3 minute read

From SEO, social and influencer marketing, small businesses need digital/online marketing. Get started.

21 July 2022

5 minute read

What exactly is a stakeholder in the world of business and what does stakeholder management involve? We breakdown who these key players are and the process of how they are managed.

07 July 2022

7 minute read

Starting a business can be daunting – we've kept things simple in this guide to the key things to tick off your list when starting a business.