Superscript

Personalised business insurance
25 November 2021
5 minute read
In the world of entrepreneurs, fortune most definitely favours the brave. Being prepared, and knowing when, to take bold risks is essential for those ambitious game-changers out there, hoping to make their mark in the world of business.
Our friends at Courier Media know this well, with their stylish magazine and podcasts that profile the very best in start-up culture and report on the cutting edge of modern business.
We make it our mission, here at Superscript, to champion change-makers and empower businesses to take risks by making business insurance accessible, intuitive and uncomplicated. We want to give entrepreneurs the confidence to go all in, so we've partnered with Courier to bring you the stories of five game-changing entrepreneurs who are pushing boundaries in their respective industries.
So, these are five entrepreneurs' tips for success in the world of small business, explaining how they have taken their business ventures to the next level.
Amber Jean Rowan
Amber's business ambitions are rooted in something more than a wish to succeed - they are embedded in who she is and the journey she has taken to become the confident entrepreneur she is today.
After developing alopecia (an auto-immune disease that causes hair loss) at the age of just 15, Amber began a journey of self-discovery.
There were so many other women going through the same thing that I really wanted to lead by example.
Frustrated by the lack of resources for young women suffering from hair loss, Amber set out to make a change and founded Hair Free two years ago, as an online community for women with the same condition.
Amber's burgeoning entrepreneurial spirit was on show as she prepared to launch Amber Jean, an online wig shop that sells wigs made from consciously-sourced hair to give customers confidence in themselves.
Top tip for entrepreneurs: Be prepared to make yourself vulnerable in order to show the world who you really are. The confidence that comes with being yourself can translate into confidence in the world of business.
Read more about Amber's incredible story
Aaron Wallace
Fear is a powerful motivator, for good and for bad, and it is fear (or rather a reassessment of what fear actually means) that is a driving force behind Aaron Wallace's mission as an entrepreneur.
By reframing his conceptions of fear and risk, he understood that the greatest risk in life was not failing, but not doing something in the first place.
There will always be another "job" job, but you have to take a big risk and go for something you really want.
Aaron spotted a gap in the grooming market, leading him to launch his own line of hair and beard care products, By Aaron Wallace, designed specifically for black men.
Aaron now considers himself a 'calculated risk-taker', banishing self-doubt in favour of recognising his real abilities and backing himself to achieve.
Top tip for entrepreneurs: Imposter syndrome is a widespread concern for new entrepreneurs. Tackle self-doubt by actively cutting out negative self-talk and replacing it with positive affirmations. Believing in your own abilities has a power all of its own in the world of business.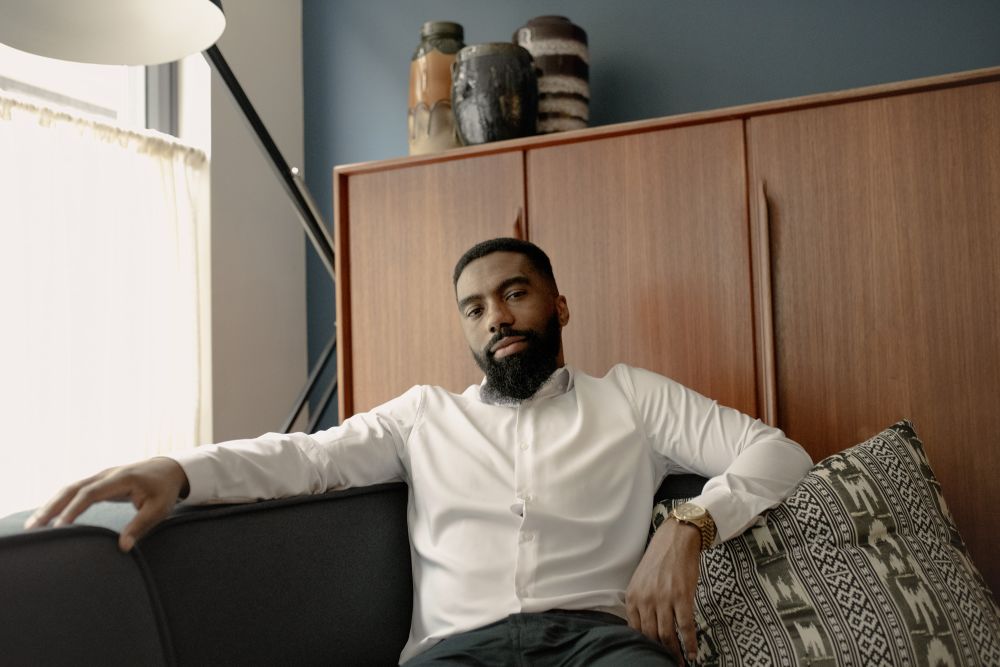 Thomas Constant
Sometimes it takes stepping back to gain a wider perspective on what your business could be, how it could be beneficial to society, and how it can operate. For Thomas Constant, his moment of inspiration came from assessing which global issues are predicted to cause the most damage to the world over the next century.
Thomas decided to forge a business path by innovating in the field of alternative proteins.
On a base level, it seemed like a risk. But I realised: this is what I want, this is the only way.
In 2019, Thomas launched Beobia (taken from the Gaelic meaning 'food for life'), a system to breed and grow your own protein-rich pet food at home.
A key element of the success of Beobia was the amount of support and encouragement Thomas received along the way, through a business incubator programme.
Top tip for entrepreneurs: Support systems are hugely important for business owners and entrepreneurs. Going it entirely alone is unlikely to lead to success. In Thomas' case, he credits much of his development to the systems of support he found in the business incubator programme he was enrolled on, from sharing office space with other small, growing businesses, to mentoring schemes.
Tianah Hodding
As a committed side hustler, Tianah Hodding designs a line of uber-stylish sunglasses, under the brand CHRISTIANAHJONES.
Tianah credits her breakthrough in developing her fashionable range of eyewear to her willingness to take a chance on celebrity endorsements, and her persistence in the face of initial rejection.
Don't take a "no" as feedback, but use it as motivation instead. It's really easy for one person to say "no" to you and for you to assume your idea is terrible.
Understanding the potential reach of a celebrity endorsement, Tianah took a gamble on DM'ing the actress and model Kaia Gerber via Instagram. Her willingness to reach out into the blue and her persistence in trying was rewarded when Kaia replied to say she loved the glasses, before wearing them on the red carpet at Paris Fashion Week in 2018. A flood of orders and celebrity endorsements followed as her reputation grew.
Top tip for entrepreneurs: Use rejection as a motivation rather than as a demotivational moment. Tianah explains that she now never sees the word 'no' as a form of feedback on her ability or the worth of her product. It is simply a fuel to help her continue to energise herself and develop her business.
Read more about Tianah's story
Jack Meeks
Often the most inspired business decisions can come from the unlikeliest of places. For Jack Meeks, coming across a piece of driftwood near his home coastal North Wales was the start of an adventure in turning a hobby into a business.
By creating decorative art and wooden furniture from discarded pieces of driftwood, Jack has built up his reclaimed home-decor brand, Urura.
During the Covid-19 pandemic, once the reality of working from home kicked in for many people across the country, business suddenly picked up as people chose to decorate their home offices. By making the most of a difficult time, Jack was able to build up the business quickly.
It was like someone had switched on a light switch. All of a sudden, people were messaging asking for wall art and tables.
By using driftwood that he finds on the shore, Jack is operating both an eco-friendly sustainable business and a high margin business because raw materials are a cost-free part of his business model.
Top tip for entrepreneurs: Look for direct feedback from customers and build up a relationship with your client base. Not only is feedback in all its forms good for gauging how your product or service is working, it also creates a bond between your business and the customers you are serving. In addition, Jack has found that direct positive feedback has a wonderful motivating property when it comes to working harder and continuing to grow the business.
You can also visit the micro-site created by Courier, to read more about each of the entrepreneurs featured, with videos, interviews and much more.
We've made buying insurance simple. Get started.
Related posts
13 September 2023

6 minute read

Having your business equipment stolen is traumatic, expensive and disruptive. Here's our checklist of the steps you should take to get back on your feet.

21 August 2023

5 minute read

Claiming on your business insurance policy can be nerve-racking, but there are many things you can do to have a smoother experience. Charlotte, one of our in-house claims experts, shares her top tips for making a business insurance claim.

25 July 2023

4 minute read

What is the current national minimum wage, living wage and real wage? And what's the difference? Find out here in this handy guide.