The UK's most entrepreneurial towns and cities
Which areas are defying the hard market and driving entrepreneurism?
Starting up: the national picture
Let's be under no illusions, it's a difficult economic environment to run a small business right now. Global pressures are swelling energy and food prices - driving up inflation and supply-chain costs. Combine this with more red tape for small businesses importing/exporting to or from the EU and a difficult hiring market, and it is no surprise that the amount of small businesses dropped by 83,000 nationwide between 2021 and 2022.
This is mainly driven by a drop in businesses 'with no employees', namely sole-traders and the self-employed. The end of government support initiatives like the Self Employment Income Support Scheme (SEISS) following the lockdowns may have contributed to this.
Businesses with employees however grew by 32,000, suggesting that for slightly larger businesses, things may not be as tough. Intrigued, we set out to explore how the business landscape has changed on a regional level since 2021 and identify which regions are bucking the trend.
Pinpoints: Methodology
Using data released by the Department of Business, Energy and Industrial Strategy (BEIS), we analysed the difference in the total number of small businesses (0-49 employees) per town/city between 2021 and 2022.
We then cross-referenced these numbers with the latest population data to generate a 'small business per capita score' for each location. This allowed us to pinpoint the 10 most entrepreneurial towns and cities in the UK that have seen the highest growth in new small businesses!
Read on for more insights on why these places are driving entrepreneurism, where they can improve and some of the challenges facing small business owners - as well as access to local resources!
The UK's top 10 most entrepreneurial towns and cities
Entrepreneurial attitudes to local business
What's fuelling the growth of small businesses in these areas?
CensusWide surveyed 1,000 entrepreneurs who set up a business in the last year on our behalf, to try and understand the business environment they're operating in a bit more. The survey ran between October 26 and November 10, 2022.
Overall, small business owners are positive about the local area in which they operate. 57% responded to our survey by saying that their local area is a great place to be an entrepreneur.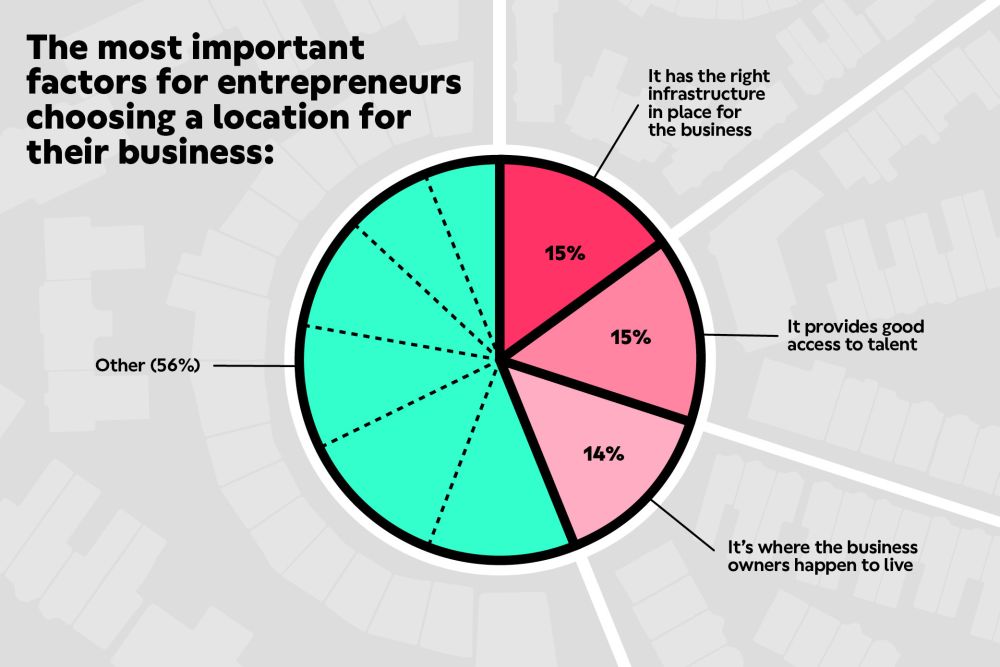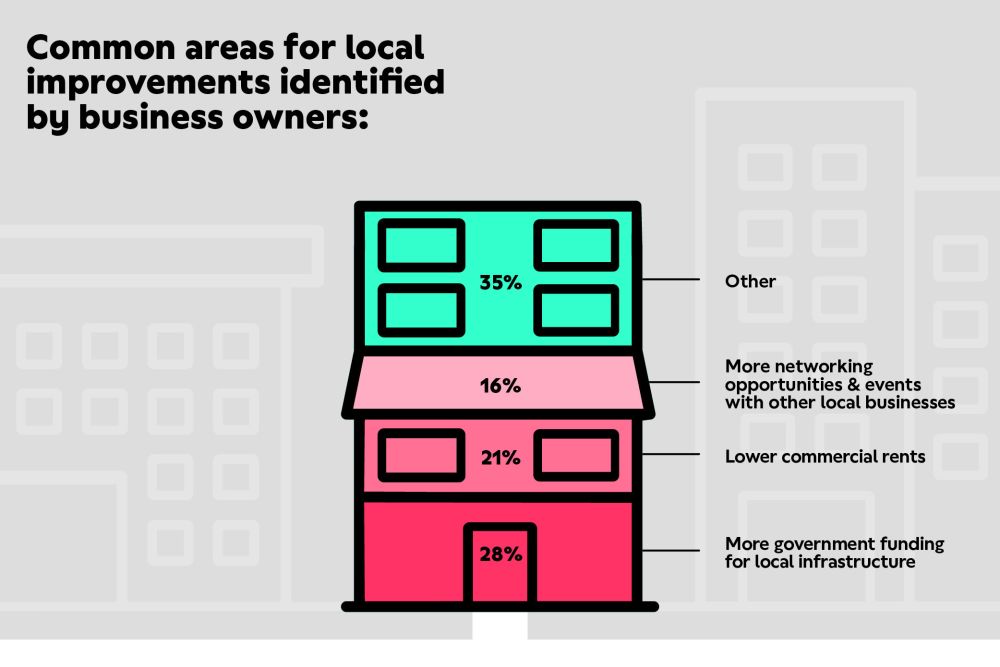 Wherever a small business sets up, it is most likely to stay there regardless of growth. Nearly two-thirds (63%) of respondents to our survey indicated that they would keep their business HQ where they set up, even if they plan on expanding into new areas. This indicates that attracting new small businesses to an area is an important factor in long-term economic growth.
House of Zana, Darlington
Amber Kotrri started House of Zana in Darlington in 2018, initially as an online business, specialising in handmade garments which she designed and made herself. In November 2019, she opened her first store in Darlington and, after a tough year in 2020 she now employs six people in Darlington and six more in her husband's home country of Albania.
She is not surprised that Darlington has made it into the top 10 entrepreneurial locations, commenting:
"The council and community are so supportive, there is a lot happening in the area and a lot of excitement around. A big factor of success here is the people who support our businesses.
There is a lovely homely feel and people love the boutique and bespoke nature of our business. It's friendly and supportive which makes for a great environment to be happy and grow.
Find more information about House of Zana via their website, Instagram, Facebook or email them at info@houseofzana.uk
Tenaya Wine, Sheffield
Tenaya Wine began in August 2022, founded by Virginia Myers – who was an assistant winemaker at an urban winery in San Francisco before moving back to Sheffield – and designer Sarah Hatton.
It is a neighbourhood wine shop and bar providing an interesting and accessible range of wines with a focus on female producers and sustainability. Their aim is to bring a taste of California to South Yorkshire with affordable wines between £8 and £15 a bottle.
Starting a business in the midst of a cost-of-living crisis has been nerve wracking but Virginia feels optimistic and is not surprised to see Sheffield identified as a good place to do business, commenting:
"During Covid, it was awful but people still bought wine...the bar and shop feel like a comfortable community place and people are interested in the quality and uniqueness of what we are providing."
"The city seems very focused on independent businesses. There are not many big chain stores, people seem to want to support small businesses and try new things."
Salumi, Plymouth
Chantel and Dave Jenkins run Salumi, a restaurant on Millbay Road in Plymouth which blends British cuisine with Asian and Australian twists. Started seven years ago, they have expanded their premises with a garden and fire kitchen and have been able to capitalise on the increasing desire for al fresco dining.
Chantel believes Plymouth to be a fantastic place to start a business, and particularly an eatery. She explains that:
"There is a huge opportunity to do good food here - it's such a great part of the world, between the moors, the sea and the Tamar Valley. I feel super lucky to have such access to local and quality produce."
Chantel believes that the Business Improvement District (Plymouth Waterfront BID) has a key part to play in making Plymouth attractive to business, describing them as "hugely supportive and approachable." She also has big hopes for the city, admiring the "lovely camaraderie between the local businesses".
Find more information about Salumi via their website, Instagram, Facebook or email them at hello@eatsalumi.co.uk
Alternatively, just pop into their restaurant, located at 18 Millbay Road, Plymouth PL1 3PE.
Resources – cities
Discover some useful resources for entrepreneurs to get started for each of the top 10 cities in our list.
Business resources available to people in Wolverhampton:
Black Country Growth Hub: Provides details of new support programmes for businesses in Dudley, Sandwell, Walsall or Wolverhampton.
Invest Wolverhampton: Promoting investment opportunities in Wolverhampton and connecting local businesses with investors.
City of Wolverhampton Council: Information for businesses within Wolverhampton, including details of business rates, training and opportunities.
Worcester
Business resources available to people in Worcester:
Mansfield
Business resources available to people in Mansfield:
Mansfield Business Growth Grant: A maximum grant of £2500 available to some small and medium sized enterprises who have been located in the district of Mansfield for at least six months.
Mansfield Innovation Centre: A hub designed to support early-stage and growing businesses in Mansfield.
Mansfield District Council: Details of business support available in Mansfield District, including business rates relief schemes, events and workshops, advice and more.
Blackburn with Darwen
Business resources available to people in Blackburn with Darwen:
Blackburn and Darwen Borough Council: A partnership between the Borough Council and Growth Lancashire Ltd, aiming to contribute to growing productivity in Lancashire.
Boost Business Lancashire: Encouraging investment and job creation in Blackburn and Darwen.
Blackburn Bid: Information on financial support and grants available to businesses in the town and surrounding area.
What insurance do you need for your business?
No matter how small your business, it can really pay to be protected by Superscript's super flexible cover. Check out our guide to find the right insurance for your business.
More articles
Our advisory service, SuperscriptQ, has been granted authorisation to operate in Europe as a Lloyd's broker.

21 Nov 2022

10 minute read

Chancellor Jeremy Hunt has announced a series of tax increases, spending cuts and fiscal interventions to balance the government's finances. We break down what this means for small businesses.

What's cash accounting? How does it compare to traditional accounting? Find out how each accounting method works – and how to decide which approach is right for you.
Authorised by the FCA
The FCA supervises UK financial services firms to protect consumers. We are directly authorised and regulated by the FCA and our Firm Reference Number is 656459. These details can be confirmed on the Financial Services Register at www.fca.org.uk or by calling the FCA on 0845 606 1234.
A-rated financial strength
Our insurance products are underwritten by Standard & Poor's A-rated financial strength or higher. This means the underwriter has been independently assessed by the world's leading credit rating provider and found to have a strong capacity to meet financial commitments (pay claims).
Protected by the FSCS
If you are a business with an annual turnover under £1m, charity with an annual income under £1m, or trust with net assets under £1m, then you will be entitled to compensation from the FSCS in the unlikely event we cannot meet our obligations. Full details and further information on the scheme are available at www.fscs.org.uk.