The world's largest insurtech community, Insurtech Insights, has announced its Future50 Europe and Superscript is so pleased to be selected as one of top 20 on the list.
What is Insurtech Insights Future50 Europe?
Future50 recognises the 50 most innovative startups and scaleups disrupting insurance in Europe.
Curated by Insurtech Insights, whose vision is to unearth the most exciting and talented insurtechs, the list exemplifies the future of insurance and shows the market where the industry is headed.
Superscript is number 12!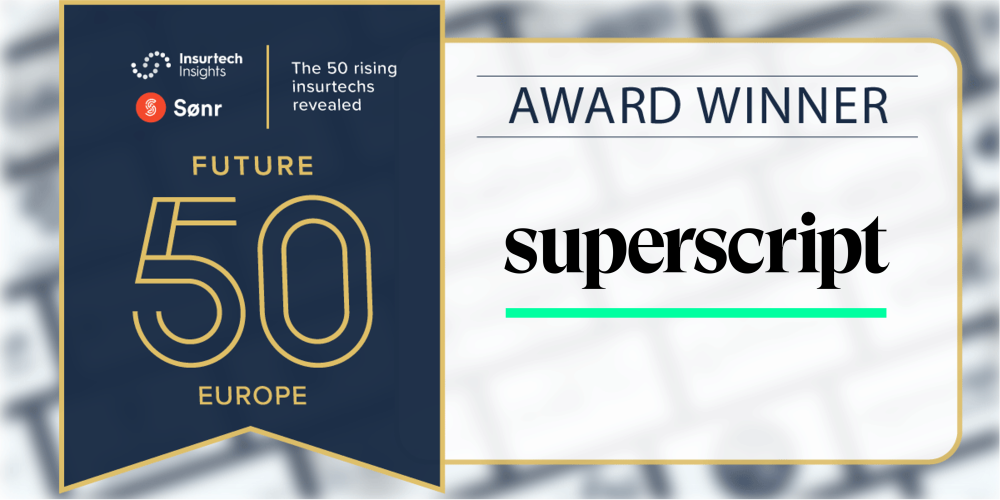 Selected from a shortlist of thousands, we're honoured to have been awarded number 12 on the list of insurtechs.
From raising £8.5m in our Series A funding to becoming the first UK insurtech registered as a Lloyd's broker, Superscript has gone from strength to strength in the last few years and it's humbling to have these efforts recognised.
How was the list chosen?
To get the top 50 list, Insurtech Insights used data from Sønr – the world's #1 insurtech scouting and open innovation management platform, and Future50's partner. Sønr tracks over two million companies globally to helps companies source new innovation and growth opportunities.
Using this data, Insurtech Insights and Sønr were able to evaluate thousands of companies and rank them using the Sønr Index – a system that scores startups on their likelihood to succeed. This was based on three factors:
People – assessed key people in the business, including where they studied, their network and if they're considered experts.
Product – assessed the customer problem and how the business has helped, the technology being used and the experience created.
Performance – assessed growth metrics such as investments, downloads, market sizing and traction.
This process produced a list of 100, which was then whittled down to 50 with the help of a panel of judges, who evaluated and scored each company independently. Each business was judged by at least four of the C-suite insurance executives on the panel.
On the list you'll find insurtechs in the personal finance, vehicle, life, climate and medical space, among others.
To see the full list, including a 2-page spread and interview about Superscript, visit Insurtech Insights Future50 Europe.
We've made buying insurance simple. Get started.
Related posts
19 September 2023

4 minute read

In our increasingly digital world, and with cyber crime on the rise, is there an optimum time of year to buy cyber insurance?

12 September 2023

3 minute read

Venture capital investment value has dropped significantly this year, so our Director of Advisory David Dickson asks is this part of the natural startup cycle?

05 September 2023

2 minute read

We're incredibly proud to announce that new additions to Superscript's dedicated digital assets broking team makes it largest in the world.