Matt Reid

Senior Designer
07 May 2020
3 minute read
Starting a new job is always difficult. Starting a job remotely during COVID-19 comes with its own set of challenges. Navigating through an unknown company culture is hard enough on its own.
Matt, our Senior Designer, joined the team only a few weeks ago. In this blog he has given us an insight into the beginnings of his new career at Superscript along with his initial doubts and the company initiatives that have helped him ease into the role.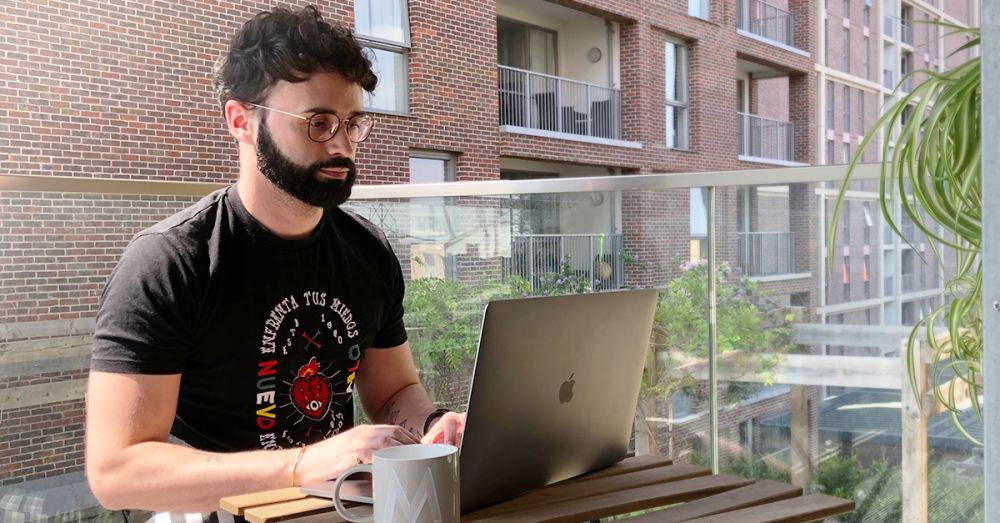 Matt's story
I have always considered myself to be an introvert. One of those people who escapes to the bathroom at parties to regenerate and strategise my exit plan. In a moment of rebellion, I once booked a solo trip to Madrid in a bid to break out of my comfort zone but spent most of the trip in my hotel room eating Taco Bell alone. Whilst I've since grown to embrace these attributes of my personality, nothing makes me wish I was more extroverted than when starting a new job.
Onboarding remotely
With the Covid-19 pandemic forcing everyone into lockdown, I was left to start my new job at Superscript using the tools of the Internet. On your first day you suddenly gain access to a Slack channel filled with inside jokes and banter and feel obliged to make an impression. Something rather difficult to do when you'd rather observe than participate. The Daily Quarantine Challenge, with tasks ranging from 'Best sock combination' to 'Most mischievous story' allowed me to contribute to the work culture at a pace I felt fit. I could laugh at the submissions with no pressure to enter but make my presence known with a challenge I liked. Fun incentives like this allowed me to throw myself into life at Superscript in a way I probably wouldn't have if I had started in a more conventional manner.
During a 'normal' onboarding process you're able to see when a colleague is available and approach them with any questions you have. But in lockdown it feels far more complicated. It's difficult to know when a colleague is knee-deep in work and therefore you often feel like a nuisance. This forced me to be more proactive than I ever thought possible but I still needed help. Daily check-ins were a lifeline in this regard. Giving me a moment every day to have all my collated questions answered at a time which suited everyone. They were also vital in ensuring I felt like I mattered and was meeting expectations. Imposter syndrome is a constant companion but it can be silenced with regular feedback and advice.
Behaviours and tools that can help
I find work socials awkward to navigate. You'll usually find me mingling with a small group of co-workers from my own department. But working from home has changed that dynamic by allowing me to have one-on-one time with everyone in the company. Daily chit-chats, organised automatically using the Donut Slack app, made it a lot easier to get to know everyone individually. I now look forward to starting work at the office with colleagues who are not strangers to me.
Starting a new job remotely is certainly very strange. But I think in part it suited my introverted nature. I was able to form connections in a manner that better suited my social skills. It forced me out of my comfort zone, making me reach out to people and initiate projects I may have otherwise ignored. It allowed me to be a part-time extrovert. And when I grew tired of the virtual pub night, the comfort and solitude of my sofa was only a few steps away.
We've made buying insurance simple. Get started.
Related posts
05 September 2023

2 minute read

We're incredibly proud to announce that new additions to Superscript's dedicated digital assets broking team makes it largest in the world.

16 August 2023

2 minute read

We're incredibly proud to announce two new major hires as we enter the next phase of accelerated growth.

14 June 2023

7 minute read

We caught up with six LGBTQ+ entrepreneurs, LGBTQ+ founders and diversity and inclusion advocates to get their top tips for building an inclusive workplace.