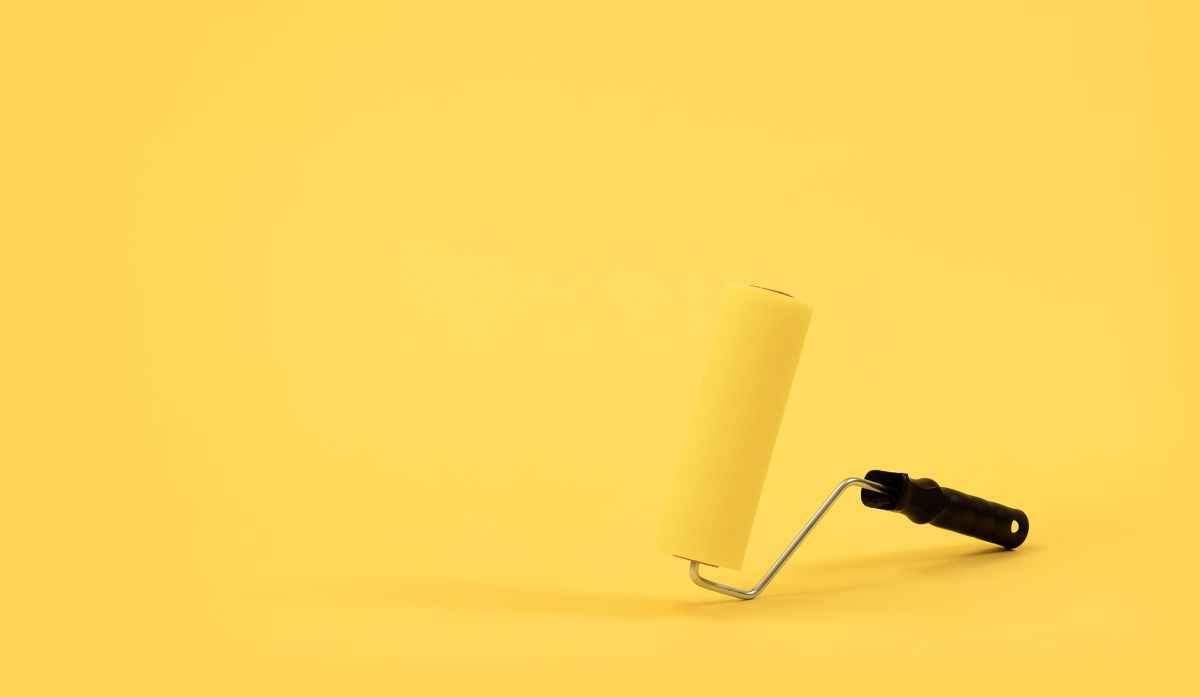 Painting and decorating insurance
Our personalised insurance for painters and decorators doesn't just paper over the cracks, it provides tailored protection for your business, tools, stock and much more.
Painting and decorating insurance quote from £5.38 a month
10% of painting and decorating businesses paid £5.38 a month or less for their insurance between January and March 2023.
Do painters and decorators need insurance?
Our specialist insurance for painters and decorators is designed to cover you for the things that can go wrong while you're on the job, from lost, stolen or broken equipment to accidental property damage and much more.
So, whether you're sole trader decorating a refurbished apartment or a limited company working on a large-scale industrial painting contract, we can cover you for the specific type of work you do.
Choose from £1m, £2m, or £5m public liability cover
Add protection for your staff and the tools of your trade
Enjoy 5-star customer service and claims support
Add or remove covers and adjust your limits, with no extra fees
Pay monthly or annually, it's your choice
Instant access to policy documents
Be quote confident
We're big on fairness. So if you find a lower price for a comparable quote, we won't just match it – we'll go one better and beat it.
So even better than apples to apples, apples to better apples. We're talking Galas to Braeburns.
As you'd expect, T&Cs apply.
What insurance do painters and decorators need?
Public liability insurance
Public liability insurance for painters and decorators covers you for accidental injury and property damage claims made against you by the public (including clients) as a result of your work.
You can choose from cover limits of £1m, £2m and £5m.
Employers' liability insurance
Employers' liability insurance is a legal requirement for most employers in the UK, regardless of whether your staff are full-time, part-time, apprentices, contracting or temporary.
If you don't have employers' liability insurance and you're found to have employees, you can be fined up to £2,500 for every day you weren't insured.
Our employers' liability cover includes a £10 million limit as standard as well as up to 50 days' cumulative cover each year for all temporary employees (who don't need to register with us).
Contract works cover
Contract works cover insures you for incidents that are out of your control at your contract job – such as theft, fire, water and wind damage – as well as accidents that can delay the completion of a job. You can add this to your insurance policy as an optional extra, with limits of up to £500,000.
You will be covered for contract works in Great Britain, Northern Ireland, the Channel Islands and the Isle of Man as well as temporarily (for up to 180 days) elsewhere in the EU.
Tools insurance and equipment cover
When you're working onsite at a job or traveling between sites, unfortunately tools and important pieces of equipment can get lost, damaged or stolen. Our equipment cover makes sure your tools are protected, so you can quickly and easily replace or repair them.
Tools and equipment cover is an optional extra with us, with limits of £10,000 in total and £1,000 per item.
To minimise risk, we recommend securely locking up your equipment when you're not using it. If you're often on the road, we can also offer additional cover to protect your tools while they're in a vehicle overnight.
Please note that portable tools and equipment cover does not include construction plant and machinery or hired in plant. You can choose to add this cover with limits of up to £25,000 for for plant and machinery owned by you, or up to £50,000 for hired in plant and machinery.
While your valuable electronics such as your phone or laptop are covered, you won't be covered if the damage is as the result of hacking. To be protected against malicious hacking, you may wish to consider cyber insurance.
Stock cover
On top of tools, you may also need cover for the materials you're using on site. We provide protection for materials such as plaster, paint and tiles from theft and damage, up to a claims limit of £5,000.
As with your tools, it's important to take precautions with your work materials, meaning they should be stored securely at your business premises or in a vehicle while they're in transit.
Personal accident cover
Being on site has a lot of risks for you, too. And a serious injury could mean you're left unable to work. If this happens, our personal accident cover can pay compensation of up to £10,000 in the event that you lose your sight, hearing, speech or a limb, or become permanently disabled.
This covers anyone working for the business up to the age of 75, but it does not cover temporary illnesses and injuries, such as broken limbs.
Important exclusions
We always like to offer you cover that protects you and your business in as many scenarios as possible. However, there are some important exclusions to what's covered that you should know about. We can't offer cover:
if your work involves the discharge of fumes, effluent or anything of a noxious nature
if you use welding plant or equipment or flame cutting equipment
for any loss or damage due to terrorism (business tools, plant and equipment, hired in plant and contract works covers only)
Once you've completed a quote, you'll be able to view a summary of cover. Please always refer to your policy documents for full details around exclusions, terms and limits of your customised cover. Read our guide to understanding your policy documents.
Just need to insure your tools and equipment?
At Superscript, we offer special cover for just the tools and equipment of your trade. You won't be tied into taking out any other covers in your policy so you only pay for what you need.
Working as a painter and decorator, you can get simple, customisable cover for vital tools and items of business equipment such as:
Power tools
Laser level
Wallpaper steamer
Paintbrushes
Plastering equipment
Laptop and phone
Read more about our tools-only cover.
Painting and decorating insurance claim examples
There are various different types of insurance claims that can affect painters and decorators, and here are a few examples of claims where your business could be liable:
The painting mistake
When painting a casino as part of a refurbishment, you accidentally painted over a several embedded LED lighting strips. The damage was not repairable and the lighting had to be removed and replaced. Public liability cover can pay the cost of replacing the lights.
The injured employee
An apprentice employed over the summer by your decorating firm fell from a wobbly step ladder while stripping wallpaper and broke their leg. Employers' liability insurance can cover the legal and compensation costs if they bring a claim against your business.
The broken laptop
The laptop you use to manage jobs was open on site during a job and wet plaster was accidentally spilled on it, wrecking the computer. Your tools and equipment insurance can cover the cost of repairing or replacing the laptop so you can carry on booking jobs.
How do insurance claims work?
The below is a good guide to the process and timescales you can expect when you need to make a claim under your policy.
If you're ever unsure whether you can or should claim, it's best to get in touch and we can let you know.
Notify us of the claim
Contact us by email at claims@gosuperscript.com, by 24/7 freephone on 0800 772 3059 or by logging in to your customer portal.
Ideally this should be done as soon as possible and within 30 days of you becoming aware of anything which you think may be covered by your insurance.
A good indicator of whether or not to let us know is if there's an issue which may require a payment to be made on your behalf.
We'll get on the case
We'll acknowledge your claim within 24 hours, and sometimes in as little as 30 minutes! This means you'll receive email confirmation of your Superscript claims reference and contact information should you need to speak to us.
We will then reach out to you within 48 hours to request any extra information we need to progress your claim.
We'll keep you updated on the next steps as the claim progresses.
A decision is made
We'll let you know if your claim is successful or not. At Superscript, if your claim isn't covered, we will always try to point you in the right direction and support you as best we can in getting back to normal.
Read about the most common reasons claims aren't paid.
If your claim is successful, once we have all the documents we need, we will aim to settle claims such as accidental damage, theft and lost equipment within five working days.
Examples of quotes for painting and decorating insurance
These customers' names have been changed.
£5.32/MONTH
Douglas, a sole trader decorator from Oxford with an annual turnover of under £50,000.
Quoted £5.32 a month in July 2022 for:
Public liability insurance (£1,000,000 limit)
£13.53/MONTH
Michela, a decorating business owner from Rushden with an annual turnover of under £50,000 and three employees.
Quoted £13.53 a month in September 2022 for:
Public liability insurance (£1m limit)
Personal accident insurance
£41.22/MONTH
James, a self-employed painter from Stourbridge with an annual turnover under £50,000.
Quoted £41.22 a month in February 2023 for:
Public liability insurance (£1m limit)
Employers' liability insurance (£10m limit)
Tools and equipment cover (£5,000 limit)
Stock cover (£2,500 limit)
Boost your cover with legal protection insurance
Covers compensation awards, professional fees and legal costs associated with a range of legal disputes.
Painter and decorator insurance FAQs
We insure thousands of innovative businesses
Check out our latest posts
Ever wondered what intellectual property is? Want to know how intellectual property insurance can help protect your business? Then read this handy guide.

Get prepped for the year ahead with our business calendar, including tax and reporting deadlines, marketing days and changes to business rates.

In this article, we look at things to consider when exploring the possibility of a move to coworking.
Authorised by the FCA
The FCA supervises UK financial services firms to protect consumers. We are directly authorised and regulated by the FCA and our Firm Reference Number is 656459. These details can be confirmed on the Financial Services Register at www.fca.org.uk or by calling the FCA on 0845 606 1234.
A-rated financial strength
Our insurance products are underwritten by Standard & Poor's A-rated financial strength or higher. This means the underwriter has been independently assessed by the world's leading credit rating provider and found to have a strong capacity to meet financial commitments (pay claims).
Protected by the FSCS
If you are a business with an annual turnover under £1m, charity with an annual income under £1m, or trust with net assets under £1m, then you will be entitled to compensation from the FSCS in the unlikely event we cannot meet our obligations. Full details and further information on the scheme are available at www.fscs.org.uk.