Superscript

Personalised business insurance
25 June 2021
8 minute read
A light-filled kitchen with custom-made marble worktops. A bright bedroom with a huge, luxurious bed. Fitted bookshelves hugging a Victorian fireplace, and French windows opening onto a shady veranda. Sound appealing? We may not all live in the home of our dreams, but many of us collect dream homes full of details like these. They're all in our Instagram feeds.
More and more of us are turning to Instagram to gather inspiration, follow other people's renovation journeys, and learn about how we can transform our own homes. As a builder, painter or decorator, Instagram offers you the perfect opportunity to showcase your work and attract new customers.
"From a decorator's perspective, it's almost as if Instagram was made for our trade" says decorator Liam Gent.
So how do you get Instagram working to your advantage? Here are 20 practical tips to make Instagram your business' best friend.
Choose a quality phone or camera
"Make sure you are using a good quality camera" says Nathan Smith of Wandsworth Sash Windows. "This doesn't have to be anything special, iPhones nowadays are brilliant, and can take some awesome photos."
Clear the area
"When taking photos of the final product, you want to make sure the area is clear of any mess you've made during installation" says Smith. "This way, the photo won't look cluttered, sloppy or unprofessional."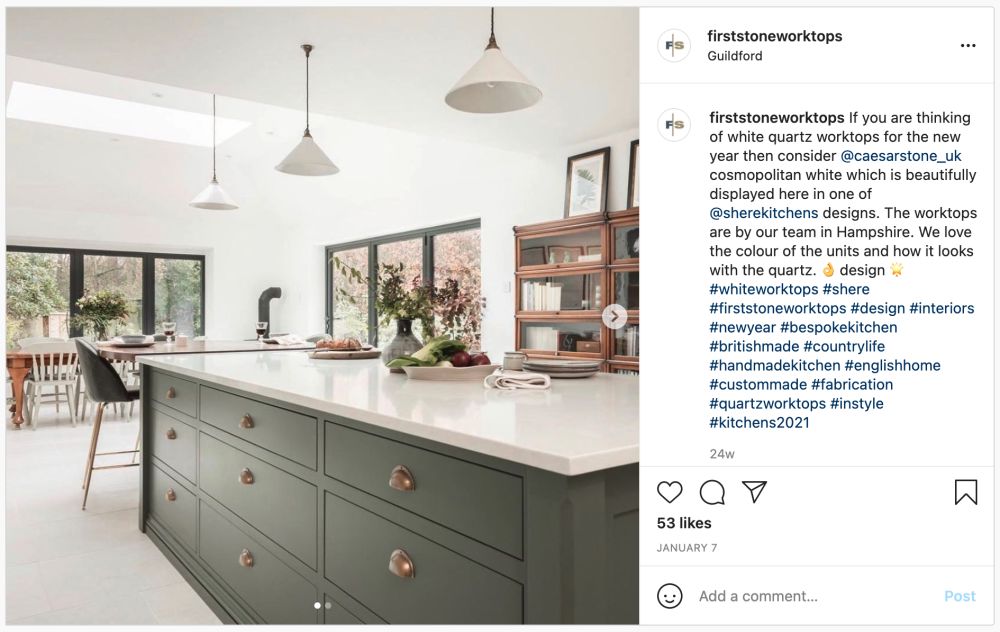 Keep people out of shot
Let your handiwork shine by keeping family members out of the shot. Photos tend to feel cleaner, more welcoming and professional if there are no people within view.
But you might like to make an exception for pets. Including a furry friend can add a touch of personality, showing that a house is a home.
Let in natural light
Lighting can make or break your images. Make sure you take your photos during daytime, and ideally on a day that's relatively clear or sunny. Aim to create a sense of brightness and space, like these photos from @LondonDecoratorsAndBuilders.
"You want the sun or indoor light to be shining on your product where possible" says Smith. Experiment with different lighting options, and try moving or angling light sources to show your work off at its best.
Find your focus
"Check the camera is in focus to ensure you get a crisp, clear shot" says Smith.
Work the best angles
Want to highlight beautifully painted skirting boards or a lovingly restored cornice? You'll need to centre those in your photographs.
You can also add close-ups of that feature or features, using Instagram's carousel (multiple images in one post) feature. Try moving closer to the detail, rather than using the zoom on your phone or camera, to get the best quality image.
Go behind the scenes
Most of us don't know how to knock down and rebuild a wall, add an interior window or a sunken path. If we did, we wouldn't be hiring expert tradespeople to do the job for us!
Give your followers a taste of the behind-the-scenes process by sharing highlights from a long process. You could show a room in a few stages, from messy building site to polished perfection, and add a caption that highlights how you did the job speedily and skilfully.
Contrast "before" and "after"
A beautiful finished job may be impressive to look at, but it's all the more impressive when you see it alongside the before. Highlight that transformation with contrasting "before" and "after" photos. S.J. Pointer do this well on their Instagram.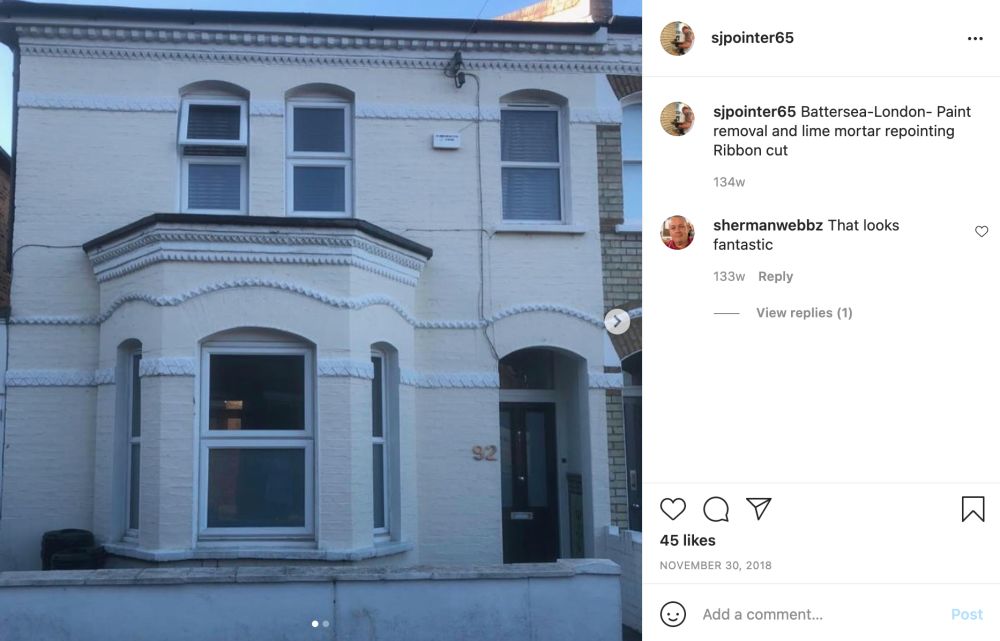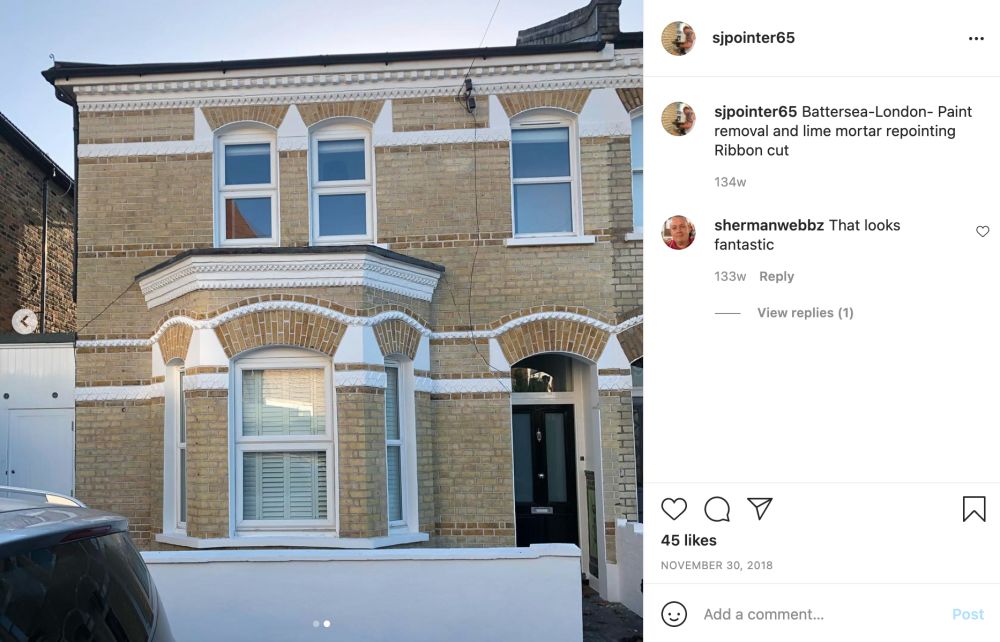 Be sure to post the "after" photos as the first image in a carousel (unless you're looking to create a bit of intrigue), or make sure that "after" photos make up the majority of the images on your Instagram grid.
These photos are what your followers will see when they scroll down your Instagram, so you want them to mainly see beautiful, inviting images (not chaotic building site snaps!)
You could even create a video showing the full transformation, especially if it's a whole house project, like this one from @LondonDecoratorsAndBuilders.
Blow your own trumpet
Don't be afraid to highlight what's special about what you do. If you use a traditional plastering technique, or an eco-friendly paint, explain it in your caption and show why it's a reason to choose your services. Project London do a great job of explaining what they did, in their short and friendly captions.
Tell a story
Instagram isn't just about beautiful images and videos. At its best, it's a platform for visual storytelling.
Take your followers on a journey with you. Talk about how the project started, why your client approached you, how you worked with the client to visualise what they wanted, and how you made decisions along the way.
Social media is "social" for a reason. At its best, it's a place to build genuine relationships with other people, so let your personality and your values shine through.
Treat Instagram as a portfolio
"Adding an Instagram link to the bottom of an estimate, invoice or printed on a business card is a great place to direct potential or current clients to a portfolio of your work" says Gent.
You could share links to your Instagram in some of these places:
Your website
Google Business listings
Business cards
Flyers, leaflets or posters
Facebook or Twitter
Emails to clients
Estimates and quotes
Invoices
Boost your knowledge
"Instagram is a great platform to interact with the wider decorating community, other trades and suppliers" says Gent. "It's an invaluable source for learning about new products/techniques and seeing the results others are getting with them, picking up advice and potential problems which may be ahead of us."
Ask your clients for permission
This one's a no-brainer. You need your clients' permission to share photos of their home, so be sure to ask for it.
"I always take before and after photos for my clients" says painter and decorator Adam. "It's good for my customers to see the contrast, especially if the project has taken a long time and they've forgotten what it used to look like. As well as taking photos for their benefit, I ask if they're happy for me to include the photos in my portfolio."
Make sure you tell clients:
How you plan to use the photos,
Where you'll share them, and
How they can change their mind at any time.
You could say something like: "Are you happy for me to show photos of this project on my Instagram grid? I'll make sure not to include any identifying details (like family photographs) and I'll clear all the photos with you first. You can change your mind at any time."
Get into your clients' mindset
Sharing beautiful photos of your work is a great way to show off what you do best. But you'll be even more successful if you can understand who your clients are, and why they want to work with you.
Get into the habit of asking previous clients why they chose you. When you're speaking to a new client, listen carefully to the way they talk about their projects. If they talk about wanting a fresh start, more space to hang out as a family, a better workspace for working from home, or an outdoor area to make their small home feel bigger, make a note of it. Keep all your notes on your phone or in a notebook, so you can see which topics come up a lot.
Keep these comments in mind, and bring them out in your Instagram posts. If a lot of your clients want loft extensions because they've got growing families, for example, you could post a series of photos that show kid-friendly loft extensions, beautifully decorated playrooms or big, family-friendly living areas.
Use related hashtags
Broad hashtags like #interiors and #HomeRenovation are used by millions of users, so they're worth adding to your posts. Aim for a maximum of twelve hashtags to your posts, and make sure they're closely related to the content you're posting.
Know what your customers want
If your ideal client is someone who's refurbishing a whole home, they might be following accounts where other people share their renovation journey, like BiggerThanTheThreeOfUs, Renovationcation or EmilyNorrisHome. If they're planning an extension or redecoration for their growing family, they might follow a kids focused interior designer, like RoomToBloom or GingerNestInteriors. And if they're very into a particular style, they might follow a themed hashtag like #ScandiHome, #SimpleInteriors or #ModernInterior. Engage with these kinds of accounts, or add these hashtags to your own posts. Be sure to include them only if they're a good match.
Engage with other accounts
You don't need to engage constantly with other accounts, but dropping them a like or a comment (it could be as simple as "great wallpaper!" or "love these windows") will make your account more visible to other users that are following that account. It will also "teach" the Instagram algorithm that your account is part of similar networks to that one, and so it may suggest your account as a similar account to follow.
"We are active within our account every day" says Smith, "Following new Instagram users, engaging with our existing followers through liking/commenting on their posts and replying to their stories, and always ensuring we reply to all comments left under our content too! By doing all of this, we are able to grow our account through forming a community on Instagram, building relationships with our target audience."
Post consistently
"We make sure we post every day. Not one day goes missed!" says Smith. You don't necessarily have to post daily, but you do need to keep up a consistent presence. Experiment with different frequencies, and see what works. Once you've found a rhythm that your followers respond to, set reminders so that you keep posting regularly.
Add a link in your bio
"We post blogs frequently to our website" says Smith, "When we want to share these, we take advantage of our bio. As you can't include a direct link in your captions on Instagram, we send people to our bio when we want to take them to our blog. We'll amend the text in our bio with a call to action, and include the link, and keep this here for a week as we promote it through content."
If you write blogs, you can link to them from your bio. If not, you might like to link to your website, or a landing page about a specific service or offer.
Keep it simple
You may have heard people talking about the Instagram algorithm. Many people see it as a mysterious force that is out of their control, which decides what content gets promoted and what gets hidden. But it doesn't need to be complicated.
As Instagram guru Vix Meldrew says, Instagram shows you content based on:
your relationship with the creator
your interest in the content type and format and
the timeliness of that content posted.
"That's it. Nothing more. Nothing sinister."
So don't get tangled up in technicalities. Just create clear, attractive photos and videos of your work. Use descriptive captions. Engage with other accounts in your industry. Be human.
Instagram doesn't have to be complicated. With these simple tips, you can create a beautiful, free portfolio for your work, and advertise to new clients while you sleep.
Know your rate?
Calculate your hourly rate and help tradespeople like you earn the right amount.
This content has been created for general information purposes and should not be taken as formal advice. Read our full disclaimer.
We've made buying insurance simple. Get started.
Related posts
02 August 2022

5 minute read

If you own a business, or freelance on behalf of clients, you're likely to use images at some point in your work, but not all images you find online are free to use. Our guide and image usage tool are here to help.

22 June 2022

5 minute read

Interested in a career as an electrician? Read our guide covering everything from the qualifications required to how to set up and market your business.

24 January 2022

7 minute read

In an era of increasing environmental consciousness, we explain how you can successfully and honestly advertise your business' environmental credentials and follow the' Green Claims Code'?