Superscript

Personalised business insurance
10 November 2020
4 minute read
COVID-19 has caused unemployment to skyrocket. Young people have been disproportionately hit and, with the original furlough scheme winding down in October, it's expected that more redundancies are on their way for workers of all ages.
Side hustles have been around for some time, as a way to earn extra income through a hobby or passion project. Some resilient Brits have used their unfortunate redundancy to make a change in their life and become their own boss. Of those with side hustles, Superscript research* shows that almost a quarter (24%) of people plan to make their side hustles full-time hustles in the future.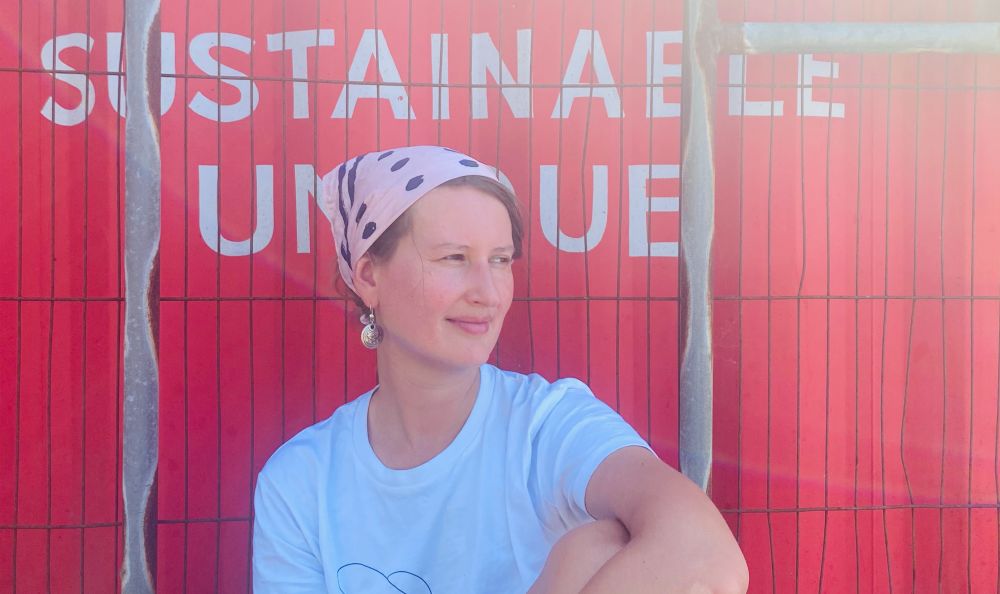 Irina Kikina was made redundant from her job working in a fashion studio in March 2020 due to COVID-19 and immediately saw the opportunity to focus all of her energies into her online business as a fashion and print designer.
Irina first started her brand, Kikina Designs, in 2018. We talk to her about the turbulence she went through when transitioning from full-time employment through redundancy, and now to being her own boss.
Do something you can't live without
I've been doing creative projects alongside my full time job probably since my twenties. From an online clothing shop to collaborative art projects - there have been quite a few 'side-hustles' over the years. Someone told me once 'Do something you can't live without' and this advice just stuck with me. I've always had a passion for art and design because of my education, so when I was stuck in mundane jobs these projects allowed me to express myself creatively.
I collaborated with friends and other creatives a lot until I decided to focus on my own design practice. I am the founder and designer at Kikina Designs and have another project with my mum, called My Mama's Quilts.
'It's now or never'
I'd always wanted to give it a proper go, but couldn't dare. It's really scary to go on your own when you have a mortgage or rent to pay and don't have any extra support. The commercial success of my side-hustles has never been my main priority. The money I was making was enough to keep my passion projects going, but I couldn't see how they could sustain me without the normal job. However, when I was made redundant, I thought 'It's now or never, isn't it?'
Lockdown experience
It sounds weird, but things actually worked out well for me during lockdown. I was able to take a mortgage holiday which eased up my financial worries. I had all the time in the world to focus on my business, and any spare cash I had I kept investing in sampling and production.
As an online business I saw great results too. Those who mainly shopped in-store pre-lockdown moved their shopping habits online. I definitely saw an uplift in customers on social channels and those checking out my shop too. Thank God the post office was open!
I was also very quick to react and started producing face masks - they sell really well. And Instagram helped a lot with the Support Small Business button as it helped me to get discovered by new customers.
It was absolutely amazing how the creative world responded not only to the pandemic but to the Black Lives Matter protests. There have been lots of great initiatives in the support of the NHS, health workers and the charities supporting BLM causes. I also made posters, greetings cards and donated to various charities.
The only thing that has been hard since the lockdown is the offline presence. There are hardly any design markets and I really miss meeting people and communicating face to face. Hopefully, a few will pop up before Christmas.
What do you love about being your own boss?
What I love the most is the freedom and flexibility to manage my own time. If I work on a weekend I can then take an afternoon off during the week. I can work from anywhere in the world and that's a huge plus. I love travelling and it has always been a big inspiration for my projects. I do a lot of research for my collections during trips. Now I am not restricted to the 20-something days annual leave that I'd get when working for someone else.
I can't say I love it every single day though - it's actually quite hard! The biggest challenge is to be able to switch off.
Time management is critical here. Ideally I would mainly focus on design and other creative aspects but being your own boss also means that you have to deal with lots of tedious tasks like retouching and uploading images, sales and marketing as well as boring stuff like admin or doing your own taxes - it's all on you.
What advice would you give to others hoping to take the plunge from side to full-time hustling?
Be patient and confident that you'll find your audience/customer. Be kind to yourself. When you do make the leap, make sure your accounts are up to date!
You can find visit Kikina Designs' website and Instagram.
*Survey of 2,002 people with side hustles conducted by Censuswide, on behalf of Superscript, between 10th-15th September 2020.
We've made buying insurance simple. Get started.
Related posts
25 August 2023

7 minute read

If you've been called to sit on a jury, you'll probably have a lot of questions. Here, we answer some common queries about jury service while you're self-employed, including what expenses you can claim and whether insurance will cover lost income.

01 June 2023

6 minute read

Freelancers and the self-employed pay their National Insurance contributions a little differently to people employed by a company. Read our guide to the ins and outs of how National Insurance works for the self-employed.

07 December 2022

2 minute read

Do I need to pay tax for my side hustle? What's a Self Assessment? A TaxScouts accountant answers some of the most common questions about taxes for side gigs.