Superscript

Personalised business insurance
14 May 2020
4 minute read
Never before have we had to communicate so much via video call for work, or in our social lives. By now, you're probably familiar with a jumble of video conferencing tools, but if you're not firmly committed to one, perhaps it's time to re-assess the options available.
To make the task easier, we've put together an overview of some of our favourites (in alphabetical order). We've also included information around the different plans available and links to authoritative resources about security for each of the tools, as keeping your business cyber secure is something we're passionate about here at Superscript.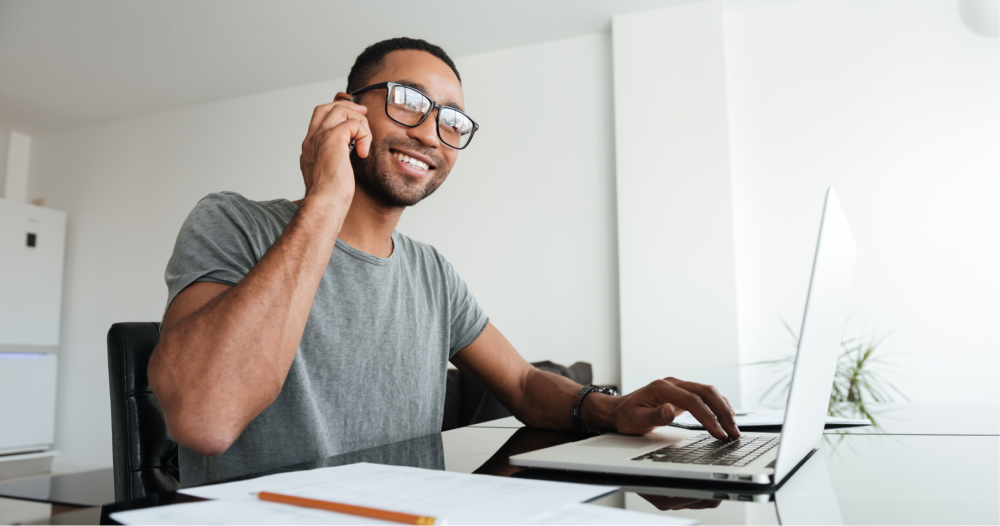 Google Meet
Known as 'Google Hangouts Meet' until fairly recently, Google Meet is an easy one to adopt if you're already using the G Suite, as it works seamlessly with your Google Calendar.
Free plan Even if you're not using the G Suite within your business, Google has recently made Google Meet free to anyone at meet.google.com and via mobile apps for iOs and Android.
Paid plans The G Suite includes email, chat, docs, security features and so much more, and it's available via three package options: the basic plan, at £4.14 a user, per month; the 'Business' plan, at £8.28 a user, per month; and the Enterprise plan, at £20 a user, per month.
Security Google has the edge when it comes to security, as it's had to build security into a huge range of products. Find out more about how Google's video conferencing security measures up.
GoToMeeting
A favourite for Webinar hosting, and unlike most of the others on this list, GoToMeeting specialises in, and only offers, video conferencing. It's available via an application and by web.
Free plan There isn't a free version, but you can take advantage of a 14-day free trial (no credit card required).
Paid plans
GoToMeeting offers three of options to meet different requirements. It's most basic package is the 'Professional' plan, currently at £9.50 per month, per organiser (host) for up to 150 participants per call. Its 'Business' plan, at £12.67 per month, per organiser allows for up to 250 participants per call. 'Enterprise' plans, which can enable meetings for up to 3,000 participants, are available upon request. Find out more about GoToMeeting's plans.
Security GoToMeeting prides itself on its security. You can find out more about what this entails in its security FAQs.
Microsoft Teams
A popular choice for businesses using Microsoft 365, Microsoft Teams video meetings lost out for a while as it only enabled four faces on the screen at a time, but a recent update brings it up to standards, allowing nine faces on the screen at a time.
Free plan Microsoft Teams is available for free, but for conference hosting, you'll have to opt for one of the paid plans. The free version allows up to 50 participants per meeting, or 20 if a call within a chat.
Paid plans Microsoft 365, which includes much more than video conferencing, is available in three plans, by annual commitment: Business Basic, at £3.80 a user, per month; Business Standard, at £9.40 a user, per month, and E3, at £17.60 a user, per month. All paid plans include video conferencing hosting for up to 250 people - and online events for up to 10,000.
Security Like Google, Microsoft has a wealth of experience and resources dedicated to security. To find out more, you can read Microsoft's overview of security and compliance for Teams.
Slack video conferencing
Slack is a business communication platform, so it offers far more than just video conferencing. However, its video conferencing capabilities are pretty neat. It's worth noting that while Slack's native video conferencing tool only allows up to 15 people per conference call, it does integrate with GoToMeeting, Microsoft Teams and Zoom.
Free plan Slack can be used free of charge, but with limitations. However, its free version, which is aimed at small teams wanting to try out the platform, limits video conferencing capabilities to 1-to-1 calls.
Paid plans Slack offers three plans: Standard, at £5.25 a person, per month (when billed annually); Plus, at £9.75 a person, per month (when billed annually); and Enterprise Grid - prices available upon request. Visit Slack's website for more information on features and pricing.
Security Slack's video and voice call security is to the same standards as security used for the rest of its features. Find out more about Slack's voice and video call security features.
Zoom
Like GoToMeeting, Zoom is a video conferencing tool only. It's a popular tool across many industries, having taken businesses in need of video conferencing software and families and friends wanting to stay in touch by social calls by storm. It's also a top choice for many virtual pub quizzes!
Free plan Zoom's free plan is generous, offering conferencing for up to 100 participants, albeit with a limit of 40 minutes per meeting (apart from1-to-1 meetings, for which time is unlimited).
Paid plans Zoom offers three paid plans: Pro, at £11.99 a month, per host; Business, at £15.99 a month, per host; and its Enterprise plan, for 100+ hosts, for £15.99 a host, per month. Visit Zoom's website for a detailed breakdown of the features by plan.
Security Zoom has recently faced some negative press attention in relation to its security recently. But Zoom's latest release has upped security settings and it continues to show how seriously the company takes security, with its recent acquisition of Keybase as part of its 90-day Security Plan. Stay up-to-date with security updates via Zoom's blog.
If you're feeling overwhelmed by this list, don't feel guilty - you're not alone. We've put together 10 tips for managing excess screen time.
All references to features and pricing correct on 11 May 2020.
This content has been created for general information purposes and should not be taken as formal advice. Read our full disclaimer.
We've made buying insurance simple. Get started.
Related posts
19 September 2023

4 minute read

In our increasingly digital world, and with cyber crime on the rise, is there an optimum time of year to buy cyber insurance?

06 September 2023

4 minute read

The Securities and Exchange Commission (SEC) recently announced sweeping changes to cybersecurity reporting that will have a profound impact. Are you prepared?

06 March 2023

5 minute read

Our Claims Manager Laura explains how the cost of living has impacted insurance claims, and what you need to know if you run a business. Read more.