Superscript

Personalised business insurance
13 January 2020
4 minute read
There's a lot to look forward to in the new year - including new product launches and features - and as we set ourselves on this exciting path, we'd like to look back at 2019 and celebrate our journey and achievements so far. What a year it was!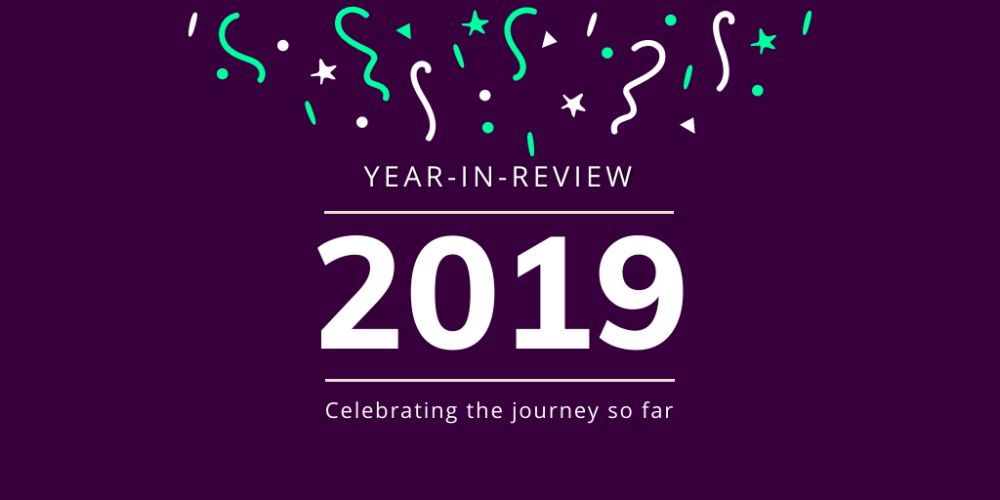 We joined Lloyds of London
As the first milestone of 2019, we joined the Lloyds of London market (the oldest insurance business in the world) as a coverholder. This allowed us to expand our business and serve our customers on a new level. Achieving this status enabled us to provide comprehensive cover for a wider range of specialist risks. It also meant we were able to insure UK businesses that trade internationally.
We created our new quote journey
In March, we launched a new version of our online quote builder, putting a greater focus on educating our customers about the types of covers they might want to consider and delivering a highly-tailored user experience. We have introduced a personalised experience based on business activities and industries. Aimed to remove as many frictions as possible, the new version of the quote widget enables users to select insurance products that are relevant for their exact business type and sector.
The system is also integrated with third-parties such as Companies House, making the whole process of getting a quote even more streamlined.
Along with that, we have launched a feature of automated policy dispatch after purchase - which meant that our customers received their documents in less than 2 minutes.
Our new quote builder gave businesses the level of engagement and interaction that they are used to with modern digital services, meaning they could make informed decisions and get the right protection faster.
New product launches
Our underwriting team worked around the clock to bring you a new set of advanced covers specifically for the needs of modern businesses. In addition, they worked on upgrading our professional indemnity and cyber covers.
A key new product in our portfolio is the directors' and officers' insurance, which is exclusive to Digital Risks. Designed for startups and early-stage businesses it provides well-rounded protection with many add-ons that are traditionally excluded by D&O policies. Worldwide cover, insolvency, employment practices, cyber bullying, regulatory events and major shareholder claims - designed for any stage of growth and at no extra cost for the business.
In collaboration with Beazley, we launched our new healthcare professional insurance in November. Designed for self-employed healthcare professionals, this cover has been developed to protect health and beauty therapists and nurses against risks they face when treating their patients. It's a highly specialist, unique product that includes medical malpractice, professional indemnity and public liability insurance in one policy.
We also redesigned our professional indemnity cover. With several enhancements, we made this policy one of the most advanced available online. This includes media content liability, cyber and privacy liability, appeal costs, employee dishonesty, regulatory defence and penalties and website recovery services. We also expanded the number of trades we are able to cover, bringing this innovative cover to even more businesses than before. As a result, our new and existing customers got better, more comprehensive cover at no additional expense for their business.
New online features
We're always looking to enhance our products and experience, and in October we launched a suite of new features with exactly this in mind. Our new online accounts give customers greater control and flexibility over managing their business insurance.
Partnership with Starling Bank
September was marked by the announcement of our partnership with a leading challenger in the fintech industry - Starling Bank. The integration that was put in place by our tech team allowed all 100,000 Starling Bank's business account holders to access our products directly from the Starling app and manage more of their business admin from one place.
We won the Insurance Choice award
We became finalists in two categories of Insurance Choice awards - and won Best Newcomer 2019. We were truly honoured to receive this award, as it was based purely on customers' votes and reviews. We keep our customers in mind when designing our products and the overall experience so it was especially rewarding to earn this recognition.
Excellent TrustScore on Trustpilot
Ending 2019 on a high note, we reached 600 five-star reviews on Trustpilot, maintaining our overall TrustScore as Excellent. Customers are at the core of everything we do, so it's great to hear we're getting things right with our products and the service we provide. Here are some of our favourites:
We've grown our amazing team
In the last 18 months, we have grown nearly six-fold. New team members have joined us across all departments, including Customer Success, Marketing, Finance, Product, Tech and Broker teams. The management team has welcomed our new Chief Financial Officer Anil Sharma and VP of Marketing Mai Fenton. And with the start of our new Customer Success team member, our average time to solve a customer's query got to 2 hours 30 minutes (based on thousands we got this year).
Where small businesses get overlooked, we are focusing all our efforts on making insurance fairer, easily accessible and tailored in the same way it would be for a big company. We've started the new decade with our hands full - including new features, products and exciting announcements to be released soon. But as we welcome constant change, one thing stays the same - the culture we hold as a team. We have learned that the right people can undoubtedly determine the journey and success of a business. We look forward to growing as a team and working together towards achieving a future where small businesses can truly thrive - in the UK and beyond.
We've made buying insurance simple. Get started.
Related posts
19 September 2023

4 minute read

In our increasingly digital world, and with cyber crime on the rise, is there an optimum time of year to buy cyber insurance?

12 September 2023

3 minute read

Venture capital investment value has dropped significantly this year, so our Director of Advisory David Dickson asks is this part of the natural startup cycle?

06 September 2023

4 minute read

The Securities and Exchange Commission (SEC) recently announced sweeping changes to cybersecurity reporting that will have a profound impact. Are you prepared?