Superscript

Personalised business insurance
01 May 2020
4 minute read
Welcome to our third blog in the series 'Life during lockdown'. Josh, our Customer Success Team Lead, shares with us his experience of settling in to working from home with a few handy tips he picked up along the way.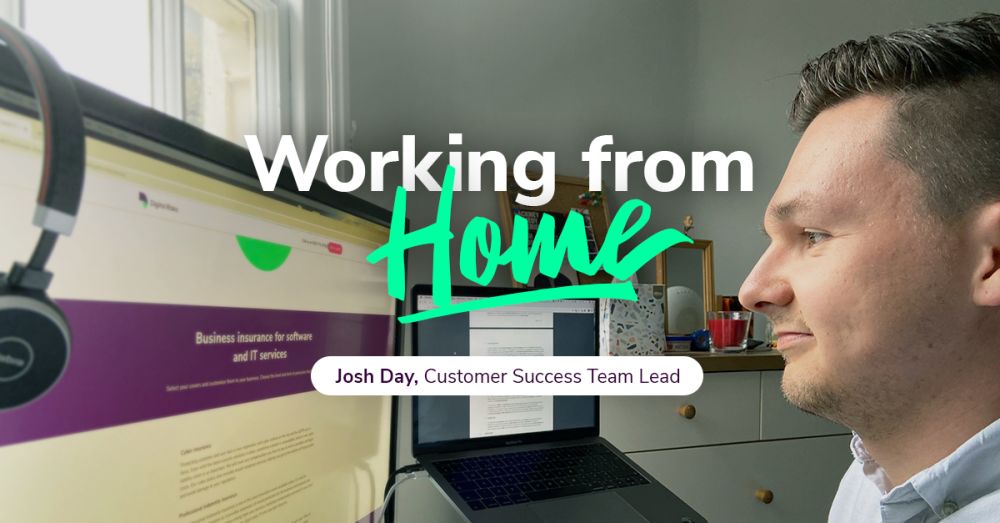 What is your living situation?
I live in a flat in London with a friend I've known since school.
How are you finding this new reality?
Generally-speaking, I'm finding the whole experience quite surreal in terms of suddenly having lots of restrictions on our daily lives and the things that we are able and not able to do. Things have improved since the beginning of the 'lockdown' but even basic things such as struggling to get essentials in supermarkets and having to social distance when outdoors has definitely taken some time to get used to. Working from home doesn't impact too much on my ability to work as I work from my laptop anyway so whilst it is a different environment, there has not been too much disruption.
Effects on your day-to-day routine?
It has been quite easy to lose a sense of routine in this new reality, especially when it comes to making sure you take breaks during the day. Losing the need to commute also makes it more tempting to wake up later than I normally would. Even little things like dressing as I normally would in the office (smart-casual) helps to give me some sense of normality!
Effects on your work-life balance? Any tips?
I think for most of us our homes are a place to relax after a busy day, so when your place of relaxation becomes your workplace as well, that is tough to get your mind around at first. I have been keeping to my pre-lockdown working hours which has helped me to keep a good work-life balance. Another tip I have is to try and separate (where you can) your work space from the space you spend your time in the evenings. For instance, as a change of scenery is important, don't sit on the sofa all day and all night!
Does working from home affect your productivity?
It is definitely easier to get distracted during the day whether that is by others living with you or by things in your home that you usually wouldn't have in the workplace. Having said that, it hasn't had a significant impact on what I would do during a normal day in the office. I had been experimenting with a mobile phone detox pre-lockdown (deleting unnecessary but disruptive apps etc.) so if you are feeling like you are being disrupted by social media for instance throughout the day I would recommend trying techniques like that. As I mentioned earlier, I have all of the equipment I would usually have in the office here at home so I am able to work normally.
How has quarantine affected your mental health?
At first it was a struggle being stuck in a flat for most of the day with restrictions as to how much you could leave, and like most people that live in London not having a garden is not ideal especially when the weather is nice outside! However, things did get much better after a week or two once I had adapted and implemented some simple coping mechanisms like making sure I go out for a walk or a run every day, taking breaks, and making sure you speak with others if you are feeling down on a particular day.
Any tips for trying to adjust to quarantine?
Whilst the news is probably as important as ever, I find it is best to limit your exposure to it because unfortunately a lot of it at the moment is sad news and can only serve to worry you or make you feel anxious.
Make the best of the restrictions in place - do go out for a daily walk or run to get some fresh air (but make sure to keep your distance!). 30-45 minutes at least I find helps and gives you time to clear your head.
Communicate: talk with others whether that is family, friends, or colleagues. A chat and a laugh on a Zoom session can really put a smile on your face. Check in on others too, especially if you think they might be on their own because you might make their day as much as yours.
Top 3 activities outside of working?
Exercise. Walking or running outside, with a bit of yoga/aerobics indoors.
Netflix! Box sets or films I had never got around to watching - isolation makes it a great time to catch up.
Decluttering. After work, exercise and Netflix, decluttering is my go-to activity, something I never really fancied doing pre-lockdown.
Any learnings to be taken back into the normal world?
Being so much more appreciative of things, I've taken for granted things like being in the company of family and friends, and our surroundings. I also hope that the sense of community that has been fostered, albeit virtually, through this time transfers into the real world once things are back to normal.
We've made buying insurance simple. Get started.
Related posts
13 September 2023

6 minute read

Having your business equipment stolen is traumatic, expensive and disruptive. Here's our checklist of the steps you should take to get back on your feet.

05 September 2023

2 minute read

We're incredibly proud to announce that new additions to Superscript's dedicated digital assets broking team makes it largest in the world.

21 August 2023

5 minute read

Claiming on your business insurance policy can be nerve-racking, but there are many things you can do to have a smoother experience. Charlotte, one of our in-house claims experts, shares her top tips for making a business insurance claim.