Superscript

Personalised business insurance
01 March 2020
5 minute read
To celebrate [International Women's Day (IWD), we're helping female entrepreneurs overcome the challenges of starting, maintaining and scaling a business in the UK. Currently, just 1 in 3 entrepreneurs in the UK are female, with the ratio of female to male entrepreneurs on the decline since 2013, now's the time to address this imbalance.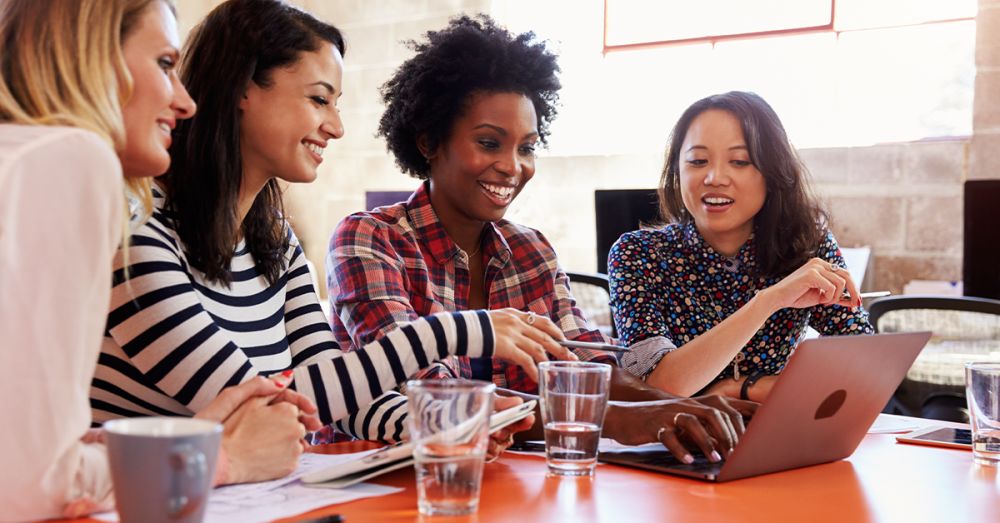 In fact, the Government is committed to bring the UK on par with the best performing economies for gender parity in entrepreneurship by 2030. It's an ambitious plan - 600,000 additional businesswomen, to put a number to it. So how can we make this happen?
Overcoming challenges faced by female entrepreneurs
The Government put Alison Rose, CEO of the Royal Bank of Scotland, on the case. Her task was to review the challenges which women in business face and make recommendations. One of the key barriers identified by The Rose Review of Female Entrepreneurship was lack of access to relatable networks. The data backs this up: fewer than 1 in 3 women surveyed said they knew an entrepreneur, versus 38% of the men. And all this despite women being more likely than men to value the importance of networking as a business skill.
Business leaders identify self-belief and confidence as key to success, yet the Rose Review found that only 39% of women were confident in their entrepreneurial capabilities, versus 55% of men. It's no wonder that Imposter Syndrome (IS), a term used to describe the fear that you're not up to your job, disproportionately affects women. In fact, research by NatWest shows that 60% of women who have considered starting a business did not see through a start-up because of lack of self-confidence.
But dehabilating as low self-esteem is, when it hits, we can take comfort that even business women as successful as Sheryl Sandberg and Emma Watson have suffered it at times. Sharing and connecting, through quality, positive relationships whether online or in-person, with others who have been there can make all the difference. Not always believing 100% in yourself doesn't have to be a reason to give up.
Networking for success: resources for entrepreneurs
Whatever stage you're at in your entrepreneurial adventure - whether you're considering a career change, nursing a fledgling business and feeling alone, or unsure about scaling-up - there are always going to be moments of doubt. But fears and risks can be managed with the right support and planning. We've put together a resource list of networking and events across the UK and beyond - some for women, others for all - to help you move forwards with confidence.
Women's business networks
AllBright
AllBright is a members' club for women. Its clubs are in London and Los Angeles, but its learning resources are offered to all digitally, via the AllBright Academy, which offers three free digital programmes, designed especially for women in business.
Blooming Founders
The aim of Blooming Founders is to help early stage female entrepreneurs succeed, through its network, practical business education and access to investors.
The British Association of Women Entrepreneurs
If you're a business owner with capital at risk, The British Association of Women Entrepreneurs (BAWE) may be the right network for you. It has a few membership options, including an associate option for startups.
Every Woman
Every Woman's purpose is to drive the advancement of women in business. It is active in over 100 countries, with a network of over 30,000 members. It offers online tools aimed at personal development.
Eyedea
Eyedea is a London-based society for female millenials, which puts on speaker events aimed at inspiring and connecting young female professionals. Even if you're not based in London, Eyedea is active on Facebook, so you can join the community online.
Female Founders Forum
The Female Founders Forum, set up by The Entrepreneurs Network in partnership with Barclays, was created to connect female entrepreneurs across the country, and to help close the gap in funding between male and female-founded startups.
Girl Geeks
Girl Geeks supports women in STEM through skills sharing and collaboration to encourage personal development. It has an extensive list of networks, by region, for business leaders and founders.
SoGal
SoGal is a platform for female entrepreneurs which aims to empower women to get their business off the ground, covering everything from ideation and design to pitching. With over 100,000 members worldwide, SoGal puts on events across the world and provides digital resources for female founders.
Prowess
Prowess provides a host of online resources for business owners, not to mention an extensively directory of local business networks which is definitely worth checking out if you're keen to get out there and meet more female entrepreneurs in your area.
Women in Business Network
The Women in Business Network is a membership organisation with an extensive network of businesswomen across local groups in the UK and Ireland.
General business networking resources
Eventbrite
Eventbrite is not a networking group as such, but as the name suggests, it's great for finding out about and signing up for events and conferences.
The British Library
Libraries aren't just about books. Initiatives such as the Business and IP Centre, set up by The British Library, provide entrepreneurs and SMEs across the UK with free access to databases, market research, journals, directories and reports through 14 National Network Centres.
Be the Business
Be the Business is a national mentor programme, partnered with business schools and industry leaders with the goal of making business education accessible across the country.
Co-working spaces
Starting a business can be a lonely time - especially if yours is based at home. Co-working spaces often host events, happy hours and some offer flexible membership options which enable you to book a desk or meeting space in other locations.
Local Enterprise Partnerships
There are now 38 Government-backed Local Enterprise Partnerships (LEPs) to provide business support and guidance across England.
Meetup
Not a specific group, but Meetup is a platform used by hundreds of thousands of groups across the world to organise events, or 'meetups'. It includes a 'Careers and Business' section and the ability to search for events by location.
Social media
If you've mainly used social media to enrich your personal life, consider that social media is also the most direct way to connect with your peers and investors, and even customers. Groups as specific as Women Business Owners & Female Entrepreneurs can be found on Facebook and LinkedIn.
The Prince's Trust
The Prince's Trust has a number of initiatives tailored to support people aged 18 to 30 in business. It offers programmes both offline and online, with access to mentors.
Want us to spread the word about your business network or group, or share your top networking tips? We'd love to hear from you - send us an email at hello@gosuperscript.com with the details. And don't forget - if you're thinking about business insurance, we're here to help make your life easier.
This content has been created for general information purposes and should not be taken as formal advice. Read our full disclaimer.
We've made buying insurance simple. Get started.
Related posts
19 September 2023

4 minute read

In our increasingly digital world, and with cyber crime on the rise, is there an optimum time of year to buy cyber insurance?

12 September 2023

3 minute read

Venture capital investment value has dropped significantly this year, so our Director of Advisory David Dickson asks is this part of the natural startup cycle?

06 September 2023

4 minute read

The Securities and Exchange Commission (SEC) recently announced sweeping changes to cybersecurity reporting that will have a profound impact. Are you prepared?