Superscript

Personalised business insurance
15 February 2022
8 minute read
Fresh air, great exercise and making dogs (and their owners) happy – becoming a professional dog walker sounds like the perfect job and it can be a great earner. But before you embark on making it your new career, or committing your own time and money, take a look at this guide to becoming a dog walker, which gives you a clear plan of the various requirements and steps that you need to take.
From new dog walking laws and courses to advertising and deciding what to charge, here's how to start a dog walking business in the UK, and make it boom.
How to become a dog walker
1. Get some experience
In most cases, setting up a dog walking business is a passion-led career move. You do need to know what you're doing, however, and some solid experience will give you a head start.
From approaching and handling to walking and playing – every dog needs something different, so get plenty of practice before charging for your walks. Some good places to start out are:
Walking dogs for friends and family
Offering a free service to someone who'd appreciate the help, such as an elderly or sheltering neighbour
Voluntary dog walking with an organisation like the RSPCA, Dogs Trust or The Light of the World Trust
Trialing a dog sharing or dog walking app such as BorrowMyDoggy or Rover
Local rescue centres and shelters – the People's Postcode Lottery has a great local causes hub, which lists animal volunteering opportunities by area
2. Get some dog walking qualifications
While there's no legal requirement to have training in place (unless specified in a client contract, for example), dog walking qualifications are becoming increasingly popular in the UK, particularly for people turning their part-time passion into a full-time career.
Not only will it teach you some really valuable information, such as the types of body language, common problems and the differences between breeds, but it will also give you a competitive edge when you go searching for clients.
You could opt for a certified course, such as the Professional Dog Walker Certificate offered by the British College Of Canine Studies or a more comprehensive course, such as this Animal Care certificate offered by City & Guilds, which includes modules around pet sitting, handling and animal health.
Owners will also always appreciate it if you have completed a course in animal first aid. Dog first aid and training offers an Emergency Canine Care course that will teach you how to give a dog CPR, and what to do in the event of an emergency health issue, such as a seizure, bleeding or a dog fight.
3. Understand the requirements and responsibilities
NarpsUK is the largest dog walking association in the UK and lists up-to-date information for dog sitters, breeders and walkers, including the rules and regulations you'll need to comply with. You can also join as a member for additional support.
The key responsibilities for dog walkers are:
Noting the number of dogs in your care – this should be no more than four at a time
Record-keeping for the work you do
Safeguarding and details like collars and microchips
Being mindful of the client data you handle and keeping it safe
Staying up-to-date on dog littering and current fines
While it's not a legal requirement, you may also want to look into a licence for your dog walking, which may come as part of the training you decide to do.
4. Build a potential client list
Before taking the plunge, it's sensible to kick-start things with a few confirmed clients. Word of mouth will be a key part of your marketing strategy, from neighbourly recommendations to local WhatsApp and Facebook groups.
Other helpful tactics can include having a professional website or social media presence and getting listed on a trusted dog walking directory. Some vets, grooming pros and local kennels will also display your marketing materials if you build a good relationship.
Finally, you'll want to start thinking about dog walking business names, and making sure yours is as unique and memorable as possible.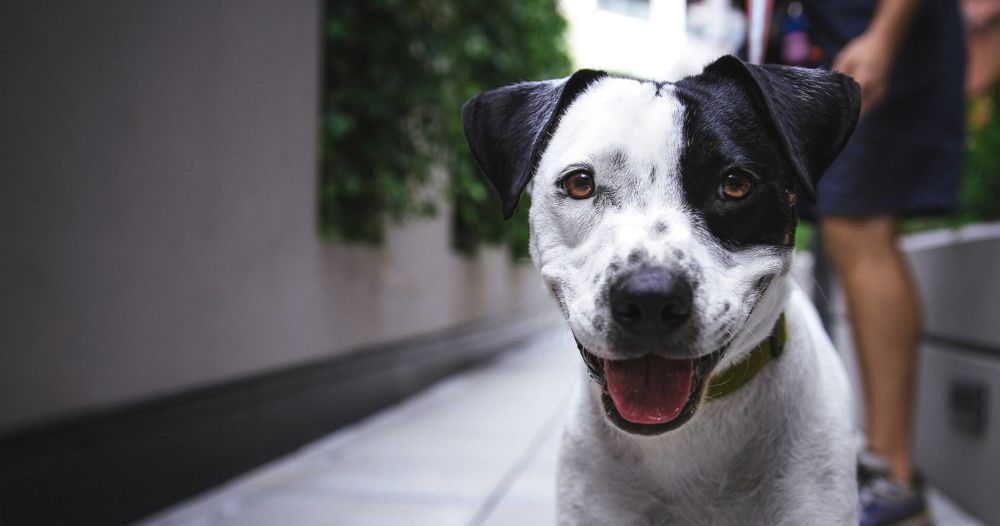 5. Have the necessary checks
A Criminal Record Check is essential if you're going to be holding keys to and entering your clients' houses. There are different ways you can do this across the UK:
6. Decide on a business structure
This is an important part of any new business venture, even if you're keeping things casual to start off with. Your company structure will define key aspects of your tax, liability and legal obligations, so registering correctly is crucial.
We've put together a more detailed guide to deciding on your business structure, but there are four main types of structure in the UK to be aware of:
Sole traders
Limited companies
Partnerships
Limited liability partnerships
Broadly speaking, a dog walking business will either fall into a sole trader or limited company structure. Many people choose to test the waters and start out as a sole trader, then swap to a limited company further down the line.
7. Sort out your insurance
As a dog walker, you're in charge of someone's beloved pet. And their safety should be your number one priority. You can't guarantee that nothing will go wrong when you're out and about with other people's pooches, but you can reassure your clients with solid, built-for-purpose dog walking insurance.
For this type of service, you should consider public liability insurance, employers' liability insurance, personal accident and cyber cover.
You'll find more information about business insurance at the end of this guide.
8. Decide on a rate
How much you charge will depend on lots of factors, from your location and client base to seasonal increases (people often charge a bit more over holiday periods), to the training you've invested in.
According to trusted dog walking and care booking site DogBuddy, now part of Rover, the average cost for a dog walk is £11.25, increasing to £13.45 in London, with the most expensive individual price pinned at £25. The cheapest quote in this survey came out at £5.
As you get out and about, you'll likely meet other dog walkers in your area. If you feel comfortable, you could ask them how much they're charging their clients to get a sense of the benchmark.
It's also important to factor in your business costs, outgoings and admin time into your rate. You can calculate this on a per month basis and then divide it until you have an hourly rate.
Alongside your business costs and outgoings, you'll inevitably use your own judgement here. Many thousands of dog walkers offer their services as much for their love of dogs and getting outdoors for most of the day. If this is the case for you, this will take some of the pressure off deciding on your rates.
9. Stock up on supplies and equipment
While clients should supply you with their own treats if their dog is on a specialised diet, and any lead or harness their dog might need, you might want to consider buying various supplies. This could include:
Treats
Poo bags
Some standard clip or slip leads
Toys
Waterproof or protective clothing
Having your own accessories and equipment to hand makes sense in case something gets lost. Making this part of your service will also bode well with your clients.
Whether you live in a well-connected area or not, if you're picking up pets from different parts of your community, you may also want to consider buying a vehicle to aid this. This will need to be able to facilitate several dogs at one time. And, depending on how well each dog gets on in a car or van, you may need to kit it out with transport crates or harnesses.
To protect this specialist equipment, you might want to consider business equipment insurance, which will cover it against loss, theft or damage.
10. Set up the rest of your business
Now you've got the main things sorted, it's time for some admin. While it might not feel like it, offering dog walking services is still a business and you should therefore take the necessary steps to set yourself up for success.
To do this, you'll want to:
Draw up an agreement – this should be signed by both parties and will protect your business (and your finances) if something goes wrong. It could include payment terms, a summary of the service offered such as how many hours a week you've agreed to, and details of the dog, including any special requirements.
Get a business bank account
Sign up to accounting software
Begin marketing your services – to do this, you could set up your own website or social media channels and showcase your services, accreditations and reviews throughout, with lots of photos of you playing and walking dogs. As mentioned, you could also content local, relevant businesses, such as vets and pet shops and ask them if you can pop a flyer on their Bulletin board.
What skills do I need to become a dog walker?
So, that's all the business stuff taken care of. But what about the personal qualities? Here As with any role, having a dog walking business requires particular personal qualities. While these are not a prerequisite for becoming successful, they certainly help and make the job easier. They include:
Communication – you'll need interpersonal skills to interact with your clients effectively.
Organisation – from names and addresses to appointments and schedules, there's a lot to remember as a dog walker, so being super organised is not only important but will help you remain reliable in your clients' eyes.
Passion – depending on your previous experience, you may have a lot to learn about things like canine behaviour and running a business, so being passionate about what you're doing will definitely help.
Patience – some dogs can be really difficult to manage, and may misbehave if they're not trained. It's up to you to remain calm and cool-headed, no matter the situation.
A willingness to work outdoors – your clients will rely on you to make sure their pups get the exercise they need, whatever the weather. While being in the great outdoors has its perks, you need to be comfortable stomping through storms just as much as sunshine.
Do I need insurance to become a dog walker?
Business insurance isn't a legal requirement for UK dog walkers, but it may be required by your clients and can protect against expensive claims for things like property damage, injuries, or even death of the pets in your care.
Some key covers to consider include:
Public liability insurance – this cover is designed to protect you against claims made by the public for accidental injury or property damage. It extends to death, disease or harm to any animal as a result of your business activities.
Employers' liability insurance – if you decide to grow your business and take on employees, this type of cover is a legal requirement in the UK – regardless of whether they're temporary, part-time or contract.
Personal accident cover – if you or one of your employees suffered an injury that left you unable to work, this type of cover would provide compensation.
Cyber insurance – if you hold the personal details of your clients, such as names, addresses and payment details, you may want to consider cyber cover.
Have a look at our dog walking insurance to learn more.
You may also like:
This content has been created for general information purposes and should not be taken as formal advice. Read our full disclaimer.
We've made buying insurance simple. Get started.
Related posts
13 September 2023

6 minute read

Having your business equipment stolen is traumatic, expensive and disruptive. Here's our checklist of the steps you should take to get back on your feet.

21 August 2023

5 minute read

Claiming on your business insurance policy can be nerve-racking, but there are many things you can do to have a smoother experience. Charlotte, one of our in-house claims experts, shares her top tips for making a business insurance claim.

25 July 2023

4 minute read

What is the current national minimum wage, living wage and real wage? And what's the difference? Find out here in this handy guide.