Superscript

Personalised business insurance
29 March 2020
5 minute read
In celebration of International Women's Day (IWD), we're looking at which startups are making strides in gender equality. We've picked our UK frontrunners, plus a few from around the globe, and they all give striking examples of what's possible in business, where equality is part of the fabric, not just a box-tick.
Gender equality: a definition
Pay gap (and other remuneration issues), gender composition across the workforce (particularly women in tech), parental leave, sexual harassment and flexible working policies are all top of the agenda for most gender equality reporting. But where is the blueprint for making equality a reality, instead of a snail's-pace obligation?
In its 2019 Gender Equality Global Report & Ranking, social enterprise firm Equileap found that Australia, France and the Nordics, led by Sweden, are the best-performing countries on gender equality overall. Equileap's report focuses on a unique scorecard of 19 criteria, including gender balance across the workforce, senior management and board directors, pay gap, parental leave and sexual harassment.
With 25 out of Equileap's top 100 companies based in Australia, the question is, what's being done over there that we can replicate here? And, if it's not big businesses with more longstanding inequality to dismantle, does the answer lie in the UK's fresh new startups – generally more able to build equality into their DNA from the get-go?
From big-business Australia to UK startups
It's worth noting that Australia's performance, according to Equileap, is likely thanks to legislation kickstarted in 2012, which requires companies to publish yearly reports on their gender equality performance. These cover gender composition (including governing bodies), remuneration, parental leave, and flexible working, amongst others. A great example of government doing its bit to enforce, rather than just encourage, change.
It's the same idea behind the UK's Women in Finance Charter (the Charter), which Monzo, Zopa and Starling Bank in our top seven list below have signed up to. The Charter is a commitment between Her Majesty's Treasury and firms who've signed up to take real, public steps towards building a more balanced and fairer industry.
The magic here is that in order to sign up, you have to commit to public reporting on your gender gap. And if you don't sign up, it's a blot on your PR. Peer pressure can be a good thing, when it comes to gender equality.
The companies noted in Equileap's report are all publicly listed, and have a market capitalisation of more than USD 2 billion. So what about smaller, potentially more agile, companies, and what they can implement by example?
Here are seven businesses we have our eye on, all leading the way in gender equality, from the culture they nurture to the policies they stand by.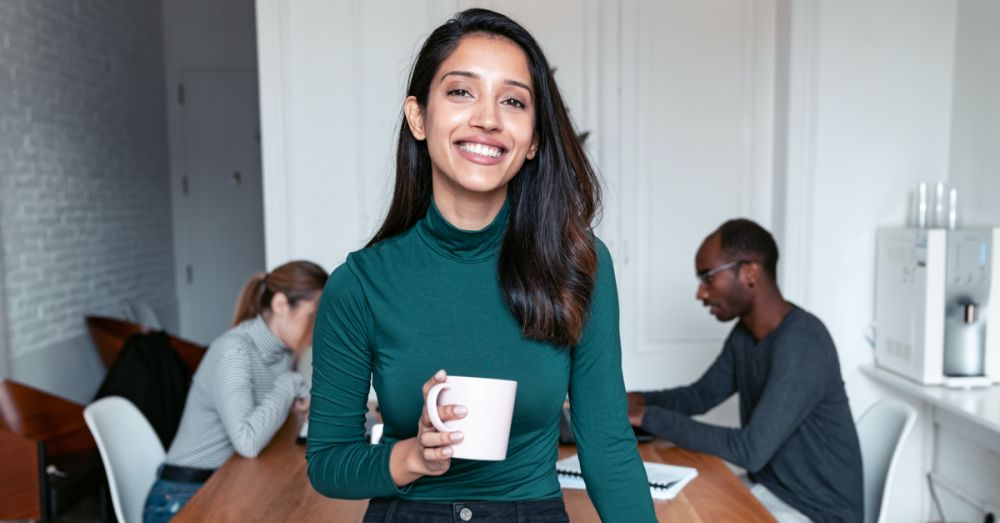 7 gender equality-focused startups
In no particular order, our top examples for startup gender equality:
1. Salesforce
Despite recent employee protests over a controversial contract with the U.S. Customs and Border Patrol, we couldn't miss Salesforce off the list, for its gender equality policies. It's not exactly a tiny startup, but the mentality and ethos are still in place.
The CRM software firm came out at 11 in Glassdoor's Best Places to Work 2019 list, with all sorts of pro-gender equality, serious change policies and initiatives in place. These include flexible time off, proactive professional development, office 'Lean In' circles, and a phased return-to-work plan for new parents. There's also 26 weeks of parental leave for primary caregivers, and 12 weeks for secondary.
2. Monzo
Again, not really a startup anymore, but part of the fabric serving the small business community. Monzo are signed up to the Women in Finance Charter, and as part of that have pledged to improve gender balance in their senior team.
The banking disruptor brand are aiming for both their executive committee and board to be at least 40% female by 2020. You can read all about their progress, and strikingly Monzo are upfront about their recent board level male hires, setting out plans for improvement. They're on a good track with their executive committee aims, increasing their female ratio from 11% in 2017 to 27% in 2019.
3. Outreach
Back to the USA, Seattle-based software company Outreach are making big strides, placing high up on lots of best workplace lists in recent years. They offer forward-thinking policies for new parents returning to work – including working-from-home alternatives, and even a weekday night nurse, plus dinner delivery twice a week.
All of this comes from CEO Manny Medina's own return to work experience, and is miles ahead not just in sentiment, but creative thinking around what helps people thrive in their life at work, and outside. The company has a dedicated female-focused network, Outreach Women's Network (OWN), and an enviable list of other initiatives. These include training, development and wellness classes, diversity and unconscious bias training, and an all-employee leadership class.
4. Starling Bank
Another signatory on the UK's Women in Finance Charter, our partner Starling Bank are aiming to increase their number of women in senior management roles to 30% in 2021 (up from 27% in 2017). They've already exceeded this, with 41% of these roles being filled by women, and their executive is swinging right over, at 54% female.
5. Bumble
It's one of our largest dating apps, and founded on misogyny-beating principles, so Bumble is another great example of huge success driven by entrenched gender equality.
Bumble is 80% female at executive level, and employees get 16 weeks off paid parental leave (smashing the overall USA average), fertility procedure discounts and lactation rooms for breastfeeding mothers.
6. Zopa
Also on the Women in Finance Charter list, 38% of Zopa's senior roles are taken by women. They're looking to increase that by 5 percentage points by December 2021.
The loans and investment startup even started 'decoding' all their job advertising in 2019, in a bid to remove any gender bias. They're conscientious about the diversity on their interview panels, and their candidate shortlists, along with making every effort to accommodate flexible working requests, where possible.
As a result, Zopa have celebrated a 4.7% increase for women in their upper pay quartile, and 4% in the upper middle. It's led to an overall gender pay gap reduction, from 25.5% in 2018 to 18% last year (these are the mean figures, and combined between Zopa Ltd and Zopa Bank). You can read all about it on their blog .
7. Natural Cycles
For co-founder and CTO Elina Bergland, Natural Cycle's attitude to gender is simple,
"Natural Cycles plays a huge role in women's lives, which humbles us. So we always have their best interest at heart in every decision we make."
Founded in Switzerland with a headquarters now in Stockholm, the fertility data app's mission is to 'pioneer women's health with research and passion'. They've grown in a few years to 80 employees, and have intrinsic diversity principles at their core. Because of this, their team represents over 20 different nationalities, an overall gender diversity of 35/65 and have a tech and R&D department that's over 50% female.
You may also like:
This content has been created for general information purposes and should not be taken as formal advice. Read our full disclaimer.
We've made buying insurance simple. Get started.
Related posts
29 November 2023

4 minute read

In this article, we look at things to consider when exploring the possibility of a move to coworking.

13 October 2023

3 minute read

What do employees enjoy about company Christmas parties? And in a tough economic climate, what's the best use of your budget? Our survey has answers.

14 June 2023

7 minute read

We caught up with six LGBTQ+ entrepreneurs, LGBTQ+ founders and diversity and inclusion advocates to get their top tips for building an inclusive workplace.