Superscript

Personalised business insurance
12 December 2018
3 minute read
We caught up with Joel Beverley, Co-Founder of online rota software startup RotaCloud, to find out what makes his team and business tick.
What's your 'Elevator pitch'?
RotaCloud is web-based staff scheduling software that's designed to make planning rotas quick and painless. It's fast, it's easy to use, and because it's 100% cloud-based, you never have to worry about staff looking at an old version of the rota or showing up for the wrong shift.

And where did the inspiration for your business come from?
The initial idea for RotaCloud came to me after hearing my sister complain about the paper rota at the hotel she was working for. Often, her manager would have to make last-minute changes to the rota, and there would be no way of the staff knowing until they were next in. I too had had similar experiences when I was younger, working part-time jobs in cafes, pubs, bars where the rota has a big role to play.
Small businesses rely so heavily on the efficiency of their workforce and, for many, the rota is the focal point for their team. We wanted to make life easier for those managing the rota and running these businesses, but also their staff as well. If the employees have a simple, easy-to-use solution, then it will improve their well-being — which in itself drives the productivity and efficiency of the business.
Who are your founders? What brought you together?
David, James, and I are old school friends and have known each other for more than 20 years. After finishing school, we each went and did our own thing: James and I went to university and David set up his own freelance web development business. We'd spoken loosely for many years about creating a business together, but until RotaCloud came along we hadn't had a tangible idea.
What customer problem are you solving?
RotaCloud helps small to medium business owners manage their staff more efficiently, saving them both time and money. It streamlines communication between managers and employees by sending notifications by email, push and text so everyone always knows what is happening.
The rotas track hours and costs giving business owners more control over their wage bill and takes away the headache of complex spreadsheet formulas. By improving the visibility of the rota for employees and giving managers that overview, they can ensure they have the right amount of staff working at any one time, so that the business is operating as efficiently as possible.
By making things more transparent and clear for employees it also keeps them happy too, which helps improve staff morale and productivity .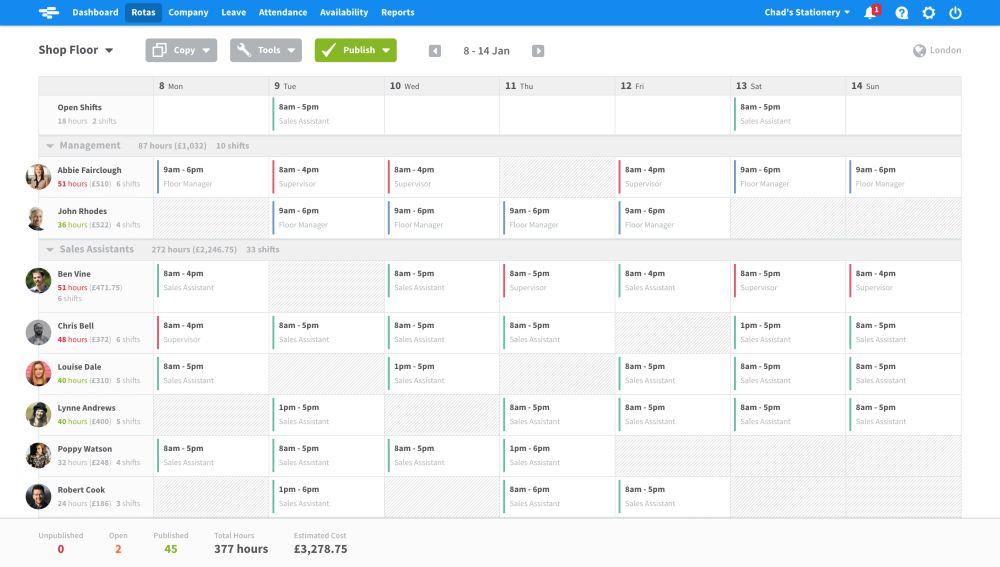 What makes you different in the market?
I'd have to say RotaCloud's ease of use. We built the software so that anyone — whether they're managing a team of fifty care workers or planning the rota for a bar — can pick it up and use it regardless of their IT proficiency. Both staff and management pick it up very quickly, which definitely helps when introducing new methods into a business.
What advice would you give to a startup entrepreneur taking their first steps?
Don't get too bogged down in the details.
We spent hours trying to find the perfect font for the first iteration of our logo, only for it to be completely re-imagined a few months later. When you create your own product, there will inevitably be a sense of pride and rightly so!
However, it's worth remembering that no one else looks at your work as closely as you do. While details are definitely important and it is good to take pride in what you have created, at some point you have to think about the bigger picture, let go and move on to the next thing.
Your most cherished memory working in your startup?
I've loved every day working for RotaCloud, but the uniqueness of those early days, starting a business from your bedroom, is something I doubt I'll ever experience again (although you never know!). The other two founders and I also lived together and for the first two years we worked from home seven days a week, day and night, building the product and the company.
People often say that living with friends can be tricky, nevermind starting a business together. But we rarely had any issues and I think that has laid the foundations for where we are now. Those first couple of years were intense — we worked incredibly hard and got so much done on such a minimal budget (including our own salaries, or lack of) — but we wouldn't be where we are today without it!
Related stories
This content has been created for general information purposes and should not be taken as formal advice. Read our full disclaimer.
We've made buying insurance simple. Get started.
Related posts
29 November 2023

4 minute read

In this article, we look at things to consider when exploring the possibility of a move to coworking.

17 October 2023

2 minute read

We've partnered up with the high-street bank provide its small business banking customers with personalised business insurance. Find out more.

07 December 2022

2 minute read

Do I need to pay tax for my side hustle? What's a Self Assessment? A TaxScouts accountant answers some of the most common questions about taxes for side gigs.