Superscript

Personalised business insurance
10 November 2020
3 minute read
We've been exploring the growth in side hustles during lockdown, highlighting how ambitious and creative individuals have started their own side gigs in recent months.
According to our research*, the most typical side hustles are unsurprisingly in activities that can easily be done from home. Marketing services is the biggest industry for side hustles, incorporating activities such as writing, blogging, graphic design and social media. Home arts and crafts follows closely behind, demonstrated in huge numbers of new businesses registering on the likes of eBay and NotOnTheHighStreet during lockdown (and is also reflected in Superscript's own data).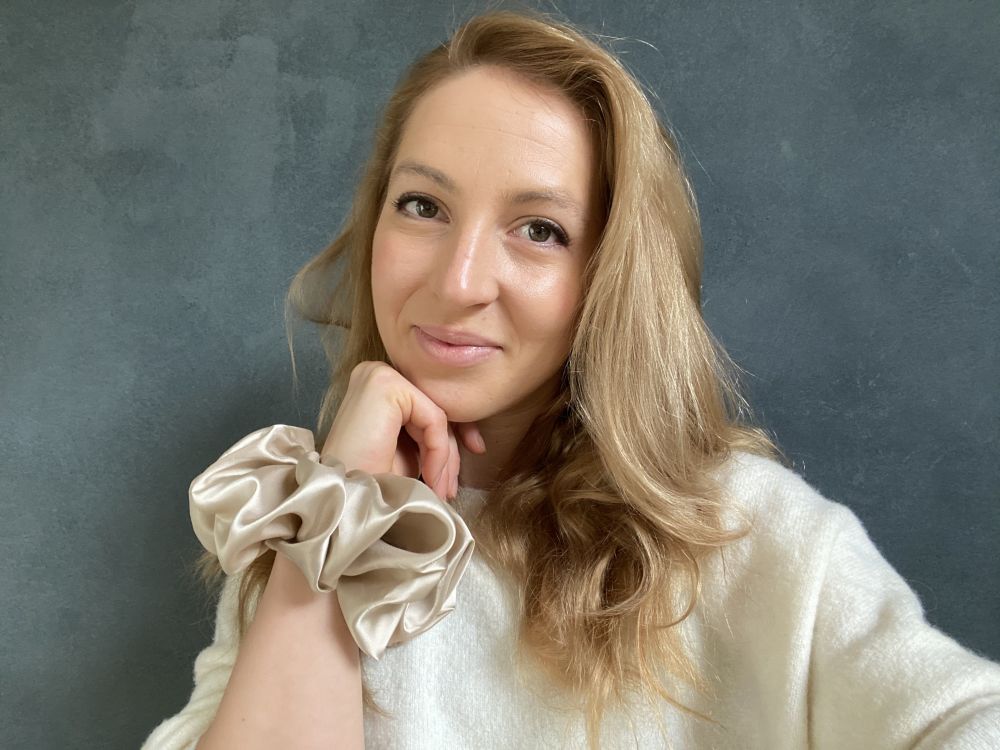 Rosie Pope is one such person who saw a gap in the market for luxury hair scrunchies. We sit down with Rosie to chat about her new business, SilkPie, and get her advice for anyone thinking of setting up a similar side hustle.
When did you first start your side hustle?
I started SilkPie Scrunchies in April 2020, just after the start of the first lockdown.
Time to be creative
Originally I wanted to make myself the perfect scrunchie in ivory satin for my own wedding day. I wanted a relaxed style but with a bridal nod, and I thought a scrunchie would bring just that. I then made various types, including some for my bridesmaids in sage green, and then I just didn't stop!
Initially I was giving them away for free. People seemed to love them and I collected feedback (on the size, the elastic, how people found them etc). Eventually, still with abundant time on my hands as lockdown stretched on, I started an Etsy shop and started selling.
I've always been creative and found it such a joy to be making something with my hands again, and also loved making some pocket money (I'm a full-time consultant, so SilkPie is all on the side).
COVID-19 and the lockdown really allowed the business to be born. I had time to focus and really enjoy the process. If I hadn't had the extra time afforded by lockdown, I don't think the business would have taken off in the way it has. The end of the first lockdown meant that I had less time to put energy into new colourways and designs, but I still kept up as much as I could, even if that meant sewing late into the night. This second lockdown will give me time to dream up all the winter pies!
Creative power
I like having full creative power! Everything from sourcing the fabrics I will use next, to how I filter the Instagram stories, is a complete joy. Being able to make something with my hands, something from material that would otherwise be in landfill, is a complete pleasure. Seeing SilkPies out in the world - in buns, on holiday, even on dogs - is also just so brilliant.
Balancing business and pleasure
The business is primarily about pleasure; I want to keep it light and dynamic. I can put the shop on 'holiday' if I know I won't be able to sew for a while, which I really like. For me personally, I'm not fixated on growing the business simply for the sake of growth. If the business booms, I want it to be due to the product's quality and brand reputation which will come from word of mouth, not due to forced marketing. Like the scrunchies, SilkPie is small and beautiful as it is.
To anyone thinking of starting a side hustle, make sure it brings you joy! You should think carefully about what you want from the business in order to get that joy. Maybe you are forging a full new career or looking to make a mint, and that is fantastic and you should proceed accordingly. But if the hustle is more about experimenting or bringing fulfilment, at least for now, that is totally acceptable and don't feel pressured to think otherwise.
You can find SilkPie on Instagram and shop on Etsy.
**Survey of 2,002 people with side hustles conducted by Censuswide, on behalf of Superscript, between 10th to 15th September 2020.
This content has been created for general information purposes and should not be taken as formal advice. Read our full disclaimer.
We've made buying insurance simple. Get started.
Related posts
25 August 2023

7 minute read

If you've been called to sit on a jury, you'll probably have a lot of questions. Here, we answer some common queries about jury service while you're self-employed, including what expenses you can claim and whether insurance will cover lost income.

01 June 2023

6 minute read

Freelancers and the self-employed pay their National Insurance contributions a little differently to people employed by a company. Read our guide to the ins and outs of how National Insurance works for the self-employed.

07 December 2022

2 minute read

Do I need to pay tax for my side hustle? What's a Self Assessment? A TaxScouts accountant answers some of the most common questions about taxes for side gigs.