Superscript

Personalised business insurance
30 November 2020
5 minute read
A typical family in the UK spends over £800 more in December compared to other months, according to the Bank of England. As we gear up for a Christmas like no other, it's clear that many of the festive staples – like expensive train tickets home or outfits for Christmas parties – simply won't be happening this year.
For some of us, the money saved will go towards gifts for the friends and family we're not able to see in person. So if you sell products or services which tilt towards gifting, like crafts, clothing or decorative art, 2020 could be your best Christmas sale season yet.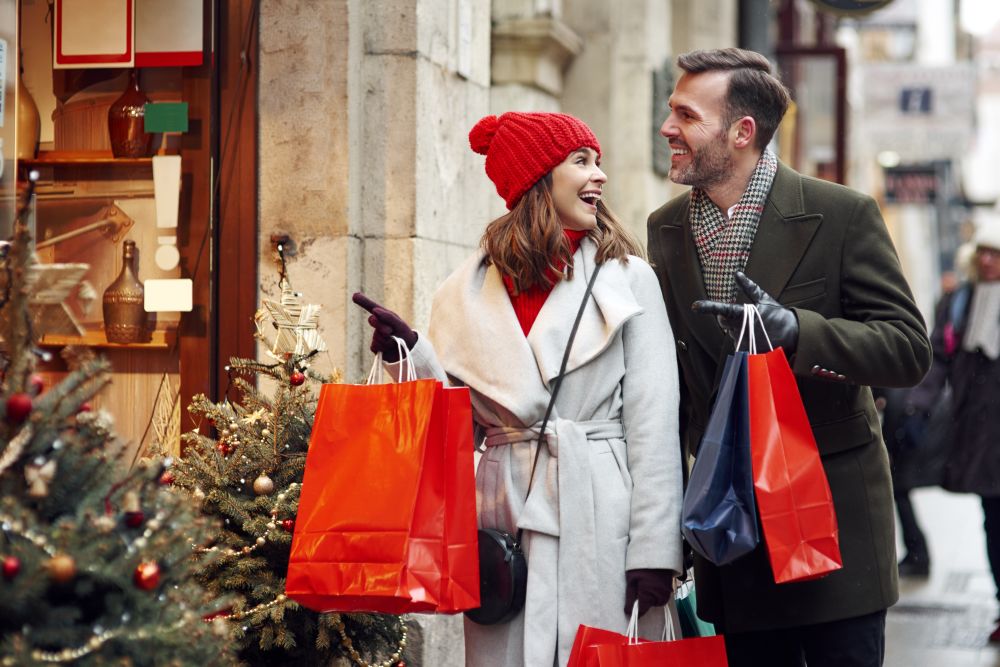 Merry Clickmas
If your business used to depend on bricks and mortar sales, it's fair to say 2020 has changed the way you retail. But don't despair, more than 70% of shoppers said they were planning to spend the same in 2020 on holiday shopping compared to 2019. Customers may have moved online, but that doesn't mean they're not shopping for products and services like yours.
Meaningful gifting
Covid-19 has kept many of us from our friends and family for longer than ever before. If we can't raise a glass this Christmas, we'll find another way to spread the cheer. More than half of people surveyed by YouGov said they thought sending Christmas cards was more important this year than ever before. Increasingly eco-conscious shoppers have been moving away from throwaway novelty gifts for some time. In 2019, 58% of shoppers said that buying the perfect gift was very important to them.
This year, a present with the personal touch may be extra important. To help you stay ahead of the season, we've asked business owners how they are preparing for the unique demands of Christmas 2020. Our checklist covers 11 actions to help you find new opportunities during a Christmas period like no other.
1. Start early
"Christmas always creeps up before you know it!" says Bay Burdett, Founder & CEO, Bay's Kitchen."As an e-commerce business, we make sure we are always on top of updates on our website and have our logistics plan in place. We make any necessary changes during quieter months. Planning is key! We schedule our emails and social tiles using tools like Klaviyo and Later."
2. Check your festive finances
"Stocking up for Christmas means you're probably maxing out your credit cards and other lines of credit" says Rob te Braake, Founder at Insight Matters. "Save yourself from unnecessary interest costs by being deliberate in who you payback and when - avoid paying back the cheapest sources of credit early."
3. Batch prep where possible
"Batch prepping products in advance to allow a solid buffer of stock is a great way to keep on top of things for the Christmas rush" says Freya Blount, Founder of Gather and Graze. "For our cut comb honey, we can see the Christmas spike start to form from November, giving confidence that the stock won't go to waste. By then labelling and packaging everything ahead of time we have time to dedicate to customer emails and other areas of the business amongst the Christmas madness."
If your products are perishable or can't be batch prepped, try batching your tasks instead. Pre-write marketing emails and schedule all your social media content. That means less headspace devoted to promoting your products, and more time to get them out the door.
4. Mobile matters
With 48% of buyers using their smartphone to search for products, mobile has never mattered more. If your website isn't optimised for mobile devices, you could be losing countless shoppers. Users will get frustrated or won't be able to find the content they want, so make sure you've tested your mobile experience. Ensure page load times are as speedy as possible, or you'll lose customers before they've even seen your site.
5. Group items by person, not product type
Make your website a pleasure to visit. That means grouping products in the most intuitive and useful way for your ideal customer. When it comes to gifting, that might mean giving users gift ideas based on age, gender, interests, price brackets and product type.
6. Left something in your cart?
Who hasn't loaded their shopping cart up with potential presents, only to get distracted by a notification, a call or some other interruption? The abandoned shopping cart reminder is simple, but vital. Tools like Google Retargeting or the Facebook Pixel allow you to remind your customers that they've added something to their shopping basket, so they can check out in time for Christmas delivery.
7. Watch your competitors
Competition can be especially fierce at Christmas, with online retailers discounting deeply. It pays to monitor what your competitors are offering closely and if necessary, react quickly with a counter-offer to avoid losing customers.
8. Don't miss out on the gift card market
Not just for last-minute shoppers, gift cards are an increasingly popular way to give friends and family an experience such as a massage, meal out or spa treatment. If your business isn't set up for gift cards, you could be missing out – particularly on last-minute shoppers looking for a Christmas eve.
9. Inventory matters
"Plan your inventory timelines - stock up too little and you're running on empty, missing out on the best month of the year" says Rob te Braake, Founder at Insight Matters. "Stock up too much and you're locking up precious cash in inventory that you may have to keep for longer than you want. Order inventory that you are confident that you can sell, and schedule a final decision moment to increase your purchasing based on your suppliers' lead time."
10. Last orders
Whether they've forgotten to order a present, or are hanging on late in hopes of a last-minute deal, don't forget the shoppers who will leave their purchases down to the wire. Keep promoting your products to potential and existing customers, right up until Christmas Eve.
11. Self care is sustainable
"Remember that you need to nourish and fuel yourself well to perform at your best" says Francesca Baker, copywriter and marketing consultant." An exhausted business owner isn't a good one. Ultimately taking time out is good for you and your business." And if you're tempted to work into the small hours, try scheduling activities to stop you. "Whether that's a long walk or a nice bath, or chats with friends and dinner with family, you will be less likely to back out and carry on with work."
We've made buying insurance simple. Get started.
Related posts
19 September 2023

4 minute read

In our increasingly digital world, and with cyber crime on the rise, is there an optimum time of year to buy cyber insurance?

13 September 2023

6 minute read

Having your business equipment stolen is traumatic, expensive and disruptive. Here's our checklist of the steps you should take to get back on your feet.

12 September 2023

3 minute read

Venture capital investment value has dropped significantly this year, so our Director of Advisory David Dickson asks is this part of the natural startup cycle?