Superscript

Personalised business insurance
28 August 2020
5 minute read
Earn more than just compliments: an affordable way to invest in art
When you think of growing your money through investment, savings pots like ISAs or investment classes like stocks and shares probably spring to mind. But what about paintings, sculpture or photography?
"While art may not always be the most liquid asset, the asset class has mostly outperformed the equity and bond markets and usually has much less volatility than equity markets" says Marine Tanguy, founder of MTart. "Also art, unlike most other investment asset classes, has an added aesthetic value. Assuming you are buying art you love, you can appreciate its beauty on a daily basis in your home. Sticking a share certificate on the wall is less enjoyable!"
While stocks and shares rise or fall with the tide of general economic trends, the art market tends to follow its own rhythms. Your shares could plummet while the estimated value of your art collection stays steady or soars. So art can provide a cushion to spread risk and diversify your portfolio. But make no mistake, investing in art is not risk-free. Artists' fortunes and buyers' tastes can change quickly.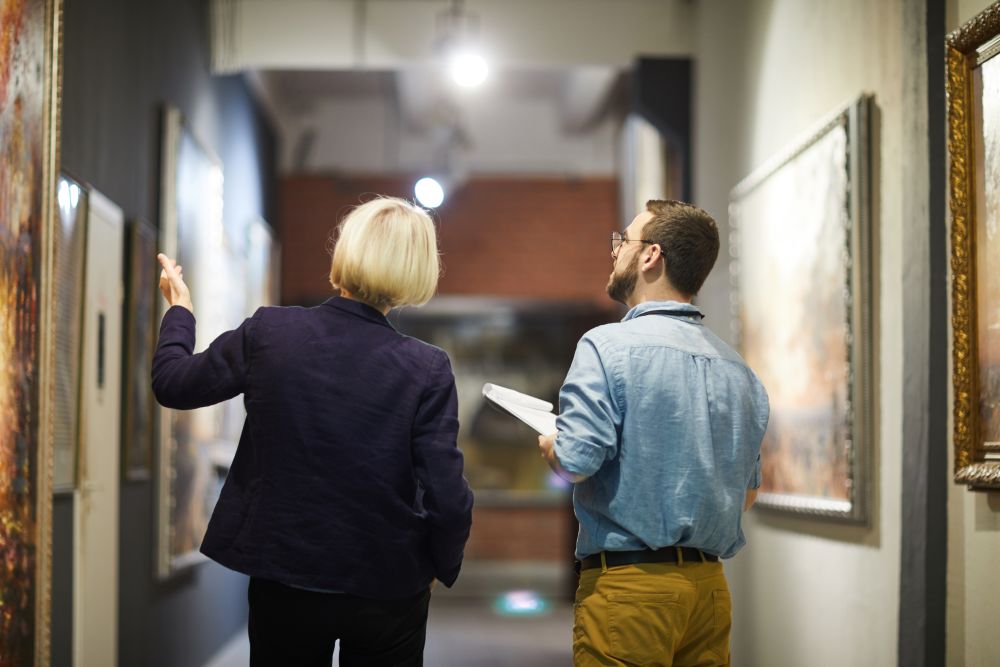 Unlike traditional investments such as bonds, you won't draw income from your art investments. And if you buy physical artwork, you could incur serious costs in storage, insurance or resale. Your purchases could shoot up in value, but they could just gather dust. So if you're not a billionaire, how can you dip your toe into the market?
Look for young and emerging artists
As Marine Tanguy says, "Investing in big-name artists such as Damien Hirst or Banksy might appear safe because their growth is steady, but this end of the market is almost completely inaccessible for everyday investors. Hirst pieces can sell in the $5m — $15m range." So look for artists who have never been exhibited, or have sold only a few pieces.
Meet people behind the pictures
"Focus not just on the art but also the artist" says Marine Tanguy. "You would never invest in a company by only seeing the product, you'd want to meet the team behind it. Same for art. Go to their studio, understand the concepts behind their work and why are their techniques different or new. Buy art you love from artists you believe in."
Do your due diligence
Use tools like Artnet's Price Database to research artists' previous sale prices. Covering more than 340,000 creators, this detailed database can help you calculate likely future sales potential. But be warned – the real bargains lie with artists who have never sold or never had an exhibition, and so you won't have historical data available.
Take your time
Profits from art won't happen overnight. Experts recommend art investment for patient investors with a time window of 10 years or more, so think long term.
Look beyond the obvious
"Investing in art doesn't exclusively mean oil paintings or sculpture. Books and rare manuscripts can make fantastic investments, if you know where to look" says Sophie Hopkins, Specialist in Books and Manuscripts at Christie's.
Find an affordable entry-point into the market
More and more platforms are springing up to help people break into the art market.
Websites like Partnership Editions sell remarkable art at accessible prices. You can pick up prints and originals from just £50, and they release art in six 'drops' throughout the year. ArtPiq makes investing in art as simple as shopping for clothes, while helping artists to crowdfund capital to kick-start their career.
Saatchi Art, Artfinder and Tappan Collective are great places to find works by emerging artists, with hundreds of works available and easily searchable by 'less than £500, 'less than £1000' and 'less than £3000.'
20x200 collaborates with a mixture of emerging and established artists to sell exclusive, limited edition artworks. With prints available at every price point, they say: "We're as meticulous with our $24 prints as we are with our $10,000 ones." Buy direct from artists by searching Instagram for #ArtistSupportPledge. Founded by artist Matthew Burroughs, the support pledge helps artists affected by Covid-19. All artwork is priced at £200 (or $200, €200, ¥20000) or less, plus shipping.
While most art graduates won't go on to glittering careers, art school graduation shows could be a great place to spot future stars on the rise.
The Affordable Art Fair, founded in 1999, was one of the first events to move investing in art out of the realms of the elite. Founder Will Ramsay said the fair exists to prove that "you don't need to be a squillionaire to buy art". While some items are priced as high as £10,000, the average selling price in previous years has hovered around £600.
Experiment with co-ownership
Platforms such as Feral Horses, Maecenas, Masterworks, ArtSquare and Artopolie allow you to invest in a small percentage of an existing artwork. You can buy shares in 'blue chip' or 'emerging' artists, with many shares going for as little as £20. But take note - some platforms will only return profits, if any emerge, via cryptocurrencies or credits so you might not reap a cash return even years into the future.
And the numbers won't always work in your favour. "The art market can offer incredible returns for investors" says Sophie Hopkins. "But in the same way that the stock market doesn't reward amateurs and day-traders, the number of us who will get lucky with an un-researched, low-ish value purchase is relatively small. You either need to have a really good eye or really deep pockets to make money investing in art. Co-ownership platforms sit somewhere in the grey middle area."
Buy what you love
"If collectors ask me what to buy 'as an investment', the thing I really stress - if they're proposing to spend under £50,000 - is to buy something that they love and can enjoy" says Sophie Hopkins. "You're never going to make a lot of money investing in art unless you have a lot of money to start with or get really lucky. Seed money isn't enough in most cases, so hedge your bets and buy stuff that you also want to see on the wall."
We've made buying insurance simple. Get started.
Related posts
29 November 2023

4 minute read

In this article, we look at things to consider when exploring the possibility of a move to coworking.

06 March 2023

5 minute read

Our Claims Manager Laura explains how the cost of living has impacted insurance claims, and what you need to know if you run a business. Read more.

01 August 2022

3 minute read

From SEO, social and influencer marketing, small businesses need digital/online marketing. Get started.