Superscript

Personalised business insurance
02 January 2019
7 minute read
What's your 'Elevator pitch'?
FlareBright aims to service a need in the market that, to date, has not been addressed by conventional aerial vehicles or drones.
SnapShot,the company's key product, is a silent, simple-to-use reconnaissance projectile, designed to capture an aerial picture or 'snapshot' of an area, and provide instant information to its users.
Designed for multiple markets, such as military reconnaissance, search and rescue, law enforcement and border security, SnapShot requires minimal training, minimal set-up and evokes minimal disruption.
The small, winged vehicle can be quickly launched using a grenade launcher where it then travels up to 100m in the air to capture a visual image of the forthcoming terrain, before homing to the hand of the user, for footage to be reviewed and action taken. A quick, effective and noise-free way of visualising any area or terrain.

And where did the inspiration for your business come from?
Dr Kelvin Hamilton had been working in subsea autonomy and realised that the drones industry had very low autonomy capability, but the need for drone autonomy was growing, and that many of the techniques he was familiar with could work on drones.
Who are your founders? What brought you together?
Dr Kelvin Hamilton, FlareBright's CEO and Dr Conrad Rider, our CTO, met whilst working for a subsea robotics company in Edinburgh where Dr Hamilton, an original founder of the company, was managing a large team of Engineers in a large commercial subsea program of work.
After a brief spell working independently, where both Dr Hamilton and Dr Rider had been working on their own business ventures, the pair then reconnected.
With extensive experience in Robotics and Software Systems, the pair made the decision to work together and progress the ideas of both Hamilton and Rider. And thus, FlareBright was born.
What would you say your 'lightbulb' moment was when you realised you could make this a business?
After a lot of dead ends, suddenly realising that there was no simple way to take aerial images, but that we knew a way to do it using mostly-existing technology. Of course it is a bit harder than that in reality!
What customer problems are you solving?
To date, we've worked with some prominent organisations to assist in developing their data visualisation and simulation systems on a consultancy and services basis.
However, SnapShot aims to solve a much larger problem for those working in the military, security or law enforcement industry.
The product offers a quick, simple, low-cost method for obtaining data and visualising an area. This product has the benefits of protecting lives and assets by capturing instant footage quickly, quietly and simply.
What makes you different in the market?
SnapShot is a completely unique product, the first of its kind to be brought to market.
Whilst drones are currently utilised to fulfill the needs addressed by SnapShot, they are done so in an overt, complicated and expensive manner.
The homing feature of SnapShot is completely unique and makes capturing data even more simple whilst in the field, while our ability to be unimpacted by wind, makes us stand out against traditional drones.
What's been your greatest success to date?
Financially, FlareBright has secured some impressive contracts, servicing large commercial companies and gaining clout within the industry due to our notable and unique software systems skills.
However, the progress made with the current SnapShot prototype is certainly our biggest achievement to date. Creating a vehicle which is small, lightweight, and hits target has certainly been an exciting success for us.
How do you see your market and business evolving over the next 3 years?
In 2019 we hope to be working with some key customers in validating the product and commercially penetrating the market.
Moving forward over forthcoming years, we see opportunities in new markets to impact the growth of the organisation. Initially, we're working with current customers and opportunities in the more obvious markets such as military, police, search and rescue.
However, as the viability of the product is made clear, we envisage the use case of SnapShot penetrating evolving markets within the security industry for example.
Startup Journey
What advice would you give to a startup entrepreneur taking their first steps?
Surround yourself with people who are dedicated to your vision, and who understand what you are trying to achieve.
As a startup, it can be difficult to remain motivated when things don't go to plan, but if your colleagues and staff buy into your vision, it helps with morale, growth and ideas.
But if you truly believe you have something unique that meets the needs of the market, then your enthusiasm and drive will get you through.
It also helps to have some capital behind you too, as you're bound to make mistakes, and deadlines will slip. Stick at it.
What's been your toughest moment? And what are the key lessons you took away from the situation?
Realising that, as always, things were taking longer than planned and we were going to have to cut some costs for a little while.
Did you bootstrap the business or have you raised external funds?
To date, FlareBright has been funded by its founders along with funds gained from consultancy and services work carried out within the business.
We are currently looking at investment in order to speed up the process of getting SnapShot ready to go to market.
What do you believe are common mistakes that founders make?
It is very easy to become entirely consumed by your business and your ideas, and assume that everyone understands your vision as clearly as you do.
It's important to take a step back every now and then and look at your business idea or product from the eyes of a novice, someone who doesn't understand the intricate details the way you do, and to ask yourself, "is this clear, is there a need, will people understand the 'why' based on what I'm telling them or showing them?".
Another common mistake is to assume you can do it all yourself. You can't, and quite quickly you'll burn out.
If you can hire people you trust, and who understand your ideas, then it will make life much easier for you, and will stop you being bogged down in the day to day admin and red tape of running a business.
Your most cherished memory working in your startup?
The first time we had a company party after our initial recruitment push, and all of our awesome team were happily eating fried chicken and drinking rum and laughing and having a great time!
About your team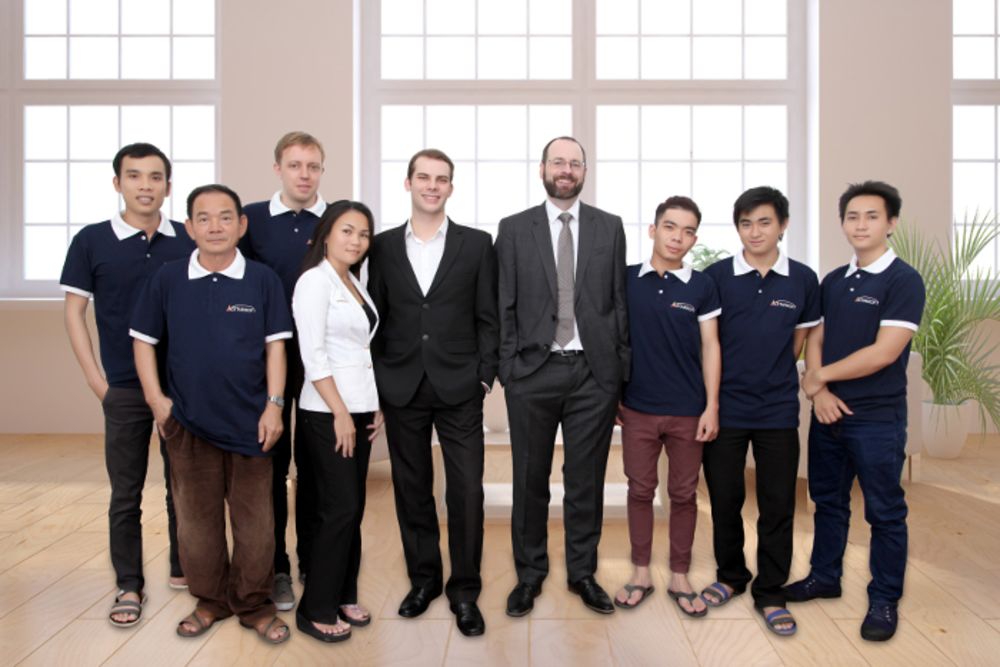 How big is your team?
To date, we have a team of around fifteen employees with the majority based at our testing base in Vietnam, and key employees within the UK and Europe.
What are the must-have personal and professional traits of your employees?
We love hard-working people; people who aren't afraid of a challenge and who have the drive to take on responsibility, learn new skills and occasionally work outside of their comfort zone.
Many of our employees are learning new skills on a daily basis and that's really exciting to see.
How do you position yourself as an employer? What is the culture in your office?
We like to think we have a 'work hard, play hard' culture. We work long and hard hours, but we always ensure staff are rewarded with social drinks, team lunches, days out and generous remuneration.
We really do value our employees and like to ensure they are happy working at FlareBright. For our staff in the UK, we offer flexible working and of course trips to visit the test team in Vietnam!
How do you keep your team motivated and the team spirit on the high?
Our team thrive on the adrenalin of a successful trial, so we like to recognise everyone's successes within the office, however small, and ensure these are promoted. And as previously mentioned, team drinks, free lunches and generous holiday allowances also ensure the team is motivated and engaged.
How do you maintain employee retention?
As above, offering a nice work/life balance with generous perks and remuneration has ensured we retain staff. Also, having an exciting product to work on, travel opportunities and a professional environment is key.
What's the secret of successful startup team management?
Treat your people with respect, make sure they are appreciated but also be firm about limits.
Startups do not have an established company culture so can be prone to strong-minded employees imposing their own culture, which may not be as desired.
About you
How do you relax outside of work?
A favourite pastime of both Kelvin and Conrad is biking – taking to the roads on your motorbike is certainly the best way to relax out of the office.
Kelvin is also into road cycling, while Conrad is more into kayaking.
Favourite business book and why?
"Everything is Negotiable", because it clearly shows why and how negotiating is essential and gives you searching questions which highlight why you need to change the way you think. I'm an engineer by background so this is just what I needed!
Who inspires you, personally and professionally?
I find our Marketing Manager Nicole quite inspiring, she's got great judgement, is unflappable, has a core of steel, is great to work with and has excellent communication skills, especially when she is politely suggesting that something you have done could be improved...
App you can't live without?
There are many communications apps but mobile email still rules.
Related stories
This content has been created for general information purposes and should not be taken as formal advice. Read our full disclaimer.
We've made buying insurance simple. Get started.
Related posts
07 December 2022

2 minute read

Do I need to pay tax for my side hustle? What's a Self Assessment? A TaxScouts accountant answers some of the most common questions about taxes for side gigs.

11 August 2022

1 minute read

Superscript has teamed up with ESPN, one of cricket's most-loved brands, in an exclusive content partnership.

01 August 2022

3 minute read

From SEO, social and influencer marketing, small businesses need digital/online marketing. Get started.