Superscript

Personalised business insurance
19 August 2020
5 minute read
Want to boost brand awareness, reach new customers or build up a loyal supporter base? Social media could be the solution you're looking for. Social media doesn't have to mean a complex creative campaign. If you've ever checked in at a local café to get a discount on your coffee or tagged a friend in an Instagram post to win a prize, you've been part of a small business' social media strategy.
So how do you start? We asked customers what they're looking for, and we caught up with some small business owners who are making strides with social media.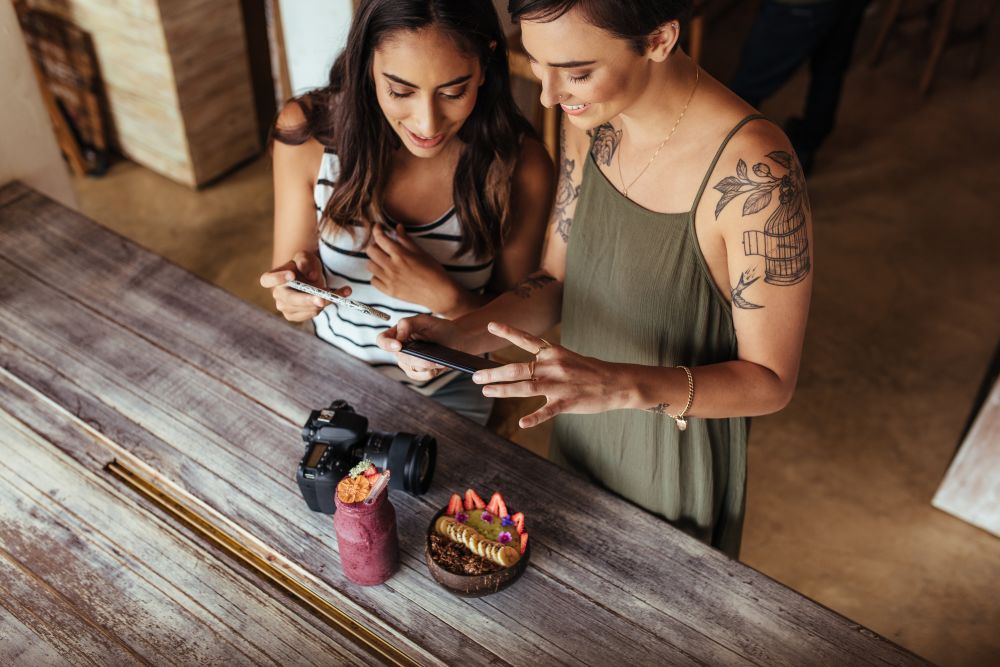 Personal connection with customers
It's called social media for a reason. It's a conversation, not a one-way broadcast. This is one of the ways in which small businesses can have an edge over huge brands: with a small, local or niche following you can easily reply to everyone that comments on your posts. And that's what effective social media boils down to: engagement.
Rae Radford decided to buy some of Samm Designs' recycled handbags after following them on Twitter. The reason? "They answered questions quickly and they just had a nice manner when they corresponded with their followers. With daily updates and new products you could tell the owner put her heart and soul into her brand."
Caroline Joynson agrees: "I've bought from lots of small businesses on social media. By following them on social media you get to go on a journey with them business-wise and get to know them and their story better. The more you know them the more you want to support them."
Storytelling, not selling
"Put yourself in the position of the customer. What's going to make them think, look and feel wanted?" says Jack Rolfe, who runs The Coaching Lab, which supports players and coaches to #ChangeTheGame with MatchPlay cards." He says "if we want people to buy MatchPlay cards, they'll show an interest because we've made them curious and made them think about the impact it will have on their performance as a coach."
Some marketers recommend the 80/20 approach. Spend 80% of your time informing your followers by sharing interesting and useful content. Use just 20% of your time promoting your products or services. At the Epsom Bakehouse, owner Rhiannon doesn't just sell her bread-making courses. Instead, she meets the needs of her followers that want to learn more, to build a following. "I share bread making tips, recipes and live baking videos on Facebook, Instagram, Twitter and Youtube." She also creates a space for them to connect. "I have a Facebook group for home bread bakers with over 3000 members."
A product portfolio with a difference
"It's a portfolio of my work" says Metta Francis, who runs Nails By Mets. "I have secured multiple projects from Instagram – content creation for beauty brands, tutorials, photo and video shoots, corporate pop-up nail bars. Social media is great for brand awareness. Many Instagram posts and videos get featured directly in the press."
Review and adapt your plans
Social media algorithms reward engagement. If you put content out that your followers don't like, retweet, comment on or share… over time, it's not going to show up on many news feeds. Experiment with direct questions, polls, asking people to send in their photos, and then adjust based on what gets you the best engagement.
Get ahead of difficult feedback
A critical review could put your business on the back foot. Nobody wants scorching criticism on their Tripadvisor page, Facebook reviews or all over Twitter. But one advantage of social media is that you can transparently respond to potentially damaging comments. When you reply - quickly and politely - to a bad review, you can help contain that risk to your reputation.
Build your bank of positive reviews
Reviews can make or break your business. To build up your bank of strong reviews, you can offer an incentive to customers that write you one. A discount on their next purchase, or the chance to win something in a prize draw? If it nudges your followers into posting a glowing review plus a photo of their purchase, it could be priceless.
Influence an influencer
First, pick the social channels where your target audience spends time. If you supply B2B professional services, LinkedIn is likely to be where it's at for you. But if you sell B2C family craft supplies, Instagram and Facebook will catch many more parents on the hunt for family-friendly fun.
Whichever channels you pick, start searching for people who are talking about your product, service or industry. If you can identify influencers or micro-influencers – people with small, highly-engaged audiences who are passionate about a niche issue – they can be a great way to promote your product. Send them a gift basket, or drop them a line to see if you can work together.
Didier runs Say It With Champers, which sells personalised champagne and prosecco gifts. He says, "If you sell products, give a sample to a blogger to review for a Christmas or Father's day gift guide. They will link to your website, and every website link you have helps with your organic traffic on search engines. Slowly my Domain Authority has increased through all the links and for a number of my keywords I am ranking much better. I adopted this approach at the start of the year and my website business is now three times what it was at the start of the year!"
Giveaways
Bloggers and influencers can help you reach broad followings, but don't neglect the friends and family of the followers you already have. That's where prize draws and giveaways come into their own.
As Didier says, "Do a giveaway competition on Facebook or Instagram! Last week I gave away two bottles of bubbly and my followers increased from 475 to 850 in just one week, I also enjoyed similar gains on Twitter too." People enter a giveaway if they are already interested in your product, so it's a great way to build a following of people who are motivated to learn more and potentially buy from you.
Watch the competition
How are other businesses in your space using social media? You can learn so much from seeing how they market themselves, how they talk to their customers and how they make use of their community.
Timebox your schedule
Good social media takes time. It requires thoughtful planning, and it needs you to sit down to schedule or post some content that is authentically yours. Set aside a little time every day to schedule and post content for your followers, and reply to their comments. Little and often is key. Half an hour a day will reward you better than four hours a fortnight.
We've made buying insurance simple. Get started.
Related posts
06 March 2023

5 minute read

Our Claims Manager Laura explains how the cost of living has impacted insurance claims, and what you need to know if you run a business. Read more.

21 February 2023

5 minute read

As you set up your ecommerce business, selecting the right manufacturers and suppliers for your products is a crucial step. Here, we explore the key things to consider when picking a supplier.

07 February 2023

5 minute read

Many businesses dream of heading stateside. Here's why the US is so appealing for many tech scaleups – and what to think about before moving across the pond.