Superscript

Personalised business insurance
29 June 2021
13 minute read
Whether you're a graduate looking to start your freelance writing journey or you're ready to switch lanes in your career and act on your passion for words, freelance writing can be a great way to get stuck into loads of different writing projects.
If you're not sure if freelancing itself is right for you, check out our guide to freelancing for beginners. Otherwise, read on for our 20-step guide to become a freelance writer.
What is freelance writing?
Freelance writing involves working on a self-employed basis for one or multiple clients at a time. The work of a freelance writer can vary, but it usually comprises creating pieces of copy or articles about a particular topic.
As a freelance writer, it's up to you to decide the type of writing you want to do and the types of clients you want to write for, which is why this is the first step on our list.
How to be a freelance writer
1. Decide what kind of writing you want to do
From an SEO-optimised blog post about gardening to a LinkedIn article written under the guise of a corporate CEO, there are many different forms of writing that you can get involved in as a freelancer.
And while you could try them all out, you're more likely to land work if you're an expert in one or two styles.
Here are some of the most popular forms, the sort of things you'll write for each one and the training you might need:
Journalism: journalism itself has a number of arms, such as investigative, broadcast, opinion, online, sports and features. Most journalists get into the field through some form of formal training, such as a degree or diploma in journalism, like the NCTJ. Journalists are usually required to have good analytical, interviewing, attention to detail and research skills, along with a basic understanding of media law. As a journalist, it's your job to share interesting and well-researched stories and news that can either be factual or opinion-based.
Copywriter: a copywriter's job is rooted in marketing and aims to help a company sell a product or service either through short and snappy copy or longer form informative copy to raise brand awareness. As a copywriter, you'll usually write for the web, however, some copywriters specialise in above the line marketing, for example billboards, radio and TV. As a freelance copywriter, you'll need to be creative, have good research skills, the ability to edit and proofread your own work and be comfortable writing long and short form copy.
Article or feature writer: this type of writing is considered more creative and writers in this field can often let their own writing style and voice shine through. You can write articles and features for both online and print magazines, newspapers or blogs. While writing articles and features is fun and can make a name for yourself as a writer, it's a hard nut to crack with a lot of competition, so we'd recommend choosing another form of writing to supplement your income.
Website content writer: as a website writer, you'll often be required to write blog posts and articles purely for brands' websites to provide helpful, informative and creative content for their audience. As a web writer, you'll be expected to have some knowledge of search engine optimisation (SEO).
2. Decide on your specialist topics
Everything that's ever been searched for on Google has been written by a person just like you. And while you could try to become a specialist in every topic there ever was, it might take some time.
Instead, we'd recommend becoming an expert in 2-3 specialist topics.
This not only makes marketing your services easier and more targeted but means you're more likely to win client work if brands know you're an expert in the particular industry they need a writer for.
From fitness and fashion to food and finance, you can pretty much be a specialist in anything you like, as long as there's an appetite for it. Your specialist subjects could be things you're passionate about or things that you already have experience or qualifications in.
3. Note down your dream clients
When jumping into any new venture, it's always good to have some goals in mind. Not only will jotting down your dream clients keep you focused and give you some direction of the types of jobs you want to aim for, but will allow you to create a clear path of steps you need to take to land them.
If you're not sure who your dream client is, try and picture an email appearing in your inbox saying you got the job – who is it from?
The more you shoot for the stars here, the better.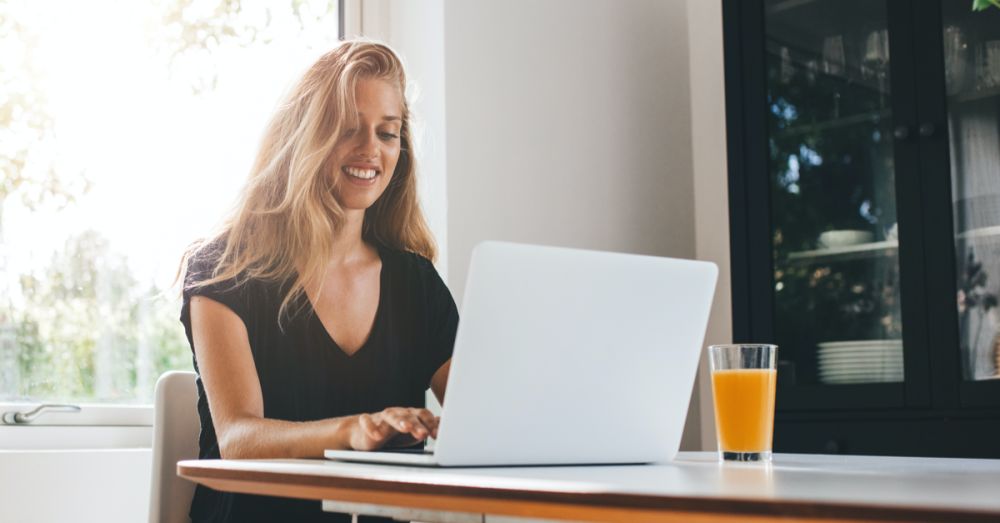 4. Take it all in
From writing techniques and freelancing tips to the latest marketing trends to be aware of, there are so many writing resources out there that will help you navigate being self-employed and give you greater confidence in your writing skills.
Here are our top recommendations to boost your freelance writing abilities:
Podcasts
Newsletters
Books
5. Write, write and write some more
If you haven't written much in the past, now is the time.
Potential clients will need to see you're the right person for the job and writing for yourself is a great way to practise your craft.
If you're not sure what to write, head to a few of your favourite sites and look around. Pick a few pieces of copy and rewrite it yourself. You might find that there's a different way to phrase something or a way to incorporate the brand's tone into the copy more.
If it's short-form copy such as a product description, you can make it look presentable on a platform like Canva so you can display it somewhere or if it's a longer form piece you could post it on your own blog or a platform like Medium.
While we don't condone working for free long term, if you really want to get some good experience, why not ask your friends or local business owners if they'd like any help writing some content for their website? That way you'll gain some copy that's completely yours and written for a brand from scratch.
Another good exercise is to look around various sites, find some copy and comment on why you think it's good or bad.
Some reasons could be: this describes the benefits of the product or service as well as the features, or the length of these sentences are punchy and in keeping with the brand's tone, or the sentence structure of this line should be shuffled to make it more engaging.
This will help you understand what works and what doesn't in writing so you can apply it to your own work.
6. Download Grammarly or Hemingway
Even the best writers in the world need a little help now and again – there's no shame in human error! But it can land you in hot water if you're trying to impress a new client with your attention to detail.
To avoid any mishaps, plug-ins like Grammarly and Hemingway can show you if you've made any mistakes, your writing's readability, if sentences could be shorter and so on.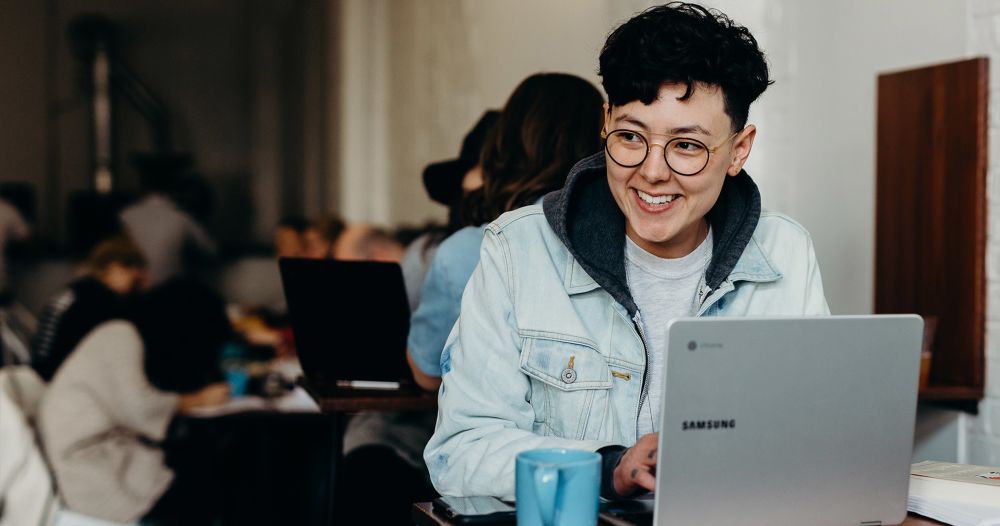 7. Build a portfolio
Once you've got a few varied samples, it's time to showcase them.
A portfolio is where all your best work should sit. It gives potential clients a centralised place where they can see if your style or experience matches what they need.
Creating a portfolio also makes your life much easier as instead of finding and sending multiple pieces of work, you can simply send one link knowing all the information is there.
Websites such as clippings.me and Journo Portfolio allow you to quickly add individual pieces of work and a description.
However, if you want something that has no limits in terms of uploads and can be completely personalised, we'd recommend building your own website. You don't need to know anything about web design – sites like Squarespace and Wix make it really easy to create stylish and professional looking sites.
With your own site, you can include all the services you offer, write blog posts about writing as well as topics you're interested in, insert contact information and add testimonials. You can also optimise your own site for keywords that potential clients might be searching for such as 'freelance writer in London' or 'freelance food writer'.
8. Sign up to freelance sites
Freelance writing sites are a great way to get started with your first writing clients. They allow you to find projects you'd like to work on and bid on them.
The pay rate for a lot of the projects can be lower than the average copywriting rates in the UK, but these sites are ideal for those who are starting out or looking for a new client or two. As your experience grows, so can your rates, and you can start to bid on higher paying projects.
As you have to bid on work, these sites are also a great way to practise and perfect your pitching skills.
Some of the top freelancing writing sites include:
9. Up your skill set
Being good with words may only take you so far when it comes to freelance writing. Luckily, there's lots you can learn on top of your writing skills to make your writing more suitable for the platform you're producing it for or help make your writing better.
Some skills that you may be asked to know as a freelance writer include:
SEO knowledge – SEO or Search Engine Optimisation is the process of making your writing searchable by search engines. There are many different factors that improve SEO writing, but the main ones are keywords (they need to be relevant and distributed correctly) and making sure that the content being published matches the user's search intent. Remember to always write for the human first and then the search engine.
Digital marketing – becoming familiar with the whole digital marketing spectrum will make it easier to see how your writing fits into it. Google offers a free digital marketing course that covers the basics.
Social media – while social media writing is a whole other ball game, it's always in demand, so you'll most likely be set for projects if you understand how to do it. As social media has grown over the years, so have the tricks and techniques used by brands that want the most engagement out of their followers. Captivating an audience in just a few short words is no easy feat, which is what makes social media writing both challenging and exciting.
Writing for mobile – these days, most researching and reading takes place on people's phones. But many people lose interest quickly if they see large blocks of text awaiting them. Learning to write for the web will combat this, helping you stylise your text to make it more readable and appealing for people who are looking who are browsing on their phone.
Editing – as well as writing, you should understand how to edit. Not only will you be required to be pretty cut throat with your own work, but many writers also extend their services to editing to add another string to their bow, so it helps to understand how to edit properly.
Proofreading – likewise, you'll also need to be able to proofread your work and often people need freelancers to proofread large amounts of copy, so if you've got a keen eye for detail this could be another service that you offer.
User Experience (UX) – sometimes, you might be required to write landing page or product page copy. This ties into UX as you're helping to enhance the user experience. Learning the wider customer journey and how your copy fits into that will no doubt help you write more effectively.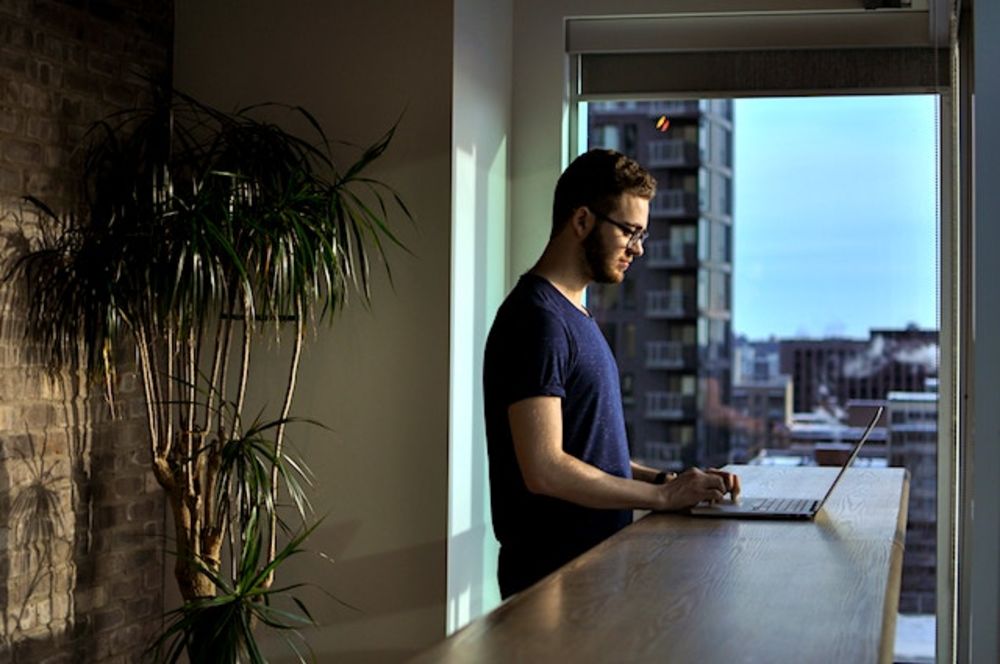 10. Decide on a business structure
Are you going to be a sole trader or a limited company?
Both have their advantages, but each is set up differently and therefore the way you deal with taxes and debt varies, so it's worth researching.
Keep in mind that some clients you work for will require you to be set up as a limited company or will only work with you through an umbrella company. If you're not sure about this, you can ask what's required. And don't worry about making a decision, you can always change your structure later down the line.
11. Set your rates
Will you track by the hour, the day or charge by the project?
In the UK, the average amount that freelance writers charge per hour is between £30-50 as a beginner. This will likely go up as you gain more experience.
Others will set a fixed amount per amount of words, such as £150 for 1000 words or a fixed day rate.
In 2020, the average day rate for freelance copywriters was £379, according to ProCopywriters. But the average day rate for junior copywriters was £250.
How much you charge depends on your experience, where you are in the country and your specialisms.
When setting your rate, some clients may barter with you, so we'd suggest quoting slightly higher. Some copywriters create good, better and best packages for clients, which include things like 2 rounds of amends or unlimited edits, while others ask for 50% upfront and charge an extra 2% interest if the money isn't paid within 30 days.
12. Network
Without the regular office set up or water cooler chats, freelancing can be a lonely gig at times. Luckily, there are thousands of freelance writers out there just like you who are looking to make new connections, expand their network and bond over invoicing woes and oxford commas.
Some good ways to network as a freelance writer are:
Go to copywriting meetups
Join Facebook groups
Connect to fellow freelance writers on LinkedIn, Twitter and Instagram
13. Get word out
Announcing a career change is big and takes a lot of courage, but telling your friends, family and colleagues (past and present) that you're taking the leap could land you your next gig – you never know who might be reading!
When you feel ready, write an announcement post that includes your portfolio link and availability, then add something like 'freelance writer – looking for opportunities' to your bios. You might be surprised by the influx of offers from people who are willing to help you out.
14. Sign up to freelance recruiters
There are loads of freelance recruitment agencies across the UK that are built specifically to help freelancers find work.
Reach out to some in your area with your CV and portfolio then ask if they have any roles that are suitable. If not, be sure to go in and meet them anyway. People are much more likely to remember a friendly face than a name on an email.
15. Create an invoice template
Once you start getting paid, you'll need to send out invoices.
An invoice should include:
Your name and the name of your business if you have one
Your business address
The company's name and address
Your bank account details
An itemised list of the work you carried out
The price per item
The total amount
Any conditions e.g. if not paid within 30 days, the total amount will increase by 2% each week
It's a good idea to number each invoice so you can keep track of them.
You can also create folders on your computer marked 'Not sent', 'Not paid' and 'Paid' and pop each invoice into the relevant folder. This will help you chase those invoices that haven't been paid and tick off the ones that have.
16. Get a business bank account
A business bank account can make your life so much easier as it separates your personal finances from your business ones. With a business bank account, you can see which invoices are missing, how much you've made this month purely from your freelancing and will make doing your taxes much simpler.
And, with Making Tax Digital on the horizon, if the account connects to your accounting software, even better!
Check out our list of the top business bank accounts in the UK, including Tide and Starling.
17. Buy business insurance
Business insurance is designed to protect you in the event of accidents, property damage and mistakes. If something happened on a freelance job and you were liable, business insurance can cover the legal and compensation costs associated with the claim.
As a freelance writer, the most relevant covers for you would be public liability, business equipment, personal accident, cyber insurance and employers' liability, which is a legal requirement for most businesses in the UK that employ people. Furthermore, some clients may require you to have business insurance in order to work with them.
18. Request and post testimonials
When you're researching a product or service to buy, how often will you look at the reviews? The same logic applies to freelance writers.
If a client can see that the people you have worked with previously are happy with your work and recommend you, they'll more likely opt for your services.
When you've completed some work, kindly ask if your client can write a testimonial for you. Ask them to be honest – any bad feedback will only help you improve. Those that are positive can be posted on your website or, if you ask through LinkedIn, will be posted directly onto your profile.
19. Go above and beyond the brief
As someone who is both an ex-freelance writer and has commissioned freelance writers in the past, I can attest that anyone who goes above and beyond what the brief had asked stands out and is more likely to be invited back any time there's more work.
Some ways you can do this as a writer are: conducting keyword research, providing further research, searching for and adding internal links – basically anything you can do to make your client's life easier is a winner.
At the very least, answer the brief to the best of your ability and you'll have done well.
20. Have fun!
Embarking on something new is always exciting, so try and have fun with your freelance writing career – you'll learn a lot and get more out of it if you do.
We hope this guide has provided you with the tips you need to kickstart your illustrious freelance writing career.
This content has been created for general information purposes and should not be taken as formal advice. Read our full disclaimer.
We've made buying insurance simple. Get started.
Related posts
13 September 2023

6 minute read

Having your business equipment stolen is traumatic, expensive and disruptive. Here's our checklist of the steps you should take to get back on your feet.

25 August 2023

7 minute read

If you've been called to sit on a jury, you'll probably have a lot of questions. Here, we answer some common queries about jury service while you're self-employed, including what expenses you can claim and whether insurance will cover lost income.

21 August 2023

5 minute read

Claiming on your business insurance policy can be nerve-racking, but there are many things you can do to have a smoother experience. Charlotte, one of our in-house claims experts, shares her top tips for making a business insurance claim.