Superscript

Personalised business insurance
07 July 2022
7 minute read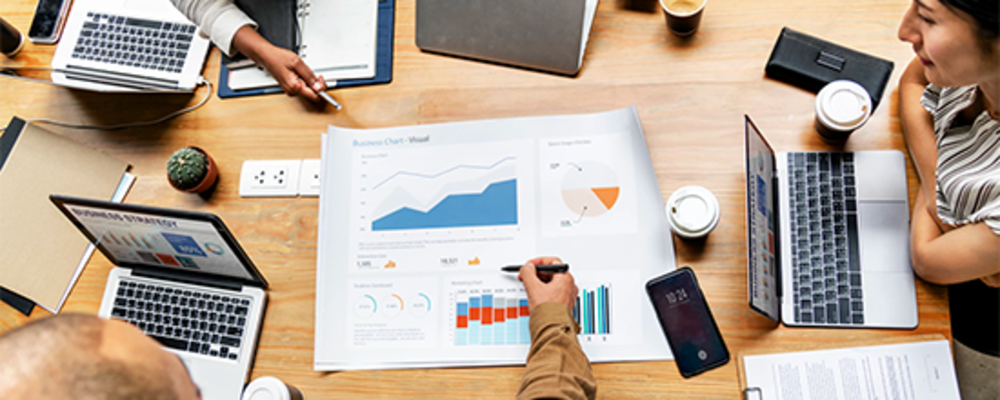 Every startup's journey is different, but many of the individual steps involved are similar for many new companies looking to grow. Because sometimes there's nothing better than a nice, orderly list to get your brain in gear for the task ahead, here's our comprehensive checklist of all the steps you'll need to tick off as you get your venture off the ground:
Before you launch your business
Research the market
However novel, original, revolutionary and problem-solving you think your product or service is, it's important to conduct thorough research to verify whether or not you have a viable idea. It's vital to identify your target market and find out whether there is actually a demand for what you're planning to build. That means hanging out where they hang out and carrying out quantitative and qualitative surveys on their wants and needs.
Conduct competitor analysis
Another vital part of your research phase should involve checking out the brands who are already doing what you want to do (or similar), so you can get a better idea of how you can stand out from the pack. Analyse what they do well, and what's not working for them. Most importantly, where are the gaps in their marketing and product design that you can take advantage of.
Find a co-founder
Not all entrepreneurs need a co-founder to get their business off the ground, but many find it hugely beneficial, providing them with complementary skills and moral support, not to mention an extra pair of hands. A partnership of co-founders can combine their skills and knowledge to create a potent business force that is greater than the sum of its parts.
For more advice, check out our guide to how to find a business partner.
Write a business plan
We've all heard the saying, "fail to plan, plan to fail". Nowhere is that more important than when starting a business. While there will be plenty of unknowns ahead of any fledgling business, planning your overall strategy and mapping it all out will put you in the best position to reach your objectives. For a greater idea of what your plan should contain, simply browse our guide to how to write a business plan.
Source funding
Most new businesses will need to secure some form of funding in order to get their operation off the ground, whether that's a small loan or a major investment. Thankfully there are plenty of options open to you, from grants to bank loans and angel investors to crowdfunding. Read more about all the pros and cons of the various options, in our ultimate guide to startup funding.
Choose a name
Barring a major rebrand, the name you pick for your business will be the one you'll stick with for a long time; the one that investors and customers come to know you by. You'll need to pick a name that is original, eye-catching and says everything that people need to know about your business. Plus, you'll need to pick your name before you can work on your branding and website and start shouting about what you do. Check out our blog on how to come up with a business name for some inspiration.
Then, before you make any commitments, see whether your wacky ideas have already been thought of by checking the Companies House register of businesses, as well as a web domain provider to see if you can buy a decent web address.
Find suppliers and distributors
How important this is for you will depend entirely on the type of business you're starting, but for many businesses, a quality, reliable supply chain is vital for success. Getting this set up can take time, including visiting potential suppliers and distributors, agreeing terms, ways of working and ironing out teething problems. It is therefore vital to ensure you factor all this into your planning. This is especially true at a time when events such as the war in Ukraine, Covid lockdowns in China, the ongoing effects of Brexit and rising import costs have the ability to impact your supply chain and ability to distribute your product.
When you launch your business
Get an accountant
Unless you like filling out tax forms, then an accountant should be top of your list of suppliers to get sorted as you launch your business. Find one who specialises in working with small businesses, with services tailored to your needs and budget. You can learn more about the benefits and costs of hiring an accountant in our guide to small business accountant.
Register your business
There are a number of fairly boring, but absolutely vital bits of paperwork to get ticked off before you can start trading. You'll need to register your business with Companies House, become VAT registered, and register as an employer. This is something that a small business accountant can help you with.
Read our guide to registering for VAT.
Licences and certifications
Depending on the sector and industry that you wish to enter, all or some of the work you're planning to do may require licences or qualifications. You can find a list of occupations requiring licences. Even if your business does not require licences to operate, it can help a small business' prospects of attracting customers if you hold certifications from trade and industry bodies.
Insurance
Risk, by its very nature, is not something that can ever be entirely controlled and no business venture is entirely immune from risk. That is why taking out the right business insurance is vital for any new venture to succeed.
To begin with, if your business employs staff, then you are legally required to take out employers' liability insurance with a limit of at least £5million. Superscript's employers' liability cover includes a more substantial £10million limit as standard so you're protected if an employee ever makes a claim against your business.
You then may also wish to look at other forms of insurance, such as:
Open a business bank account
You're not legally required to have a business bank account however, as your business grows, your finances will likely become fairly unwieldy without one and it will become more difficult to separate your personal from professional revenue. It's simple to set a business bank account up, but do try to shop around, as different banks will have different rates and introductory offers to tempt you in.
Read our guide to the best business bank accounts out there and also get a better understanding of how a business credit card could benefit your startup with our guide to the top 5 business credit cards.
Hire your first employees
How quickly you take on staff will depend on the nature of your business and your growth plans, but if all goes well, you're likely to need some support before too long. There's a lot to think about when you hire your first employee, from how they might fit with your style of doing business, to whether or not they have the requisite skills and knowledge to take your business to the next level.
Smallbusiness.co.uk have created a useful guide to the process of hiring your first employee for small businesses, detailing everything from procedures to budgets and interviews to their first day.
Develop a prototype or MVP
The costs, time, and effort required to build your prototype or Minimal Viable Product (MVP) will vary depending on your business. But for tech businesses, or businesses where you have a physical product, your MVP or prototype is key for testing the viability of your hair-brained idea, for identifying any potential challenges, and for convincing investors to fund you. Then it's a case of test, iterate and repeat until you perfect your offering.
Launch you website
An online presence is considered fairly essential for most businesses these days, although the complexity of your website will depend on what kind of business you're starting. If you're setting up an ecommerce business, your site will need a lot more functionality than if you're a consultancy or professional services firm, for example.
Whatever your business type, mapping out your online presence and ensuring you have the required skills and resources to build, populate and maintain it should be a top priority.
Read more about what to consider when setting up your business' website without our guide that compares some of the top small business website builders out there.
Find a home
In today's connected world, especially in the aftermath of the global Covid-19 pandemic, it has become obvious that a great deal of business can be conducted from anywhere. So, feel free to get set up on your kitchen table, your sofa, or even your bed in those early few weeks or months.
While some businesses continue to operate entirely remotely, as your business develops, and your team grows, you are likely to want to establish yourself in a physical location, usually an office where you can gather your team and conduct important meetings in person.
Thankfully there are now loads of flexible and funky coworking spaces to choose from, so you'll have all your furniture and equipment in place when you move in, and a ready-made community of other entrepreneurs. Check out our guide to understanding whether or not co-working is the right option for your business.
So there you have it, a checklist of what you need to consider and actions you need to take when starting your own business. Of course there's always more you can do at every stage, but that's life at a startup! But once these key milestones are behind you, the only way is up.
You may also like:
This content has been created for general information purposes and should not be taken as formal advice. Read our full disclaimer.
We've made buying insurance simple. Get started.
Related posts
06 June 2023

4 minute read

The UK is often seen as a place that is 'open for business', but recently a number of high-profile regulatory delays have meant that major companies are now considering listing overseas instead.

Unicorns are seen as the benchmark or success in the startup and scaleup world, but what other animals deserve their moment in the business limelight?

08 March 2023

4 minute read

The UK tech startup space is in rude health. Let's meet five of the most significant tech startup incubators helping fledgling UK startups break new ground.