Superscript

Personalised business insurance
21 October 2020
3 minute read
Do you know how many startups are founded by women? Last year, just one in five startups had a female founder. That figure has doubled in ten years, but male-founded startups still outnumber them by ten to one. Change is happening, and it's happening fast. Female-founded startups landed more deals last year than ever before.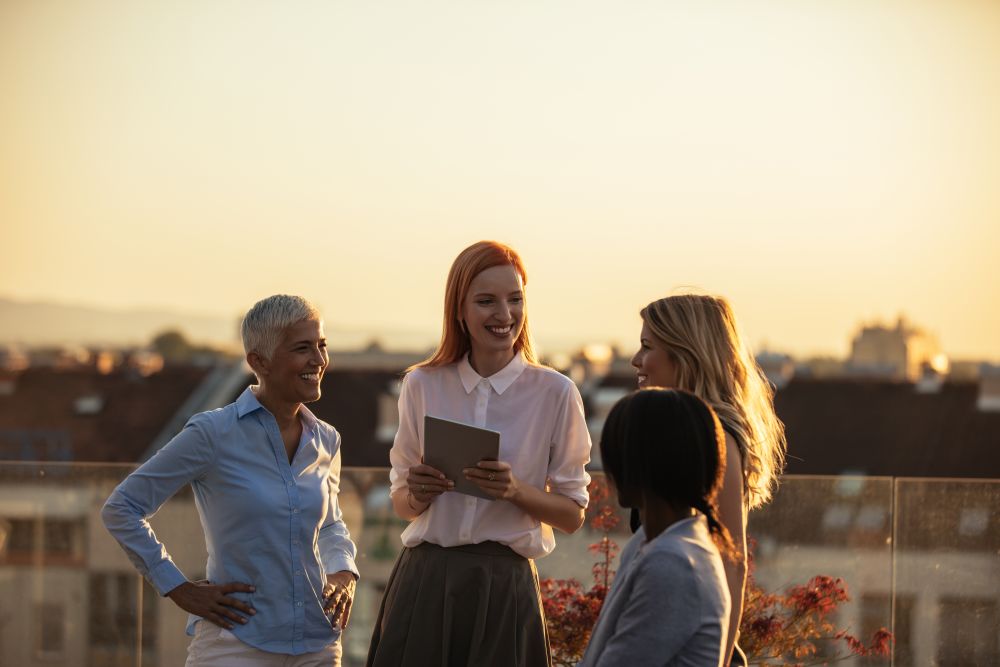 There's growing evidence to suggest that female-founded businesses could deliver better returns on investment, while research during the coronavirus (Covid-19) suggest that female-founded businesses may have weathered the storm better than other businesses. So who are the extraordinary women leading these start-ups?
1.
Oredein and her co-founder Bola Awoniyi set up Black Ballad out of a feeling of "passionate frustration" at white-dominated media and the narrow range of stories available to, written about and by Black women. Black Ballad is a media company producing content for black women, by black women. Rather than fund itself with advertising revenue, Black Ballad became an early adopter of the membership model.
2.
In her Venture Capital role with Passion Capital she identifies and supports early-stage technology firms. She's highly involved in promoting technology, as Business Chair of Tech City UK (the British government-backed organisation supporting the digital economy), the UK Treasury's Special Envoy for FinTech and Tech Ambassador for the Mayor of London's office.
3.
Women in AI is a community of 3500 women across 100 countries, including 28 ambassadors organising initiatives on the ground. Their activities include an educational program for young girls, WAI2GO, events like WAITALK, and a founders award to recognise female founders in AI.
4.
Seedcamp is a seed fund which spots and invests world-class founders, in 2007. It has supported more than 300 startups and three European unicorns: TransferWise, Revolut and UiPath.
5. Priya Lakhani, the barrister and entrepreneur behind Century Tech
She founded the startup in 2013 after being struck by underachievement rates in schools. Century Tech builds software for schools to track the performance of individual students, from how they're doing at homework to where they need to improve.
Serena Guen, founder of Suitcase magazine
6.
Serena founded Suitcase, a travel writing website 'for the Airbnb generation' when she was a student in 2012, making her one of the youngest media proprieters in the world. Covering destinations as varied as the North Pole and Nicaragua, Suitcase has since expanded into Suitcase Media, a travel and lifestyle platform built to inspire people to travel more thoughtfully.
Devika Wood, co-founder and Chief Medical Officer at Vida
7.
With a background in human biology and public health, Wood set up Vida to solve the problem of 'bed blocking', whereby patients can't leave hospital because they don't have suitable care. Vida matches carers to patients online.
8. Kathryn Parsons, founder
A coding school for adults went from a small, disruptive startup to a huge organisation that teaches coding, AI and data science in 65 cities around the world. Their signature offering is their 'code in a day' course, which takes participants from novice to capable of building a simple app, in just one day.
9. Rikke Rosenlund
After dogsitting her neighbour's Labrador, London-based Rosenlund had an idea for a 'dog dating' app. Like conventional dating apps, BorrowMyDoggy allows users to express an interest in potential partners based on their profiles. Unlike the others, it's just for canine companions. Pairing up dog owners with dog-loving neighbours, the app has helped more than 650,000 people find furry friends for walks, days out and longer stays.
10.
Where do interior designers, architects and design managers source beautiful furniture for their developments? Thanks to Khan, more and more of them are using Eporta. You can source furniture, manage quotes and collaborate with your team, all within one stylish view. Khan had the idea for Eporta while she was working at property portal Zoopla.
We've made buying insurance simple. Get started.
Related posts
19 September 2023

4 minute read

In our increasingly digital world, and with cyber crime on the rise, is there an optimum time of year to buy cyber insurance?

12 September 2023

3 minute read

Venture capital investment value has dropped significantly this year, so our Director of Advisory David Dickson asks is this part of the natural startup cycle?

06 September 2023

4 minute read

The Securities and Exchange Commission (SEC) recently announced sweeping changes to cybersecurity reporting that will have a profound impact. Are you prepared?