In the early days of your business, networking is one of the most cost-effective marketing tools available. It gets your name out there, gives you an opportunity to learn from the experiences of others and helps you build valuable contacts and relationships across your industry. Plus, most of the time, it's totally free - or with a minimal cost attached.
But despite these advantages, many people still shy away from networking, believing they're not that good at it, or it's not worth the effort. If that sounds like you, then think again! While there are people who seem like they were born to work a room, in fact it's relatively easy for anybody to get the hang of it - you just need to know the secrets to doing it right.
Here's our seven steps to nailing networking:
1. Have a strategy
Before you start booking yourself into lots of events and conferences, have a proper think about why you're doing it. What are the objectives of your networking push - to win clients, scope out potential job opportunities or seek out investors? Then based on your goals, you can research and choose the events where your target audience will be, ratherthan wasting time talking to the wrong people!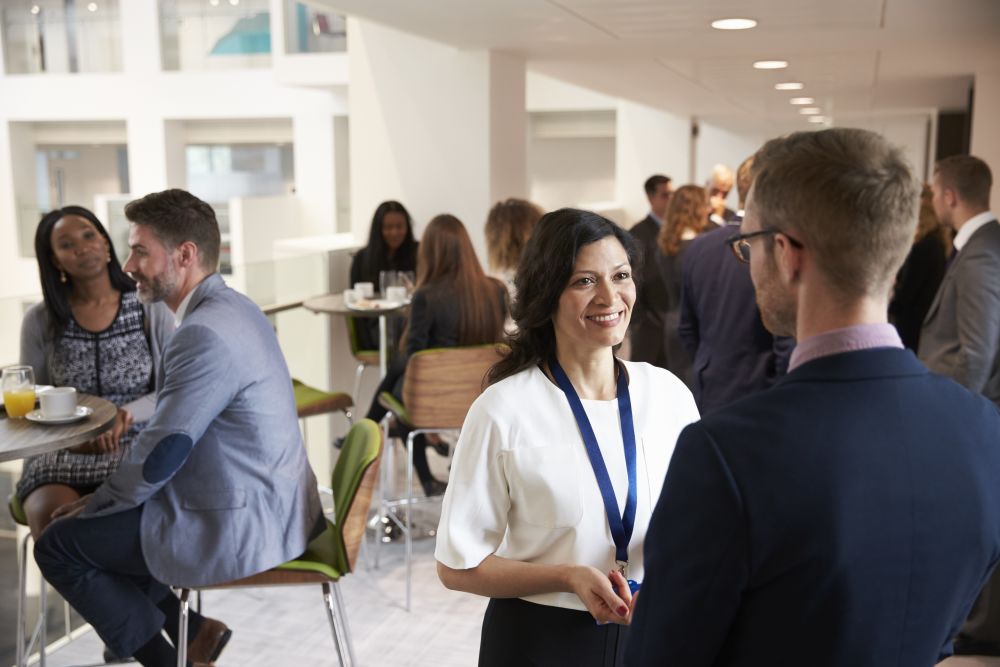 2. Prepare
See what background research you can do before an event, about who will be there and their potential interests. Some conferences and events have a delegate or exhibitor list, so see if you can get your hands on that. Or alternatively do a quick search on social media for Twitter hashtags or LinkedIn posts that give you an insight into which companies and individuals are planning to go. This allows you to swot up beforehand on anybody that you might want to speak to and some topics of conversation. Also, prepare your elevator pitch in advance, so you can describe your business and personal story concisely to anybody that you meet.
3. Listen and be helpful
People often make the mistake of thinking that networking means telling as many people as possible about what you do, and understanding as quickly as possible how they might be able to help you. Forget this! It's actually much more effective to spend your time listening to others and thinking of ways that you can help them out, whether that's through introductions, advice, or knowledge sharing. By doing so, you'll quickly build up trust and goodwill, impress others with your knowledge, and it's likely to result in longer and more valuable relationships.
4. Be authentic
Of course, you should be professional at networking events, but it's also important to be yourself, and be human. Often we connect with people because of a shared passion or interest, whether related to the workplace, or something completely different, be that sport, music or film. So, don't be shy about expressing your true self and your passions – it will make you much more interesting, personable and memorable.
5.Log and evaluate
So, you've had a successful event and come away with a nice healthy pile of business cards – job done? Not quite! It's vital that you sit down immediately after the event and evaluate all the contacts you've made, making a note of who they are, what you talked about and any follow up you promised. Not everybody you met will be worth keeping in touch with, but chances are there will be one or two that you should focus some time on.
6. Follow up
With those contacts that have the potential to develop further, follow up as soon as possible and suggest a second meeting. They made a good impression during your initial chat, but you still don't know them very well, so a follow up conversation will help cement the relationship, enable you to get to know each other better and build up trust. An informal coffee or lunch is a great way to do this, again focusing on how you can help them and vice versa.
7. Stay in touch on social media
With all the people you meet, add them to your LinkedIn and Twitter networks so you can keep in touch, and monitor what they're up to, in case anything changes in the future. Social media gives you a great platform to share your expertise, provide advice and join discussions, as well as engage with the content shared by others. So, try to contribute regularly and make sure you're part of the conversations that matter.
Follow these seven steps whenever you attend an event and you'll be amazed by the contacts and relationships you'll nurture over time. Yes, networking can be a bit hit and miss, but when you do get a hit, it's worth its weight in gold for you and your business!
We've made buying insurance simple. Get started.
Related posts
If your business needs a little financial help to reopen because of Covid-19, you could be eligible for the UK Restart Grant.

26 May 2021

12 minute read

Going self-employed can seem like a huge step to take if you've always been an employee. In this guide, we run through all you need to know!

Looking to start a cleaning business in the UK? Our 10-step guide includes everything you need to think about when setting up a cleaning business, including licenses, marketing and more.