Superscript

Personalised business insurance
22 September 2021
5 minute read
Starting and running a business from your home may seem like a dream job. You'll save time, money and energy by working from home, and you'll be your own boss too.
However, there's a few things to do before you trade in office life for being a home business owner. Check out our 12 practical tips to set yourself up as a successful solopreneur.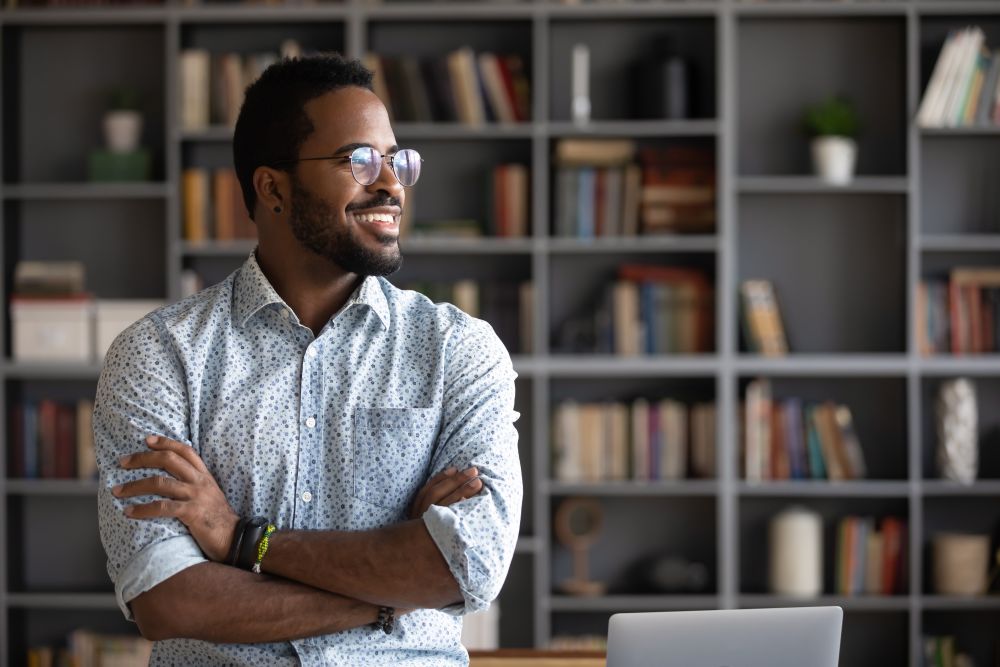 1. Know your audience
Is there a market for what you're offering? If nobody wants to buy what you're selling, then that's not a business, it's a hobby. You could start your market research by meeting up with people in your target audience for an informal chat over coffee, or sending out simple surveys using a free tool like Surveymonkey.
The more information you gather now, the better you can tailor your business to your audience's needs and wants, and the better you can set yourself up for sustainable success.
2. Upskill
As a business owner, you're expected to be CEO, head of marketing, chief strategist, head of business development, and more!
Luckily, there's plenty of accessible guidance out there to help you write a business plan, master audience segmentation, or figure out the legal ins and outs. Try Natwest's free Business Builder course, free events from the British Library Business and IP centre or free business courses from providers like Coursera.
3. Create a business plan
To start a successful business from home, you'll need to set goals, measure your progress and hold yourself accountable. Check out our ultimate guide to starting a business for practical advice on how to create a winning business plan.
4. Supercharge your wi-fi connection
There's nothing more frustrating than trying to connect for an important video call or send an email with a crucial contract, when your wi-fi connection lets you down. You might want to switch internet provider to get super-fast speeds and a reliable connection, or you can try some tricks for improving your connection speed.
5. Check your legal obligations
To start your business from home, you may need permission from your local council, mortgage provider or landlord. If you're service based, it's not likely to be an issue. But if you're planning to turn your quiet country cottage into a small factory or distribution centre, you'll certainly need to check and may need to apply for change of use planning permission.
6. Understand what you can expense
When you run a business from home you can write-off some of the costs of running your house (like wi-fi, heating, and a proportion of your rent or mortgage) against tax. You'll need to prove that your costs are related to your business activities, so there's no claiming for sports cars or holidays abroad, but it can still add up to some hefty savings when it comes to sending in your tax return.
7. Get your finances in order
Want to invest in product prototyping, research trips, paid advertising, or new equipment? You may need a chunk of cash to initially get your business off the ground. Our ultimate guide to startup funding has you covered!
And if you don't separate your business finances from your personal ones, you'll find accounting a serious headache, so set up a business bank account. Don't be afraid to shop around, as many banks offer perks like free subscriptions to financial software, or membership to business communities.
8. Get the insurance cover you need
If something happened to your equipment or client data, could you afford to enter into a legal dispute or replace the things you rely on to run your business?
Home insurance won't cover you for things like business equipment, or damage sustained while customers were visiting you on site, so it's vital you get the cover you need. Check out our tailored business insurance options to find the one that's right for you. For the full rundown, check out our Ultimate Guide to Startup Insurance.
9. Know when to delegate
"Learning to delegate certain tasks is critical", says Tom Bourlet, owner of CBD Sloth. "When people start a new business, they often want to take everything on themselves in order to save money, however most of the time this is counterproductive".
Avoid spending hour after hour trying to complete tasks that you are not highly skilled at as it takes away from time to focus on the critical tasks that are within your skill set. By investing in third-party experts to complete these tasks that are outside of your skill set will allow your business to grow much quicker.
10. Make friends through networking
It can feel cringeworthy at first, but invest time and effort in professional networking and you and your business will thank you for it further down the road. Check out our networking tips for freelancers and business owners, and you'll be feeling networking-ready before you know it.
11. Establish your legal structure
Firstly, you'll need to register your business with Companies House. Then, further down the line, you'll need to become VAT registered (but only if your annual turnover is going to exceed £85,000), and register as an employer if you plan to hire any staff.
And lastly, but very importantly...
12. Make time for self care
Did you know that business owners across Britain often put their business before their personal lives? In our recent survey, we found that a staggering 52% of men and 48% of women said it's necessary to put business ahead of family or friends. Whilst it's amazing that business founders – just like you – love what they do and are so passionate about it, overwork can harm your business in the long run.
Set yourself strict start and end times for your work and block out time in your calendar for exercise, healthy meals and time with friends and family. And if you need to work extra hard around a deadline, be your own HR manager and give yourself a little time off as a reward. Then, after your working day has finished, there are always a range of useful apps that can help you to unwind and relax, recharging your batteries for the next day.
When you look after yourself, you look after your business. So you can put your feet up and enjoy a relaxing night off, safe in the knowledge that you're building a strong, sustainable business.
Related Articles
This content has been created for general information purposes and should not be taken as formal advice. Read our full disclaimer.
We've made buying insurance simple. Get started.
Related posts
29 November 2023

4 minute read

In this article, we look at things to consider when exploring the possibility of a move to coworking.

05 October 2023

7 minute read

We work with some of the most innovative and exciting healthtech and medtech startups, here are 15 UK-based startups we think are driving the industry.

06 February 2023

12 minute read

Trying to find a platform for selling online? Discover which features to look for, read our reviews of popular platforms, and see what this all means for your business insurance.