Superscript

Personalised business insurance
14 April 2022
7 minute read
Since its lockdown boom in 2020, candle making has become a side hustle success story. Not only is it fun, creative, rewarding and relaxing, but it's proving to be a profitable pastime, too. Even better – it can be done all from the comfort of your own home.
Whether it's a long-standing hobby or a newfound passion, if you're thinking about taking a leap into the world of wax and wicks, there are some practicalities to consider. From marketing to insurance, supplies to accounting, keep reading for a step-by-step guide on how to set up (and future-proof) your candle making business.
Things to think about before starting a candle business
So you're excited about your new venture (and so you should be), but the fact is there's more to it than simply making candles. Consider your reasons for starting your own business – is it for extra income, better work-life balance, or just a creative outlet? Once you understand your motivations, the rest can follow.
Before going in all guns blazing, have a think about what starting a business would actually mean and begin your business journey with some proper preparatory steps:
10-step guide to starting a candle business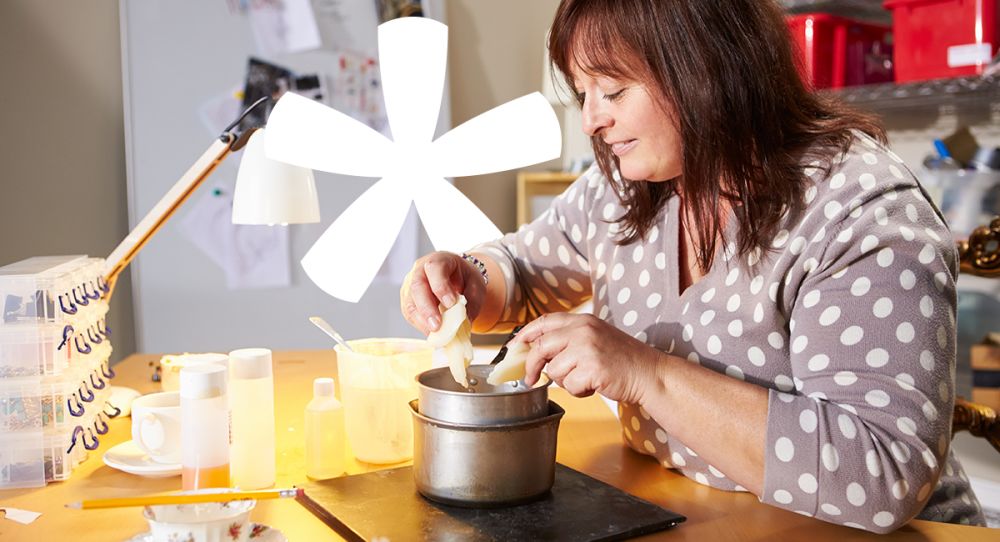 1. Find your niche
As with any business venture, it's important to pin down your USP. The pandemic-driven growth in DIY craft businesses has proven that buyers are out there, but the market is now saturated with businesses all trying to sell the same thing.
Luckily, candles will never go out of style – all you need is to set yourself apart. Get specific on your target market, consider unique scent combinations, niche designs and eye-catching colour palettes. It might even be worth looking into making and selling wax melts instead.
Have a look at the competition to see what you're up against. From here, it's a good idea to brainstorm how you'll be distinctive and what you'll offer that others currently are not. This will not only set you apart, but it will help you map out your marketing strategy.
2.Choose a name
What's in a name? Quite a lot actually. Just as it's important to nail a niche, naming your business can be make or break. You'll want something that:
Stands apart from other candle business names
Doesn't return odd searches on Google
Has a web domain available
Will stay relevant as your business expands and evolves (e.g. Not putting 'candles' in the name if there's a chance you might start selling other crafty goods)
3. Write your business plan
It sounds intimidating, but even the simplest business plan can work wonders. Think of it as a strategic roadmap for the journey ahead. Your business plan should include your purpose and intentions, your target market, expected costs, projected earnings and how exactly you're going to get there. Find out more about how to write a business plan.
4. Get clued up on costs
It's a fact of business: you have to spend money to make money. To avoid nasty surprises, it's essential to understand exactly what you'll need to budget for and to price your products accordingly. Think about:
Supplies
Packaging
Websites and branding
Business insurance
Studio space and logistics
Marketing
Take control of your calculations with our ultimate guide to business startup costs.
5. Look into legalities
While there are no legal requirements for making and selling candles specifically, there are some general product safety regulations to get familiar with before you set up shop.
It's worth checking out::
6. Register as a limited company
As a small business, there could be benefits to becoming a limited company rather than a sole trader – especially if you're setting up a brand.
There are tax advantages since you can pay yourself from profits as well as bonuses and dividends. Plus, as a limited company, you'll also waiver personal liability; your business will be a separate legal entity, meaning any debts or losses will belong to the business rather than you. You can learn more about this on our guide to settingFind out more about how to set up a limited company.
7. Gather your supplies
It's nearly time to get making. But first, these are the essential supplies you'll need to make a basic container candle:
Wax – there are three main types to choose from:

Paraffin wax is the most commonly used. It's cost-effective, easy to work with, and sets quickly. However, since it's petroleum-based, it's the less sustainable choice
Soy wax, made from soybeans, is a popular 100% natural option
Beeswax is another all-natural option that comes with a delicate honey aroma

Containers – you'll want to choose something that will withstand high temperatures, so remember to avoid plastic. Glass jars, ceramic pots or metal containers are your best bet.
Wicks – these can be made from different materials, such astoo, like wood, cotton, paper and hemp. To ensure safe and effective burning, it's wise to go through a testing phase to find the right thickness for your chosen wax and container. As a rule of thumb, you should aim to melt a pool of wax as wide as your container in around one hour.
Fragrance oils – choose your favourite essential oils and experiment with different blends and formulas. How much to use? The fragrance should be roughly 8% of your candle's volume.
Beyond these basic supplies, you'll also need to be equipped with the following:
Heat supply – use your home cooker or invest in a hot plate for your studio space
Water
A double boiler – or a pot within a pot
Wick clips
Scales
Thermometer
Scissors
Spatula
Protective covers – especially if you're working at home
8. Learn how to make candles
Luckily, with a bit of practice, candle making is a craft anyone can master. Now you've got your supplies in order, this is where the real fun begins.
Here are some basic instructions on how to make candles:
Measure your wax and melt to 70°C – this only takes around 10-15 minutes
Prepare your containers, making sure they're clean and dry. Then pop in the wick and stick it down with a wick sticker. Use your wick clip to ensure the wick is straight and central
Add fragrance to your wax while gently stirring
Slowly pour the wax into your containers, leaving a small gap at the top
Let the candles cool at room temperature. Both soy wax and beeswax will take 1-2 weeks, while paraffin will take 24 hours
Trim the wick
Add your labels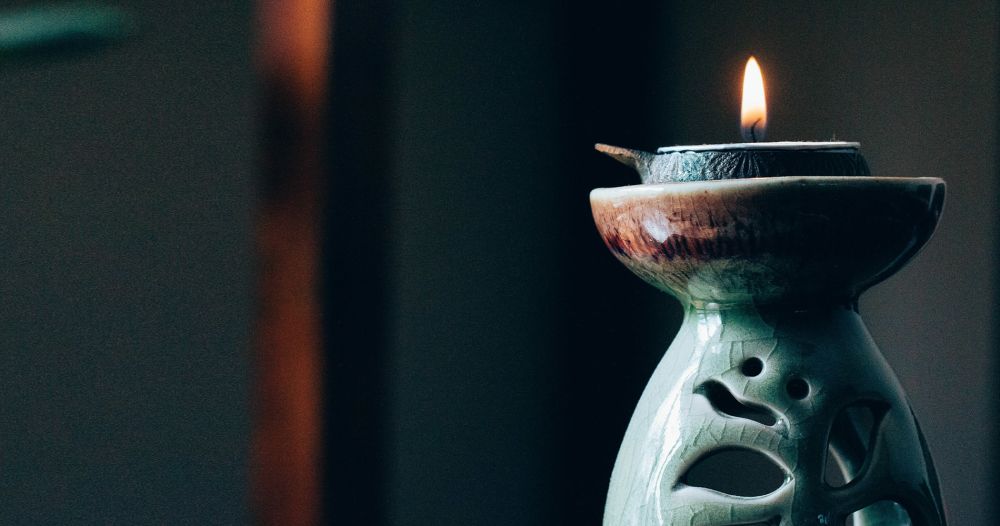 How to make wax melts
Another popular business option is to make wax melts. These are slightly different to candles and usually require the buyer to also have a wax melt burner. They'll use this to put the wax melt into and the burner then heats up the wax from underneath, releasing infused oils slowly into the air as a candle does.
Many people who are interested in starting a business in this industry are usually interested in making wax melts as the process is much simpler.
Simply follow steps 1, 3, 4 and 5 from above. And instead of using containers like jars or pots, you'll pour your wax into moulds of your desired shape and design – happy melting!
9. Buy the right business insurance
It goes without saying that candle making is a risky business. From a customer starting a small house fire in their home to someone stealing your stock and business laptop – there are plenty of scenarios where your business could be liable or lose out on business.
A tailored insurance policy that has all the relevant covers for a candle making business makes sure that you're protected for the most relevant risks that will affect your business. This should include product and public liability insurance, contents and equipment cover and cyber insurance, which is suitable for any business that stores customer data.
To learn more, check out our candle making business insurance.
10. Market your creations
So you've tried, tested and perfected your product. Look at you go! Now, let's get the word out. Marketing doesn't need to be mind-boggling, you can grow your audience in a few simple steps:
Set up a simple online shop to showcase your creations. These are the best website builders for small businesses
Get savvy with social media to build your brand and grow your following. This is how you can use social media to transform your business
Local markets and pop-ups are a great way to put a face to a name, connect with customers, and build our reputation by word of mouth. Try signing up to a craft fair in your local area and begin building that rapport. You'll need a card system for this – here are the best merchant services for small businesses
What other side hustles are there?
We get it, candle making isn't for everyone, and that's ok. Thankfully, there are plenty of other side-hustles in the sea. Looking for inspiration? You could:
This content has been created for general information purposes and should not be taken as formal advice. Read our full disclaimer.
We've made buying insurance simple. Get started.
Related posts
07 December 2023

5 minute read

Ever wondered what intellectual property is? Want to know how intellectual property insurance can help protect your business? Then read this handy guide.

29 November 2023

4 minute read

In this article, we look at things to consider when exploring the possibility of a move to coworking.

21 November 2023

13 minute read

Everything you need to know about funding for startups. Find out how to make (and not break) your business, with our ultimate guide.