Superscript

Personalised business insurance
03 August 2021
8 minute read
Becoming a dog groomer can be incredibly rewarding – especially if you have a penchant for pets. It gives you the opportunity to interact with dogs of all personalities, sizes and breeds while making them look, feel (and smell) their best, then sending them home to happy owners.
If you're ready to turn your dog grooming dreams into a reality, this guide will help you set up your own business from home, including the training, equipment and costs you'll need to think about.
How to set up your own dog grooming business
1. Do some research
Deciding to start a business will likely raise questions that, when answered, will help you develop a strategy. Some questions to consider are:
Is there competition in your area?
Is there demand for dog grooming?
Are you planning on selling dog-related products?
Do you have the space to convert part of your home into a business that customers will be comfortable entering?
Will you cope OK without the separation of home and work?
If you've done some research and are aware of some grooming techniques, but you're still unsure if it's for you, why not test out your dog grooming abilities on some friends' pets? This will not only help you gain some grooming experience (and reviews) but will show you if it's something you actually want to do.
2. Consider some professional training
Now you've assessed the landscape and decided to take the leap, it's time to get some training. While dog groomers in the UK aren't required to get training, taking part in an accredited course will fill you and your customers with confidence and give your business credibility. It's a good idea to do courses in grooming, care and first aid, just to cover all bases.
On top of an accredited course, there is tons of online content – from blogs to videos – that will give you grooming tips and advice from fellow dog grooming business owners.
Customers may also ask you about maintenance, coat care and diet, so it's a good idea to get clued up on these as well.
3. Decide on your services
Most dog groomers offer to bathe, dry, brush and clip their canine clients as standard. But you may like to bundle these up into basic and premium packages, such as:
Basic: bath, brush and blow dry
Standard: same as Basic, with nails and ears added
Premium: same as Standard, with trim and a spritz of cologne
Packages make it easy for customers to pick the level they want and makes pricing your services much easier.
You may also want to offer different packages for puppies and adults, smooth haired and long-haired dogs as well as small, medium and large dogs. Or you may just want to specialise in one type, such as small breeds, as this could set you apart from the competition.
4. Write a business plan
Many people think that they need to write a business plan just for investors. But mapping out the objectives, timescales and milestones of your business can help to organise your thoughts and create a clear course of action.
This should include information about your competitors, customers, growth tactics, USPs and financial information, such as your startup costs, budgeting and projected sales growth.
5. Consider business insurance
Business insurance not only protects you, your equipment and the dogs in your care if something goes wrong, but also gives your business credibility when customers are deciding whether to opt for your services.
Business insurance for dog groomers includes the specific cover you need for this particular line of work, such as contents and equipment, public liability and employers' liability.
6. Decide on your business structure
When you start a business, you can operate as a sole trader or form a limited company. Each one has a different legal structure and responsibilities in terms of taxes and finances, so it's worth doing your research. You can read more about this in our guide to going self-employed.
Keep in mind that whichever you choose is not set in stone and can be changed at a later date.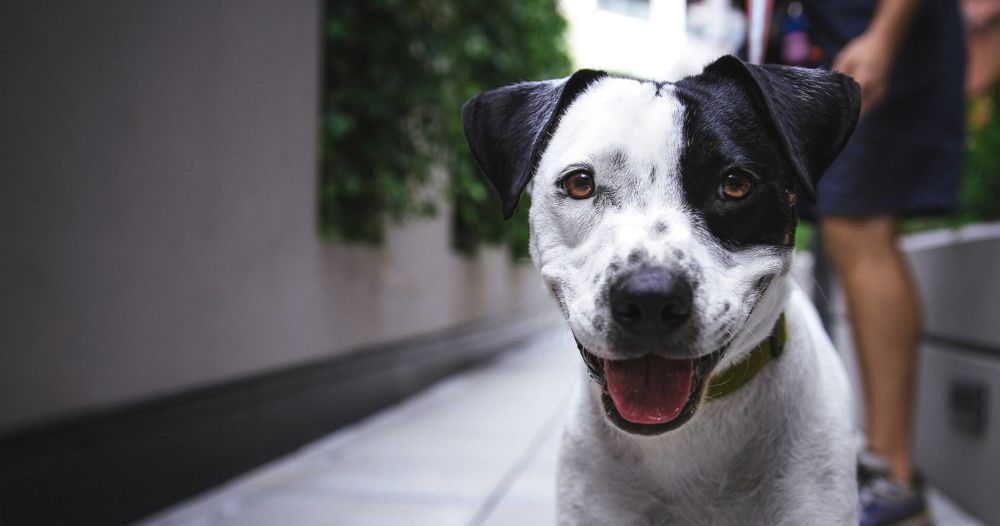 7. Set up your home
Are you converting a room to house your business? Having a mobile van in your garden? Or building a special unit?
The answers will determine what you need to do to get your business set up, such as structural work, and how customers will enter your property.
Some other questions to consider here are:
Is your property easily accessible?
Will you need signage on the roads or your property to direct customers?
Are you able to take multiple dogs or just one at a time?
8. Buy the right equipment
When buying your equipment, you'll need to do some research into which brands are best for your services. Will you need a certain type of clippers? How big does your grooming table need to be?
Things like shampoo are also important, as you could buy one type for your basic package (which costs less) and a more expensive salon brand for your premium package.
While not exhaustive, some essential things you'll need for your dog grooming business are:
Shampoo
Towels
Clippers and attachments
Combs and brushes
Scissors
Grooming table
Bath or sink
Blaster
Industrial drier
Deshedding tools
Toys and treats
Crates
Cleaning equipment
Varying head cones for nervous animals
9. Look into accounting software
While accounting software is not essential, it can be vital in organising your business finances and really boosting performance. Most accounting software platforms connect to your bank account and HMRC, making it super easy to automate a lot of processes and see where your finances are in real-time.
Have a read of our guide to the best accounting software platforms, or, if you're sticking to being a sole trader, check out our guide to Self Assessment software.
10. Hire employees
While you might start off small as a one-person operation, you may want to hire a team as your business gets busier. Whether it's a part-time graduate helping out with shampooing or a receptionist who handles your calls and admin, if you employ people in the UK, you're legally required to have employers' liability cover.
11. Create a website and social media platforms
Making a website for your business allows customers to easily find you and get the answers they need, such as your opening hours, location, the type of dogs you groom and your prices. Website builders such as Squarespace and Wix make it really easy to create a website with pre-made templates.
Having a website can also be really good for business if it's the first to appear in the search results when customers search for dog groomers in your area. If you're new to digital marketing, we've written a guide to help you drive traffic to your website.
12. Market your services
Now you've got a website, it's time to put your name out there and build your customer base. This requires a bit of thinking into the tactics you'll use to get people to spend money on their pet. For instance, you could:
Set up a stall at a local event such as a dog show
Advertise in the newspaper or relevant magazines
Run a social media competition
Offer a first-time discount
Partner with local businesses such as vets and pet shops
What qualifications do I need to start a dog grooming business?
While qualifications aren't strictly required to become a dog groomer in the UK, undergoing training will not only strengthen your understanding of pet care and grooming, but will also provide proof to your customers that their pets are in good care. Without it, you could end up hurting the dog or yourself, so getting professional training will be sure to minimise this risk.
The National Pet College offers a range of OfQual regulated courses in pet care and grooming from various training providers, including City & Guilds, which provides specific Level 2 and 3 dog grooming certifications for assistants and stylists.
You could also get a membership from the Pet Industry Federation, which represents people in the pet industry, including groomers, sitters, walkers, boarders and retailers. By joining PIF you'll automatically become a member of the British Dog Groomers' Association, which shows your commitment to upholding pet industry standards, including striving for animal welfare and customer satisfaction. Your membership will also give you discounts on courses; access to an HR, legal and health & safety helpline; and stickers to prove your membership to customers.
What skills do I need to become a dog groomer?
While anyone can become a dog groomer, it helps to have some – if not all – of these traits:
A love of animals
A calming and caring nature
Patience – some dogs can be difficult to handle
Communication, both with people and animals
Business minded – to build your brand and be financially savvy
Organisation – to manage a daily appointments schedule and multiple dogs at a time
Precision – clipping nails and snipping around eyes on a moving animal requires a steady hand
How much does a dog grooming business make?
According to the National Careers Service, dog groomers earn between £13,000 and £20,000 a year. However, if you own your own business, you can set your own hours and rates for treatments, meaning you can earn more if you want to. Most dog groomers work between 35 to 40 hours per week, and many work on evenings and weekends to service customers in a way that conveniences them.
Treatment prices range from £20-£80 in the UK. This varies depending on the type of treatments you offer, the products you use, the level of experience you have, your location and the size/breed/condition of the dog you're treating.
How much does it cost to start a dog grooming business?
The cost of setting up your dog grooming business will vary depending on how much work you'll need to do to your home and how much equipment you'll need to buy.
It's a good idea to create a spreadsheet listing all of the things you'll need with the average price and tally that up to give yourself a ballpark figure. This will vary depending on the items you choose; for instance, a dog grooming table can range from £80-£500.
If you don't have the upfront costs, you may need to sort out a business loan, apply for a small business grant or find an investor.
Can you run a dog grooming business from home?
With the right space and equipment, it's perfectly possible to run a dog grooming business from your own home. There's plenty of options available, including converting a room, having a mobile business or building a unit in your garden – just be sure to double check if there are any requirements, such as planning permission.
Do I need a licence to run a dog grooming business from home?
You do not need any specific licenses in the UK to set up a dog grooming business. However, you should be aware of certain licences and regulations, such as Health and Safety – particularly the Control of Substances Hazardous to Health regulations, which includes cleaning products like shampoos – as well as licenses to play music or sell goods. You can use the government's Licence Finder to see if you need one for your business.
Thanks for reading. We hope this guide helps you create a successful dog grooming business. Good luck!
You may also like:
We've made buying insurance simple. Get started.
Related posts
07 December 2023

5 minute read

Ever wondered what intellectual property is? Want to know how intellectual property insurance can help protect your business? Then read this handy guide.

29 November 2023

4 minute read

In this article, we look at things to consider when exploring the possibility of a move to coworking.

21 November 2023

13 minute read

Everything you need to know about funding for startups. Find out how to make (and not break) your business, with our ultimate guide.